Getting to Green: Life Cycle Analysis plus Forest Certification Give Western Redcedar High Marks in Sustainability
Architects seek wood that lightens a project's environmental footprint.
This course is no longer active
Sponsored by Western Red Cedar Lumber Association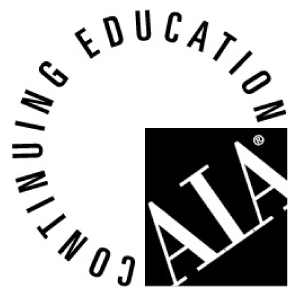 Continuing Education
Learning Objectives - After this course, you should be able to:
Discuss two main items essential to specifying sustainable wood products.
Describe the contribution of a life cycle analysis to green building.
Articulate the environmental benefits of western redcedar.
Compare western redcedar to other building materials in terms of sustainability.
Credits:
Over the past decade there has been a dramatic upswing in the number of companies that want to build reputations as good corporate citizens. Natural, organic, and sustainable are all highly desirable characteristics in the wide world of products. According to a 2009 study by accounting and consulting firm Deloitte Touche, 95 percent of shoppers would buy green provided they had the right information on an otherwise satisfactory item. But with the plethora of environmental claims by companies seeking to advance their products, "green," "eco friendly," "sustainable," and the likeare terms that have become confusing at best, meaningless at worst. In order to keep from drowning in greenwash, the market has demanded greater transparency and verifiable evidence of sustainable performance all along the supply chain.
This article will discuss how architects can be reasonably assured that products, particularly wood products, are maximally sustainable. Life Cycle Analysis (LCA) and forest certification will be discussed in terms of their place on an architect's sustainability agenda, and an LCA of western redcedar will be presented to demonstrate the level of research involved, along with results that can be expected from the life cycle approach.
Forest Certification
That wood is good is virtually a foregone conclusion. For thousands of years, wood has been used as a building material and the fact is, untreated wood has huge environmental benefits over other building products. It is completely biodegradable, works as an effective insulator, and is 100 percent renewable. Wood uses less energy to process than steel, concrete and aluminum. Wood products make up 47 percent of all raw material manufactured in the United States, but their share of manufacturing energy consumption is only 4 percent. Steel requires 21 times the energy to produce and releases more than 15 times the sulfur dioxide when compared to wood. Or, as Pritzker Prize winner Glenn Murcutt, one of Australia's most notable architects and May '09 AIA Gold Medalist put it, "One of the few sustainable materials is timber (wood). Steel and aluminum require more energy to produce. They should be used sparingly."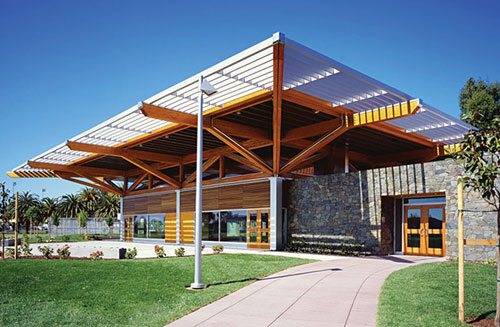 Western redcedar is one of the most prominent materials in the Orange Memorial Park, a San Francisco recreation center where sustainability was a key goal.
Photo: Mary Wong & Donn Logan Architects
Originally published in Architectural Record
Notice