Best Practices, Installation, and Finishing Options for Western Red Cedar
Sponsored by Western Red Cedar Lumber Association
Learning Objectives:
Identify the general attributes of real western red cedar (WRC), including beauty, stability, durability, versatility, and sustainability.
Describe the different grades, sizes, patterns, and applications of WRC.
Explain finishing options, expected service lives of stains, paints, bleaching, and weathering products.
Recognize the importance of proper installation practices and fastener selection to ensure long-lasting performance.
Credits:
This course can be self-reported to the AIBC, as per their CE Guidelines.
This course is approved as a Structured Course
This course can be self-reported to the AANB, as per their CE Guidelines
Approved for structured learning
Approved for Core Learning
This course can be self-reported to the NLAA
Course may qualify for Learning Hours with NWTAA
Course eligible for OAA Learning Hours
This course is approved as a core course
This course can be self-reported for Learning Units to the Architectural Institute of British Columbia
This test is no longer available for credit
Woods, such as western red cedar (WRC), are a natural, renewable, and sustainable building material. In recent years, more architects are incorporating wood into their modern designs to add warmth, texture, and take a more humanistic approach with natural materials.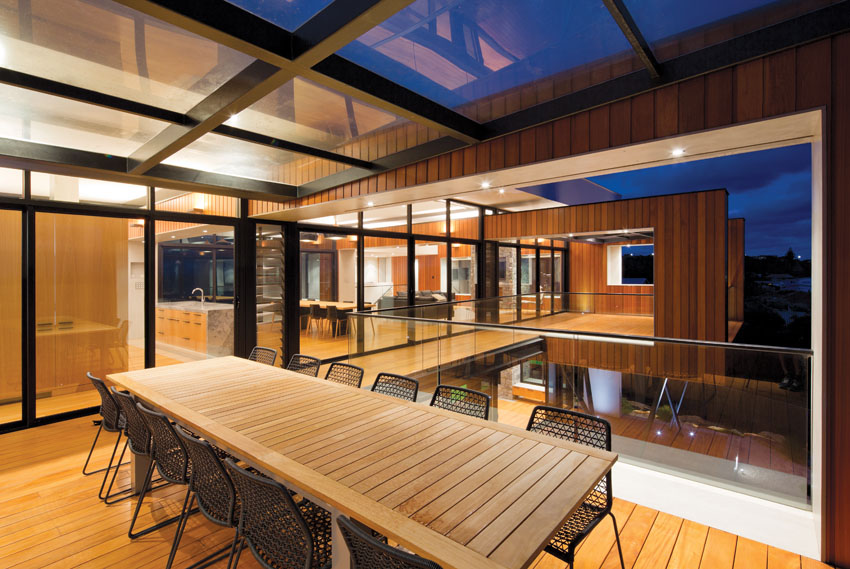 Photo courtesy of Western Red Lumber Association/© Angus Martin
The Cedar House in Flinders Bay, Western Australia, was designed by Craig Steere Architects and engineered by Cornforth CB Consulting Engineers.
In addition to an increased use of WRC in residential and multifamily housing projects, there is also more WRC currently being specified for projects in public spaces, such as boardwalks, decks, and outdoor structures, because of its durability, sustainability, and beauty.
Architects in urban, suburban, and even rural areas are seeing an increase in requests for outdoor landscaped spaces and wood buildings that provide a warm atmosphere between high-rise buildings made of glass and concrete. This includes public spaces between buildings and areas in parks, as well as courtyards for single-family homes and multifamily residences.
Western Red Cedar (WRC)
WRC products come from trees grown in forests in the Northwest area of North America, and its usage dates back centuries. Native Americans were the first to name it the "Tree of Life." In the Pacific Northwest, aboriginal people used cedar bark to make rope, clothing, and baskets. Logs from the trees were and still are used for a variety of purposes, including canoes, totem poles, long houses, and planks for roofing and siding.
While its use has been growing, many believe that WRC is only for single-family design. But in reality, architects now specify it for well-designed multifamily buildings, commercial structures, retail settings, hospitality and resort facilities, museums, churches, educational facilities, outdoor structures, and a variety of other projects where beauty and durability are desired.
General Attributes of WRC
WRC is an excellent choice because of its many positive attributes, including appearance, durability, sustainability, and availability.
Appearance
Aesthetically, there really is no substitute for WRC's natural beauty. Its grain, texture and natural color variation have made it a superior choice for outdoor and indoor applications. Its natural appearance is quite attractive in a variety of commercial and other building types in a range of design styles, including traditional, contemporary, arts and crafts, and modern. Cedar products are available with a smooth, rough-sawn appearance or rougher headed textures.
An unlimited number of standard and specialty profiles of cedar siding, boards, trim, and timbers are made to meet different design needs. Profiles include bevel, shiplap, tongue and groove, and boards for board-and-batten applications. A wide range of thicknesses are available to suit specific design goals.
Durability
WRC is well-known for its longevity and durability due to the ingrown preservatives in the wood. These provide natural resistance to rot, decay, and insect attacks, which means projects built with cedar will last longer. In fact, cedar performs better and requires less maintenance than most man-made materials, particularly plastic composites that simulate a wood appearance.
A wide range of the finishes are available for WRC and add an extra layer of durability. This is discussed later in the article.
Sustainability
When it comes to environmental performance, natural wood is superior to synthetic products in every way. While other building materials generate greenhouse gases, WRC trees actually remove greenhouse gases from the atmosphere. Further, unlike many manufactured or composite materials, WRC is fully biodegradable at the end of its useful life. In recent years, there has been a call for steeper landfill fees on composite materials, thus increasing the popularity of wood and cedar materials.
Perhaps one of the best-known sustainability attributes of WRC is that it is a renewable resource. In fact, WRC comes from some of the most sustainably managed forests in the world. More than 85 percent of timberland in British Columbia, which is the primary source for WRC, is certified by internationally recognized, independent, third-party forest certification agencies. These third-party systems help protect environmental values, such as biodiversity, soil, and water quality.
These forests are managed by private companies that subscribe to the standards of Sustainable Forestry Initiative (SFI), Forest Stewardship Council (FSC), and Canadian Standards Association (CSA). The LEED rating system for green buildings now recognizes all three of these certifications.
Versatility
WRC is pitch and resin free, so it accepts and holds a wide range of beautiful finishes, including elegant dark stains, shabby-chic bleaches, traditional solid colors, and naturally beautiful semitransparent stains. WRC offers a wide range of sizes, surface textures, grades, and profiles, both standard and custom, making it easy to incorporate into a wide range of design schemes and patterns. These finishes and possibilities are discussed in more detail throughout the article.
Cost-Effectiveness
Many believe that cedar is an expensive option when specifying a home or outdoor public project. However, the opposite is true. A simple comparative cost analysis shows that it is very competitive with other cladding and siding materials in terms of first costs since the grade, finish, and profile can be selected to suit a full range of budget needs. Furthermore, its long-term durability and low maintenance make it cost-effective over the life of the building. Jeff Jordan, principal with Jeff Jordan Architects, makes this statement about a recent project where cost and other attributes were the deciding factors on the exterior material choice: "Cedar is such a prominent part of the look, and it would have been difficult to find another material that has both a natural appearance and can weather naturally over time."
Originally published in Architectural Record
Originally published in November 2019
Notice