Water Safety and Efficiency in Hospitality Buildings
Back-of-house water systems can impact guest satisfaction throughout a facility
Sponsored by WATTS Water Technologies, Inc.
Learning Objectives:
Identify the unique and specific water-related demands of hospitality facilities when it comes to the health, safety and expectations of guests and related operational challenges.
Investigate specific safety issues related to water systems in hospitality settings such as protection against scalding, contaminants, Legionnaire's Disease, slips and falls and other potential threats.
Assess the solutions available for different parts of a total water supply and drainage system to assure water quality, safety, and efficient water use.
Describe the lessons learned in some specific hospitality buildings as described in case studies describing design, construction and operation to ensure guest safety and satisfaction and best use of water resources.
Credits:
This course can be self-reported to the AIBC, as per their CE Guidelines.
This course is approved as a Structured Course
This course can be self-reported to the AANB, as per their CE Guidelines
Approved for structured learning
Approved for Core Learning
This course can be self-reported to the NLAA
Course may qualify for Learning Hours with NWTAA
Course eligible for OAA Learning Hours
This course is approved as a core course
This course can be self-reported for Learning Units to the Architectural Institute of British Columbia
Hospitality facilities come in a variety of types and styles. At one end of the spectrum are full-service hotels which are noted for providing a very upscale, even luxurious experience for their guests. These properties often have multiple food service options, including banquet facilities and expansive pool areas that offer food and beverage as well as on-site laundry services and a full range of all other amenities and services. At the other end are limited-service facilities that are geared to travelers seeking economy. While these locations may not offer a restaurant as part of the property, they do increasingly offer other basic amenities such as modest fitness rooms, self-serve guest laundry, swimming pools, and small meeting rooms. In between these two ends of hospitality types are a hybrid style known as select service hotels. This type has been the fastest growing segment of hospitality construction believed to make up about 80 percent of new hotel openings in recent years. These properties typically have some limited food service capabilities and other selected service and amenity offerings. They tend to keep operating costs in check by offering those services and amenities in moderation.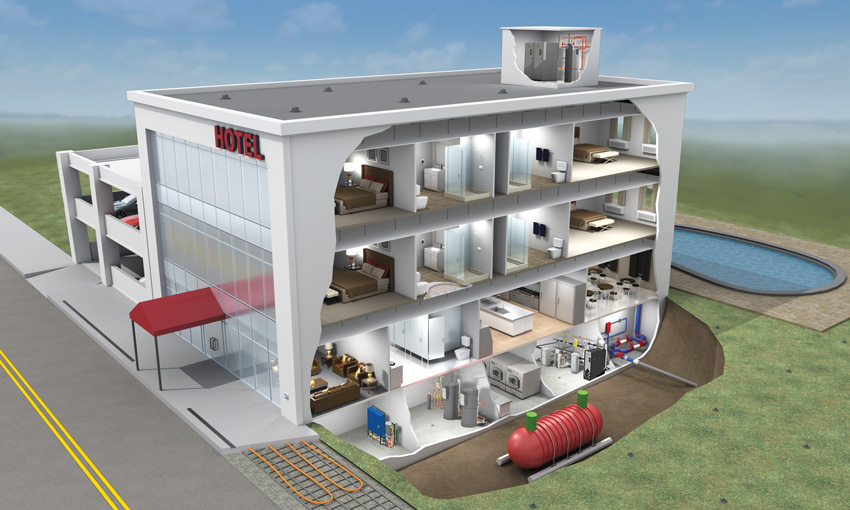 All images courtesy of Watts Water Technologies
Hospitality facilities come in different types and sizes, but all of them have the need for large quantities of high-quality water for different uses.
Regardless of the type of hospitality property, one thing that all of them have in common is that they are all typically very large consumers of water, both heated and not. Guests and patrons of any of these establishments have come to expect the fundamental service of hot and cold water to be abundantly available and controllable just as it is in their own homes, if not more so. Of course with hundreds, even thousands of guest rooms in a single facility all requiring water, often all around the same times of day, some design attention is needed to reliably provide that water. In addition, the kitchens, laundries, pools, spas, and even hydronic mechanical systems all need water that is reliable, potable, and free from contaminants. This course will look at some of the most common issues and solutions related to water systems in hospitality settings recognizing that the options are now more advanced and more likely to achieve greater guest satisfaction—if they are designed and specified properly.
Water Demand in Hospitality Facilities
Water demand clearly affects many different locations in a typical hospitality facility. Guestrooms and public restrooms all have toilets that require many gallons per day of cold water plus sinks with the requisite need for both hot and cold water. Showers and bathtubs in guestrooms are large daily users of hot and cold water with the operational challenge of demand time, since most showers are used first thing in the morning as people awake or late at night before guests go to bed. Spas and pools will also typically have showers and restrooms which may or may not have the same time-related hot and cold water demands, but the need is likely predictable at most properties.
Beyond the direct consumption of water by guests, there are plenty of areas that require water for other reasons. Kitchens and laundries use both cold and hot water but require higher temperatures for washing than for bathrooms. That can mean a different method of providing the higher temperature than may be used for the more typical temperatures. Dining rooms need an abundance of potable drinking water and ice, which needs to be particularly sensitive to the taste of the water. Then there are some utilitarian demands for water such as mechanical equipment, pools, landscaping, heated snow melt, and general cleaning. As a user of hospitality facilities, it is easy to take all of these water uses for granted. As design professionals, we can't afford to do that, but instead need to be attentive to the details of providing appropriate hot and potable water in all of these situations.
Beyond abundance and temperature, water quality is important too. Most hospitality facilities are connected to some type of public water source, which is likely treated and tested at a central water plant. Of course, water quality can vary between locations such that even though it is considered safe drinking water per federal standards, it may contain legally acceptable levels of contaminants or treatment chemicals, such as chlorine, that can affect the color, taste, and odor. Further, as the water passes through the distribution lines of the locality on its way to the building, it may pick up other contaminants such that it doesn't have the same qualities as when it left the water plant.
Due to the sheer volume of water used in hospitality facilities, there are multiple reasons that water quality is important. First, it needs to be clear, odor free, and contaminant free for human consumption, including drinking, making ice, and as an ingredient in many food/ cooking recipes. Contaminants of concern are not only physical as in sediment or chemicals, but they are also biological as in unwanted bacteria that can enter the water. Secondly, the degree of "hardness" of the water needs to be addressed since hard water will introduce scale or minerals into the water that can discolor or damage plumbing fixtures and appliances. For all of these reasons, the plumbing system and components for water in a hospitality setting need to be designed to assure that the quality of the water is addressed, controlled, and monitored. To achieve that, it is often best for design professionals to work together with system suppliers during both design and construction to focus on solutions that incorporate overall best practices, not just focus on plumbing products.
Originally published in Architectural Record
Originally published in March 2018
Notice