Architecture Extraordinaire: A Primer on Fabric Structures
Sponsored by USA Shade
This test is no longer available for credit
Benefits of Fabric Structures
Fabric structures offer a host of benefits to architects, to owners, to the public and to the environment.
An Opportunity to Help Prevent Skin Cancer. One of the greatest benefits of simple fabric shade structures is their contribution to human health and wellness by protecting people from harmful exposure to ultraviolet radiation (UV). According to the U.S. Environmental Protection Agency (EPA), in 2007, melanoma, the deadliest form of skin cancer, was diagnosed in an estimated 59,940 individuals in the United States. Melanoma is now one of the most common cancers among adolescents and young adults ages 15-29. While melanoma accounts for about 3 percent of skin cancer cases, it causes more than 75 percent of skin cancer deaths. Ultraviolet (UV) exposure and sunburns, particularly during childhood, are risk factors for melanoma. In fact, one or two blistering sunburns in childhood may double the lifetime risk of developing melanoma. Overexposure to the sun can also lead to other illnesses, including less serious forms of skin cancer which, if left untreated, can cause disfigurement and more serious health problems. Chronic exposure to the sun also causes premature aging, which over time can make the skin become thick, wrinkled and leathery. Research has shown that UV radiation also increases the likelihood of certain cataracts which, although curable with modern eye surgery, diminish the eyesight of millions of Americans and cost billions of dollars in medical care each year. Scientists have also found that overexposure to UV radiation may suppress proper functioning of the body's immune system and the skin's natural defenses. While the skin normally mounts a defense against foreign invaders such as cancers and infections, overexposure to UV radiation can weaken the immune system, reducing the skin's ability to protect against these invaders.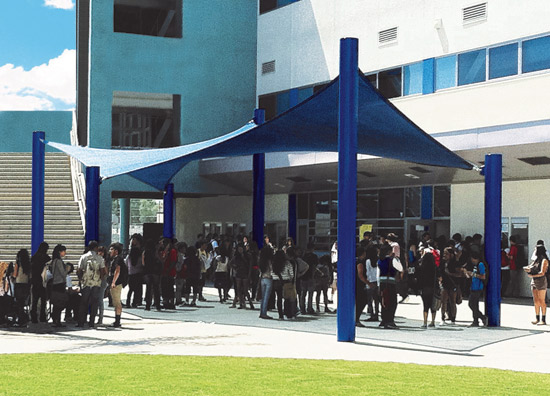 Photo courtesy of Shade Structures, Inc.
A shade structure helps limit exposure to damaging UV rays, which is especially important for children.
Primary prevention strategies for skin cancer include increasing knowledge and awareness in individuals, changing sun-protection behaviors, and implementing policy and environmental interventions. In 2000, the EPA launched SunWise, a program to educate K-8 teachers about the UV-related health effects and the steps for sun protection. Through this program, the EPA estimates that more than 50 premature deaths and 11,000 cases of skin cancer will be prevented, and that every federal dollar invested in SunWise saves $2–$4 in public health costs, such as medical care costs and productivity losses. Many organizations from the Skin Cancer Foundation to the Centers for Disease Control and Prevention recommend ways to limit exposure to UV rays. Prime among them is seeking out shade, especially between the hours of 10 AM and 4 PM, the period during which the sun's rays are usually strongest. The Skin Cancer Foundation urges people to "head under a pavilion roof or leafy tree, or carry a sun umbrella" during this time.
For years, these and countless other organizations have espoused the same sun protection message. Yet despite the high awareness of the connection between skin cancer and exposure to the sun, many people still have not changed their behavior. "Americans are aware of sun dangers, but ignore warnings. According to the National Cancer Institute, skin cancer is the most common cancer in the United States, and its prevalence keeps growing. And despite an abundance of initiatives designed to increase sun protection and early detection, people don't seem to be acting on what they know," states Dermatology Times.
Still, the facts are clear: Reducing exposure to ultraviolet radiation appears to be the best preventive strategy for skin cancer. In view of this situation, architects are in an ideal position then to make a meaningful contribution to public health as they design outdoor spaces, particularly for children. During summer months and when temperatures are high, conventional playgrounds may become too hot, with some of the equipment even dangerous to touch. Parents' decisions then about where to take their children to play often hinge on the availability of shade. The addition of a fabric structure to an outdoor space brings welcome—and necessary—shade while shielding participants from harmful UV rays that have the potential to cause life- threatening disease down the line.
Design Freedom. From standard forms to unique custom applications, fabric structures afford architects a myriad of solutions to meet client needs. Probably more than any other building material, fabric expands the potential for design freedom, and it can translate to a distinctive building aesthetic that cannot be achieved with conventional construction materials. Because of their flexibility and formability, fabric structures can be designed in an impressive variety of shapes and configurations for an array of spaces. They also offer architects a cost-effective way to transform an existing space by adding to a design theme or by creating an interesting new focal point for a location that stands out and adds value to the community.
Environmental Performance. Tensioned fabric structures have high sun reflecting properties and absorb less sunlight. These attributes significantly reduce the solar energy and heat that enters a space, while maintaining constant internal temperatures. This makes the space more comfortable for users, more available for use, and extends the life of equipment.
Low Embodied Energy. Compared with brick-and-mortar construction, fabric structures use substantially less raw material, resulting in a much lower carbon footprint. Their transportation requirements are also less than conventional structures, because of the lower initial weight. Though it is one of the lightest-weight building materials, fabric can create structures with the largest building footprints, offering architects and owners an environmentally sound way of designing large-scale facilities. Many fabrics also have post-consumer recyclability. Some components within a tensioned fabric structure, such as the steel cable columns and hardware, can be recycled.
Unobstructed Interiors. Unlike other building types, fabric structures can be designed to require little or no internal support columns or poles. This enables a clear span structure with more usable space and higher ceilings that can be achieved with traditional buildings. The result is a light, spacious interior that is both inviting and practical with fewer supports, allowing long unsupported spans.
Translucency. Fabric structures can allow natural daylight to filter in, reducing the need for artificial lighting, heating and cooling, and the associated energy costs. Coated fabrics have very good UV absorbing and reflection properties. Appropriately coated woven fabrics, for example, allow a light transmission value from 8 percent to 16 percent, offering a very comfortable level of illumination from a natural light source, while providing shade to all users.
Originally published in September 2014
Notice