Trends in Urban Outdoor Amenity Spaces
In-demand roof deck systems add value to today's buildings
Sponsored by Unilock
This test is no longer available for credit
Wall Systems for Outdoor Urban Environments
Adding vertical elements into the outdoor amenity space will enhance the aesthetic of the space. Instead of a waist-high handrail separating the user from the building edge, seat walls and plant material are used to buffer the edges of the space. A creative design uses these vertical elements to create semi-private spaces on the amenity roof. Larger trees provide shade and wind blocking in some cases. Smaller shrubs, grasses, and perennials enhance and focus views toward adjacent desirable site lines for bodies of water and sunsets, while screening undesirable views and building glare.
With the demand for a greater variety of outdoor amenities on urban roof systems, segmental interlocking wall systems are available to create raised planters, seat walls, and privacy screens. These wall systems are comprised of segmental block units that are available in a range of sizes and styles from contemporary linear to a more traditional dry stack and a variety of textures and colors, thus providing designers with a broad palette of materials.
Most wall systems are heavier than pavers and fit the weight requirements to counter wind uplift. Some wall systems are hollow, however, the majority of wall systems use solid units, as these units provide a more stable wall system. Many hollow walls require a back fill of granular or rebar and concrete. This increases the labor component on the project. Solid walls reduce the extra labor.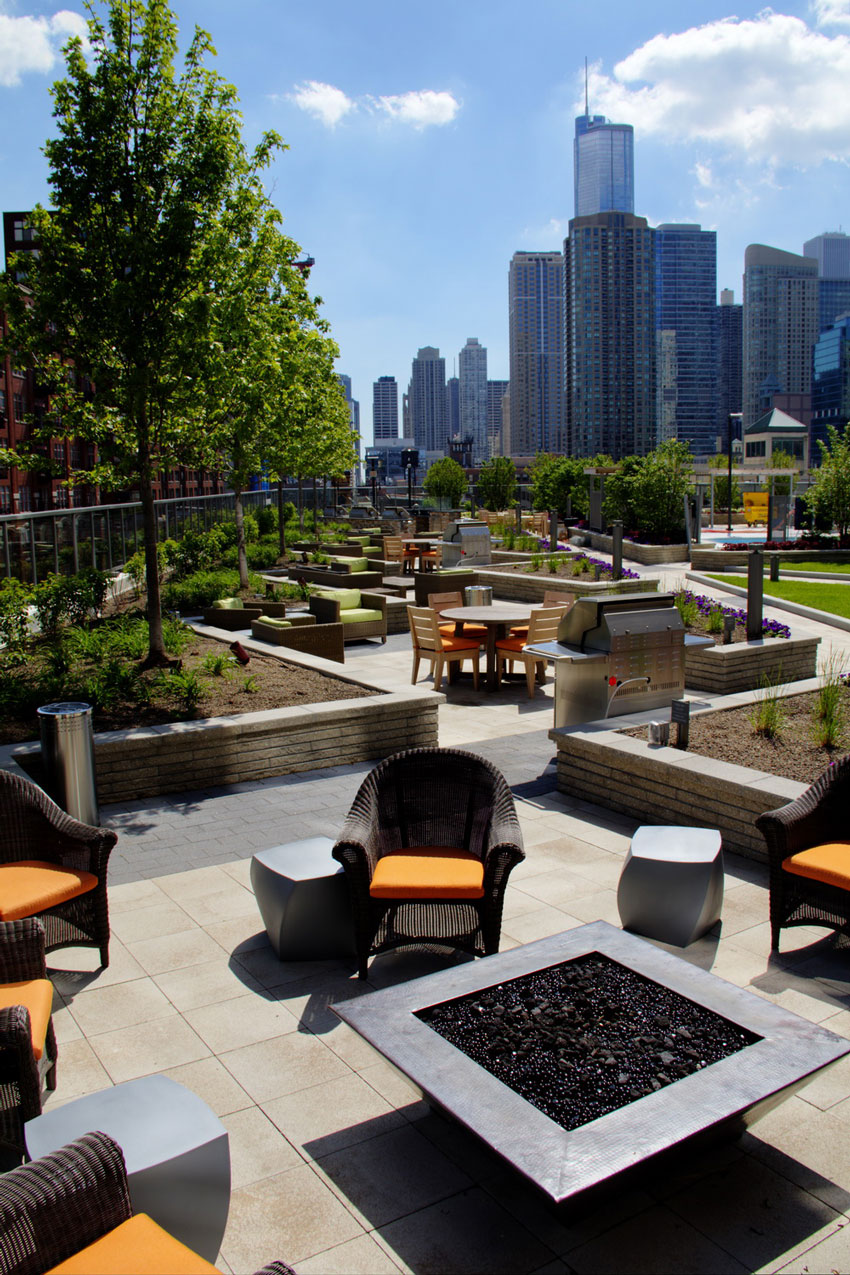 Photo courtesy of Unilock
Wall systems are used to create seat walls and planters at Hubbard Place, Chicago.
Summary
With the continued growth in both residential and commercial developments in urban centers, the demand for outdoor urban amenity spaces will not only continue but will be expected. And with the variety of products and systems available, the sky is the limit in terms of the design possibilities for outdoor amenities for roof deck projects.
The following case studies of residential and and commercial roof garden and deck projects illustrate various methods for meeting LEED criteria. Energy use is reduced in buildings with roof gardens and outdoor amenity spaces. The lighter colors of the roof deck surfacing and the vegetated areas reflect heat better than traditional black roofs. The vegetated areas also assist in the management of stormwater runoff from the roof as they absorb water. As much of the material (vegetation and hardscape surfaces) can be obtained locally, the LEED criteria for use of regional materials can be met.
RESOURCES
Protected Membrane Roof Guidelines. The Dow Chemical Company. Web. 23 March 2017.
Elena M. Pascarella, RLA, ASLA, is a practicing landscape architect, continuing education presenter, and consultant engaged in a private practice based in Rhode Island. The firm's portfolio can be viewed at www.landscapeelementsllc.com.
| | |
| --- | --- |
| | Designers and architects trust Unilock pavers and retaining walls to achieve their vision without having to compromise either creative design or long-term performance. We introduced pavers to North America, and we continue to deliver on style with the latest technologies. commercial.unilock.com |
Originally published in Architectural Record
Notice