Outdoor Amenities: Essential for Today's Lifestyle
To help designers meet the expectations of today's building occupants, architects are designing cutting-edge outdoor spaces and roof decks.
Sponsored by Unilock
Learning Objectives:
Identify noted trends in outdoor gathering spaces and roof decks in multifamily and mixed-use developments.
Discuss the various stormwater management challenges facing owners and developers and how products like permeable pavers can provide solutions.
Explain how products like permeable pavers, pavers, slabs, and retaining walls can help make outdoor spaces more usable.
Review assorted landscape design case studies and projects.
Credits:
This course can be self-reported to the AIBC, as per their CE Guidelines.
As an IACET Accredited Provider, BNP Media offers IACET CEUs for its learning events that comply with the ANSI/IACET Continuing Education and Training Standard.
This course is approved as a Structured Course
This course can be self-reported to the AANB, as per their CE Guidelines
Approved for structured learning
Approved for Core Learning
This course can be self-reported to the NLAA
Course may qualify for Learning Hours with NWTAA
Course eligible for OAA Learning Hours
This course is approved as a core course
This course can be self-reported for Learning Units to the Architectural Institute of British Columbia
From grilling areas and wine bars to outdoor fitness and meditation spaces, architects are now designing to provide the quality exterior amenities that multifamily residents and mixed-use occupants now deem to be must-have amenities.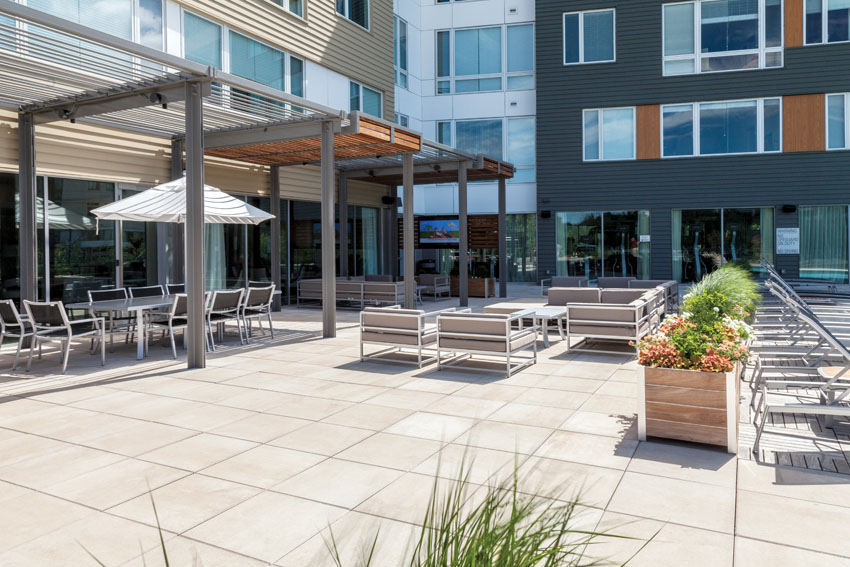 All images courtesy of Unilock
Pavers and slabs are a great way to support popular outdoor amenity spaces in multifamily and mixed-use properties.
"Whether it is an enclosed courtyard, rooftop terrace, dog park, or pool area, people want extensions of their living spaces to allow for areas to relax, enjoy amenities, breath fresh air, and interact with others," states Daniel Erlandson, partner, landscape architect, HPLA Studio, Scottsdale, Arizona.
Ironically, despite the explosion of social media, loneliness seems to be at an all-time high. According to John Cacciopo, the late University of Chicago psychologist and loneliness researcher, one third of Americans 45 and older say they are lonely.1
In a similar vein, Noel Aveton, PLA, LEED Green Associate, IFLA, ASLA, vice president, CallisonRTKL, Dallas, observes that an increasingly isolated daily existence has allowed neighbors to stay strangers. In response, communities are now developed with many design strategies aimed at improving social connections and enhancing quality of life.
Creating these destinations requires beautiful, durable, and versatile products. Pavers and roof deck slabs are an easy way to add a stunning aesthetic while creating functional outdoor spaces with the features and amenities incorporated. This placemaking helps to create destinations within the community that will foster connections.
"At the heart of human society is the need for community, and that is exactly what these projects are trying to create: a place for neighbors to meet, connect, share, and feel a sense of connection to others," agrees Robert Adams, principal, Halvorson Design Partnership, Boston. "A healthy set of residents creates a vibrant and attractive multifamily project for long-term success."
While loneliness is a major factor, consumer demands and market competition are also driving developers to offer fabulous and versatile outdoor spaces with stunning amenities.
In particular, these outdoor gathering spaces are now considered a "third space" and a key destination for remote work, relaxation and entertainment. Consequently, developers are embracing these outdoor spaces as an extension of that experience and considering these designs as a front porch, patio, balcony, or all-seasons room. As a result, these spaces must be flexible to support varied programming opportunities.
With amenity square footage nearly doubling over the past decade, Michele Hrivnak, CCIM, CPM, managing director, asset management, Investors Management Group, Portland, explains that amenities are a balance of understanding the market, the demographic developers are trying to attract to their property, and what the market is willing to pay for these features.
"When a potential tenant is shopping around for a space, they are looking for the most bells and whistles," adds Kari Kikuta PLA, ASLA, director of landscape architecture, associate, LPA Inc., Irvine, California. "Those tend to be the differentiators between properties."
To optimally open up and support these essential spaces, designers are turning to solutions like roof deck slabs and pedestals to support rooftop amenities, permeable pavers to reduce the valuable real estate needed to meet increasing stormwater management requirements, and retaining walls to make uneven terrain suitable for development as well as create features in the amenity space, such as BBQ stations, seat walls, and firepits.
Pedestal Deck Systems
For roof deck designs, pedestal deck systems are the most commonly used strategy. They are easy to install and maintain, and an effective way to create level surfaces over sloped areas and increase walkable pedestrian surfaces.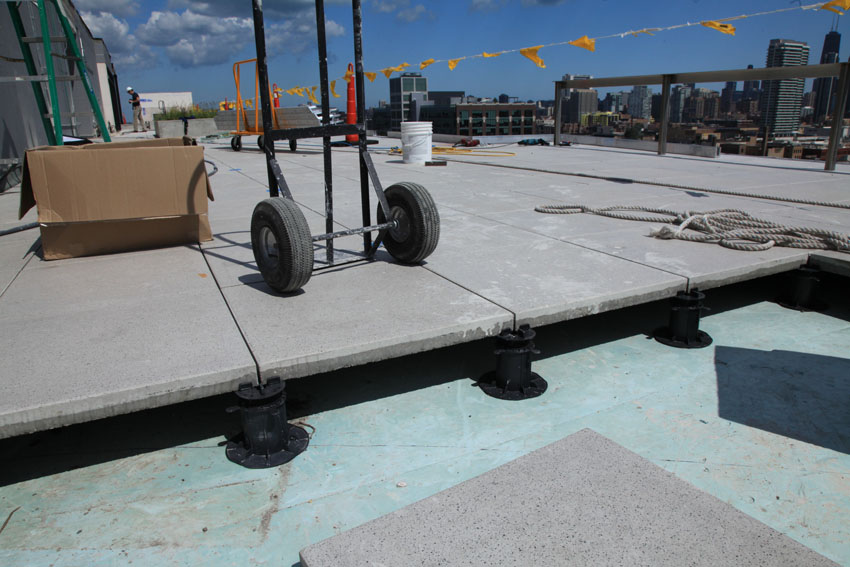 Made with a combination of natural granite, quartz, and marble particles, the pedestal deck system provides valuable amenity space for the Lake & Aberdeen Condo in Chicago.
Comprised of pedestals covered with tiles, slabs, or pavers, the system promotes airflow and can help reduce heating and cooling loads by contributing to better-regulated rooftop temperatures.
They can be installed on any structural surface, roof membrane, plaza, or pavement. Surfaces include limestone or sandstone, granite, concrete slabs with a variety of surface aesthetics, wood, and composite materials.
In addition, designers can choose from basic types of pedestals: fixed height, adjustable, and stackable. Of the three, adjustable pedestal systems are the most commonly used due to their flexibility. Their height adjustment ranges from 2–36 inches, and the integrated leveler accommodates a 0–0.5 inch/foot slope. Made from a high-density copolymer polypropylene containing, which is 20 percent post-industrial recyclable, the pedestals are impervious to water, mold, and freeze/thaw, and are capable of supporting loads of 1,250 pounds per pedestal.
Unlike traditional deck building materials and methods, pedestal deck systems are available in a range of heights and weight-bearing capacities to support a variety of applications; they are a labor- and cost-efficient way to create flat, level decks with tapered base levelling discs and/or shims; and they can support decks over occupied space, enabling space to be used for electrical systems, duct work, or irrigation. They can also support site furnishings such as benches, tables, and planters.
Another interesting aspect of these systems is the fact that they do not require roofing penetrations for attachment. Rather, as a gravity system, the weight of the pedestals themselves firmly anchor them to the ground. As a result, the roof and waterproofing membranes can remain fully intact.
A schematic of the entire system starts with the concrete structure of the building topped with a waterproof membrane. The next layer is a protection board followed by insulation. Next comes the actual pedestals that anchor the roof slab tiles or units.

This schematic of a pedestal deck system shows the waterproof membrane over the concrete structure, a protection board, insulation, the pedestals, and the roof slab tiles or units.
Designers recommend an orthogonal layout, as curvilinear layouts require significantly more pedestals, which can significantly add to the cost. The distance between the pedestals can also be constrained by the size and strength of the slabs or panels that they support.
Originally published in Architectural Record
Originally published in December 2019
Notice