Window Sprinklers as an Alternative to Fire-Rated Glass
Architects now have a choice in how to achieve fire-rated partition designs
Sponsored by TYCO
Specifying Window Sprinkler Systems
When writing specifications for projects that incorporate window sprinkler systems instead of fire-rated glass, there are obviously two areas to pay attention to. The first will be the glass and glazing portions of the specification to be sure the appropriate criteria are met for the glass and the framing system, including sealing requirements. For projects of any moderate size, it is likely that there will be different types of glass and framing systems used, so identifying each type and their location on the drawings (i.e., interior elevations, window schedules, etc.) will be important not only for demonstrating code compliance but also for the proper installation. Similarly, the specifications and details for the pony walls under the glazing needs to be incorporated into the appropriate architectural specification sections and identified on the drawings to clearly communicate the specifics of that construction as well.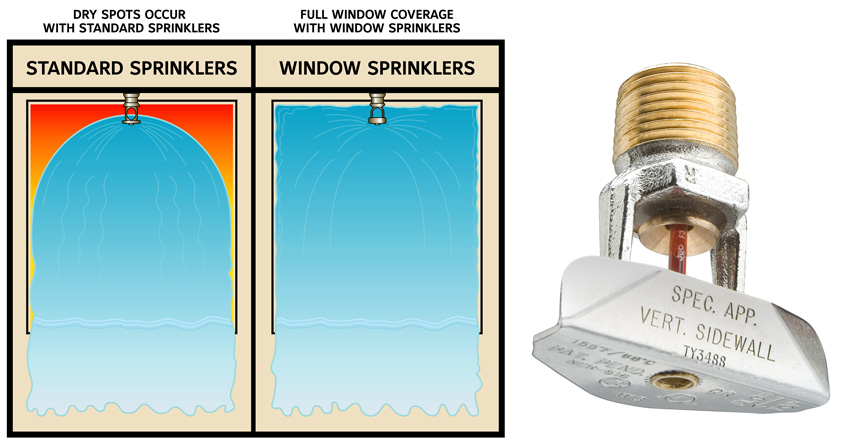 Image courtesy of Johnson Controls
When specifying window sprinklers, they need to be clearly identified as distinct from other sprinkler heads since they will perform differently.
Turning to the window sprinklers, they would normally be specified as part of the CSI/Master Format Division 21 00 00 Fire Suppression and commonly under Section 21 13 13 Wet-Pipe Sprinkler Systems. Among the items to be sure are included is an indication that the specific application type (i.e., window sprinklers) are part of the overall sprinkler system scope of work. Under submittals, the ESR or equal code-compliance documentation must be provided from the manufacturer indicating its suitability for the project. In the products portion of the specification, all common sprinkler system components are typically identified so attention needs to be called to the unique window sprinkler head types, including model numbers if possible, tied to the ESR evaluation. As part of the installation or execution portion of the specification, the ESR likely requires that manufacturer recommendations and instructions be followed so that should be reiterated here.
In short, incorporating window sprinklers into a project doesn't typically need any additional specification sections; rather, it requires paying attention to the details of some relevant sections already part of a project. By coordinating the architectural design and specifications with the sprinkler system design and specifications, a complete, code-compliant system can be produced.
Conclusion
Buildings of all types are being designed to include glass and glazing as the means to separate and define spaces. When that separation also requires an IBC-mandated fire-resistance rating, architects and other design professionals no longer need to feel constrained to limited choices in fire-rated glass. Instead, the use of window sprinklers in accordance with established and accepted standards and reviews are an option worth considering. They have demonstrated the ability to provide equivalent protection to a 2-hour-rated partition with acceptance by code officials and notable cost savings compared to fire-rated glass. Further, they are fairly straightforward to incorporate into building design and construction consistent with other building systems.
Peter J. Arsenault, FAIA, NCARB, LEED AP, is a nationally known architect, sustainability consultant, technical writer, and continuing education presenter. www.pjaarch.com, www.linkedin.com/in/pjaarch
| | |
| --- | --- |
| | Tyco is the brand under which Johnson Controls, a world leader in fire suppression, manufactures fire sprinklers and valves for a variety of applications, including commercial, residential, storage, and special applications. The Tyco brand is built on more than 150 years years in the fire-protection industry. For more information, such as reports, data sheets, and design guidelines, on any of the sprinklers that are manufactured by Tyco, please visit the website or contact your local Johnson Controls (Tyco) representative. www.tyco-fire.com |
Originally published in Architectural Record
Notice