The Role of Wood Products in Green Building
Sponsored by Think Wood

1 AIA LU/HSW; 0.1 IACET CEU*; 1 GBCI CE Hour; 1 AIBD P-CE; AAA 1 Structured Learning Hour; This course can be self-reported to the AANB, as per their CE Guidelines; AAPEI 1 Structured Learning Hour; This course can be self-reported to the AIBC, as per their CE Guidelines.; MAA 1 Structured Learning Hour; This course can be self-reported to the NLAA.; This course can be self-reported to the NSAA; NWTAA 1 Structured Learning Hour; OAA 1 Learning Hour; SAA 1 Hour of Core Learning
Learning Objectives:
Explain the role wood products play in sustainable building design and construction.
Describe common green building standards, certification and ratings programs and identify some of their similarities and differences.
Recognize terms used for green building and understand how things like forest certification, EPDs and LCAs can be used to meet green building standards.
Discuss green building trends regarding building codes, building types and procurement policies.
This course is part of the Wood Structures Academy
Forest Certification
Forest certification programs help ensure that a forest landowner is following sustainable forest management practices, including harvest methods and replanting. There are several programs used in North American forest management:
American Tree Farm System (ATFS)
Canadian Standards Association (CSA)
Forest Stewardship Council (FSC)
Sustainable Forestry Initiative (SFI)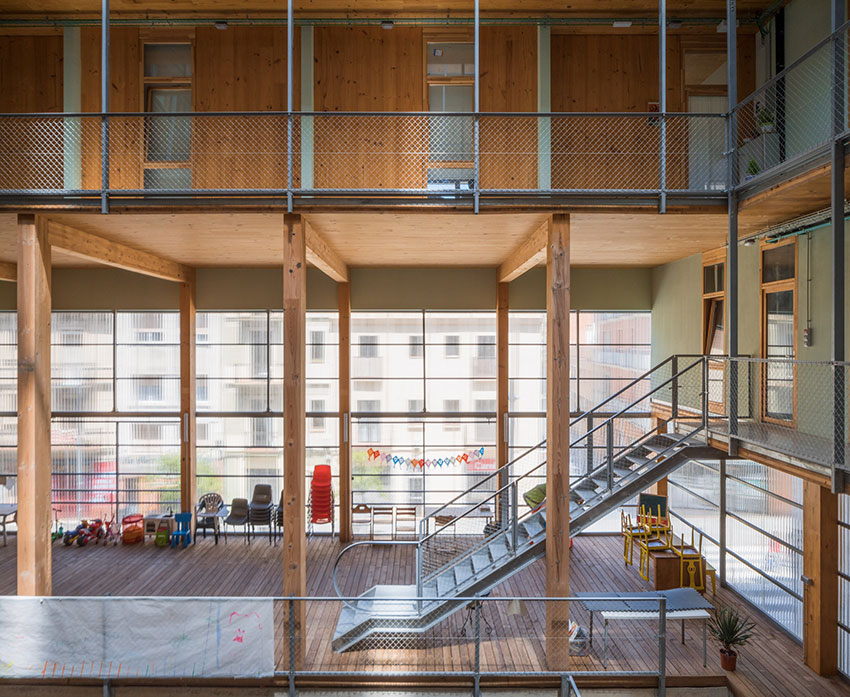 For each, a third-party certifier evaluates the forest management practices being followed by landowners and foresters against the organization's requirements. While all have the same basic mission—to provide guidelines that support sustainable forest management—there are differences in the requirements of how each program is structured.
It is important to recognize that forests are not required to be certified. Some private and public landowners follow sustainable forest management practices but choose not to pay for certification. In contrast, some lands are certified by multiple programs. As of 2017, nearly 100 million acres of U.S. forested land were certified; about 15 percent was certified by more than one program. Canada had more than 430 million acres of certified forests, and about 10 percent of that had double certification.
U.S. federal timberlands are not certified, but this does not mean they are not being sustainably managed. In 2007, the Pinchot Institute conducted a study of five national forests and found their management practices met many of the certification requirements in terms of forest planning, protection of threatened and endangered species, and others.
Many state regulations meet or exceed forest certification requirements. For example, all forestlands and conservation areas managed by the Washington State Department of Natural Resources (2.4 million acres) are certified under the SFI program. About 176,000 acres of those forestlands are also certified under the FSC U.S. Forest Management Standard. In 2016, nearly 5 million acres of Oregon timberlands were certified by ATFS, FSC, or SFI.
While several green building standards have required use of wood from certified forests in the past, many are also now recognizing wood harvested from what is known as legal, or responsible, product source categories. A responsible source is defined as a forest site that is replanted after harvest by trained loggers, where endangered species are protected and best management practices are followed. Once the responsible source is established and verified, its products must be delivered through a chain-of-custody (CoC) that can be used to obtain credit under the green building standard. CoC documentation verifies the source of the timber as it moves from forest to construction site.
Leadership in Energy and Environmental Design (LEED), one of the most well-known green building certification programs, requires that wood products be from certified forests. However, LEED v4.1 has a Pilot Alternative Compliance Path, allowing wood products sourced from ASTM D7612-certified forests to earn LEED credit if they are all from legal (noncontroversial) sources such as forests managed using responsible practices and if at least 70 percent (based on cost) are from responsible sources.
Environmental Product Declarations (EPDs)
While forest certification verifies that a forest is being managed sustainably, an EPD is a way to verify the environmental impact of a specific product. EPDs allow architects to evaluate a product's lifetime environmental impact in terms of embodied energy, carbon emissions, and waste generation, as well as for other factors such as global warming and ozone depletion. When considered alongside other factors such as recycled content or VOC emissions, EPDs help architects make informed building material choices.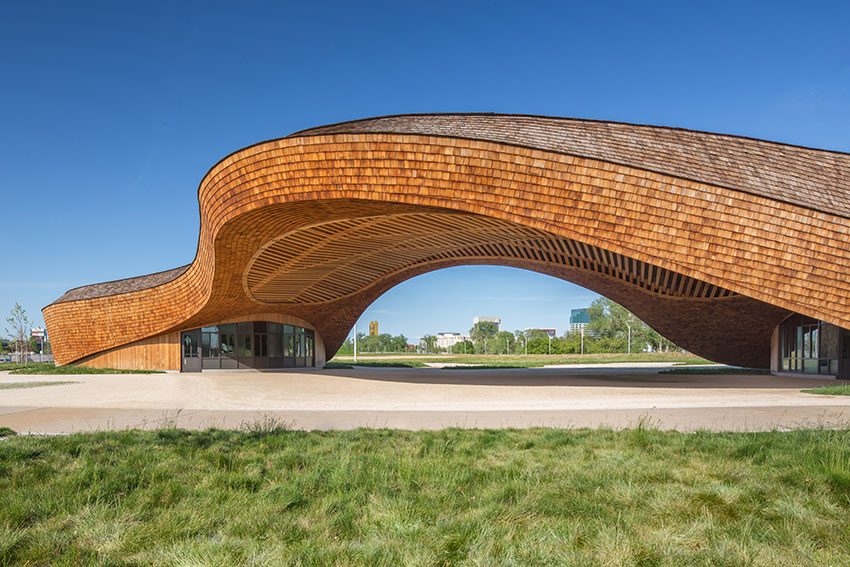 The International EPD System is a global program for environmental declarations based on ISO 14025 (Environmental Labels and Declarations) and the European standard EN 15804 (Sustainability of Construction Works - Environmental Product Declarations - Core Rules for the Product Category of Construction Products). Wood EPDs are third-party verified by UL Environment, an independent certifier of the sustainable attributes of various products. EPDs for softwood lumber and plywood, oriented strand board (OSB), glue-laminated beams (glulam), laminated veneer lumber (LVL), wood I-joists, laminated strand lumber (LSL), and other wood building products are published by the American Wood Council.
Wood EPDs take a "cradle-to-gate" approach, measuring environmental impact from raw material harvest through manufacturing to the point when the product is ready to ship from the manufacturing facility. Since wood products are manufactured all across North America, and since they are used in many applications, it is difficult to make assumptions about their end-use environmental impact, which makes "cradle-to-grave" or "cradle-to-cradle" measurements difficult to obtain.
EPDs are becoming increasingly important in building design and construction. Products with verified EPDs can receive credit through LEED v4.1, Green Globes, and other green building rating systems. EPDs can also be used to show compliance with International Green Construction Code (IgCC) and other green building codes. In fact, the 2018 IgCC requires that at least 10 materials installed in a building have an EPD.
Green Building Rating Systems
There are many reasons a building owner chooses to seek green building certification for their project. Some state and local governments have made certification a requirement to meet energy efficiency goals. Some certified buildings may qualify for tax-related incentives. Additionally, developers are finding that a growing number of commercial and residential tenants have their own sustainability goals or commitments which factor into their choice to live or work in a certified green building. At the same time, some building owners require that their project be designed to follow green building standards, but they don't apply or pay for certification. Regardless of the reason, architects have numerous building standards, certifications, and rating systems available to help guide them toward sustainable design principles. Virtually all of them emphasize efficient use of building material resources, as well as energy and water use, indoor air quality, and other factors.
There are many well-known national green building certification programs, including:
Leadership in Energy and Environmental Design (LEED)
Green Globes
National Green Building Standard (NGBS)
Living Building Challenge, Energy Star, BREEAM (Building Research Establishment Environmental Assessment Method), and others.
The environmental advantages of using wood products are recognized by each certification system, but each program varies in how wood use is credited. With two of the most well-known programs, LEED v4 and Green Globes v1.4, it is possible to earn 8 to 10 percent of potential credits through substantial use of wood in construction.
Green building rating systems also assign credits based on the use of LCA tools, renewability of the resource, EPD availability, forest certification, locally produced materials, third-party certification, ability for materials to be recycled, and more.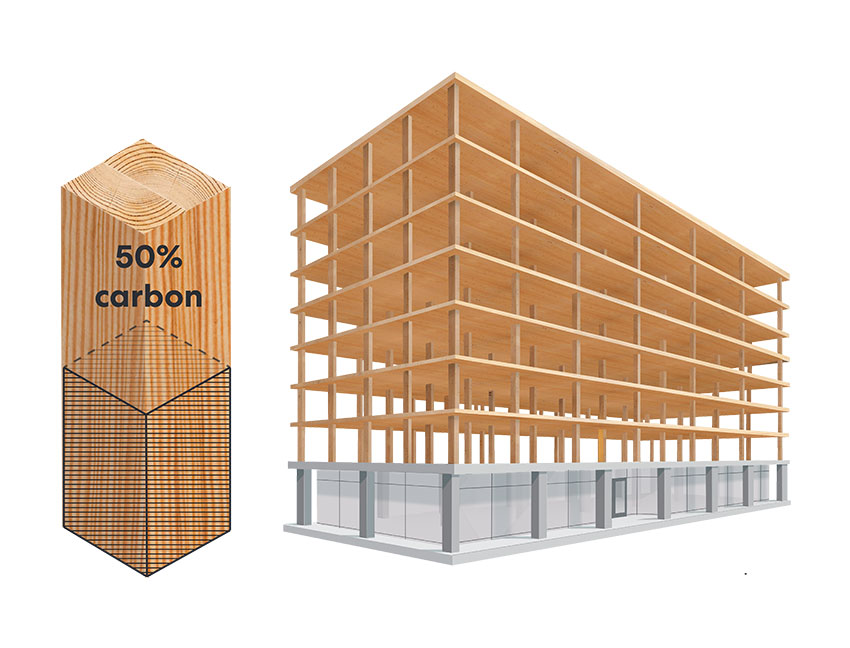 Originally published in October 2021
Notice