Getting to Zero in Affordable Housing: Design Solutions for Delivering High-Performance Multifamily Affordable Housing
Sponsored by Think Wood
Learning Objectives:
Discuss the increasing popularity of timber as it relates to net-zero design strategies in a range of affordable multifamily housing projects.
Summarize the ways in which affordable multifamily wood-frame structures can meet performance and net-zero goals for this housing type.
Describe the unique challenges architects and designers face in building cost-effective net-zero multifamily housing.
Explore innovations in wood framing design techniques and wood product technologies that enhance energy efficiency in affordable multifamily housing projects.
Credits:
This course can be self-reported to the AIBC, as per their CE Guidelines.
As an IACET Accredited Provider, BNP Media offers IACET CEUs for its learning events that comply with the ANSI/IACET Continuing Education and Training Standard.
This course is approved as a Structured Course
This course can be self-reported to the AANB, as per their CE Guidelines
Approved for structured learning
Approved for Core Learning
This course can be self-reported to the NLAA
Course may qualify for Learning Hours with NWTAA
Course eligible for OAA Learning Hours
This course is approved as a core course
This course can be self-reported for Learning Units to the Architectural Institute of British Columbia
This test is no longer available for credit
Successful, cost-effective net-zero multifamily housing communities are beginning to be designed and built across the country, despite the challenges still facing this unique housing type. This timely, interactive webinar will unpack a series of three exemplary case studies varying in both scale and performance characteristics, to better understand how inventive, forward-looking architects have successfully designed multifamily housing that meets the high-performance goals of net-zero development while remaining affordable in an extremely tight housing market.
Presentation highlights include:
The McEvoy & Dupont Apartments in San José, CA, is providing 365 units to help address the state's crucial housing needs for low-income residents. Designed for First Community Housing in design-build partnership with Lendlease, this 100% affordable development prioritizes sustainability, vibrant placemaking, cutting-edge construction techniques, and the health and wellbeing of residents. A mass timber structure for the two 13-story towers provides significant sustainability benefits, including embodied carbon reduction, a biophilic benefit for the residents, speed of construction, and significant weight reduction.
Beach Green Dune I and Beach Green Dune II are two of the largest multifamily Passive Houses in the country. They are adjacent to each other in the Rockaways in New York City (in the flood zone) and were completed two years apart. Although they look almost identical, they are very different under the hood. Each has a different structure, envelope (ICF vs. Block), ventilation strategy (unitized vs. centralized), and heating and cooling system (VRF vs. ground source heat pumps) along with several other differences due to changes in city regulations and varying site conditions.
Columbus Commons, located in New Britain, CT, is a six-story mixed-use Passive House building containing 80 residential units and four retail spaces. The development has a steel frame first floor and five floors of wood construction above. Completed in late 2019, it is one of the first Passive House multifamily buildings built in the State of Connecticut. This project includes brownfield remediation on an urban-infill TOD site and utilizes podium construction, high-performance building materials, rigorous air-sealing and minimized HVAC systems to place it far along the path to Net Zero. In recognition of these achievements, Columbus Commons was awarded the 2020 Connecticut Green Building (CTGBC) Merit Award in the Multi-Family Residence Category.
A comparison between two different type of wood-framed structures—CLT and traditional podium/wood framing: 340+ Dixwell consists of two four-story structures. The 69-unit multifamily development in New Haven, CT, was funded in the last LIHTC round. Located on a single urban lot, the development consists of a 12- and a 57-unit structure. Both are completely constructed out of CLT and are Passive House compliant; East Main Street consists of a single five-story structure. This 44-unit multifamily development project in Bridgeport, CT, was submitted for LIHTC funding this year. It is a podium structure with four levels of traditional wood frame construction above the first level concrete slab and is Passive House compliant.
Beth Lavelle, a Senior Associate at SERA Architects in Portland, OR, is an architect and manager of SERA's Sustainability Resources Group and helps lead SERA's integrated design approach by providing deep expertise in green building practices, analysis, and documentation. An advocate for leveraging the power of design as a force for good, Beth is passionate about discovering synergies between client goals, project constraints, and environmental and social sustainability opportunities. Beth will present on the McEvoy & Dupont Apartments in San José, California, which is SERA's most ambitious affordable housing project to date, providing 365 units to help address the state's crucial housing needs for low-income residents.
Mark Ginsberg, FAIA, LEED AP, is a founding partner of Curtis + Ginsberg Architects LLC, a firm that has worked on well over 17,000 units of Housing, most of them affordable and most of them sustainable. He was the 2004 President of the AIA New York Chapter, is a member of the NYSAFAH Board of Trustees, and is President of Citizen's Housing and Planning Council. Mark will present the details of Beach Green Dune I and Beach Green Dune II, detailing what was learned and how these buildings are performing in an effort to develop best practices for highly energy-efficient, multifamily design and construction. As part of his presentation, Mark will explain the role New York City code plays in material selection for multifamily and other residential housing projects.
Susan Bridgewater Odell, AIA, CPHC, is a Senior Associate with Paul B. Bailey Architect, LLC based in New Haven, CT, recognized as a pre-eminent firm in New England specializing in high- quality and cost-effective project modernization and new construction. Susan, a Certified Passive House Consultant, will present the six-story Columbus Commons project, located in New Britain, CT.
Paul Selnau, AIA, CPHC of Connecticut-based Schadler Selnau Associates, P.C., is responsible for the development of 3,000+ Private, State, and Federally funded low-rise and mid-rise energy efficient multi-resident structures in New England. A leading force in promoting and implementing energy efficient standards, he continues to champion development of State energy policies and standards relating to publicly funded housing. As a Certified Passive House Consultant, he applies the most stringent/verifiable national energy standards ensuring energy efficient multifamily housing structures and developments. Paul will present a comparison between two different types of wood-framed structures: CLT (340+ Dixwell project) and traditional podium/wood framing (East Main Street project).
The presenters will discuss the challenges and solutions related to designing affordable multifamily housing spaces while simultaneously striving to maximize energy efficiency, ideally meeting net-zero goals. The presentations will be followed by a moderated discussion in which the panelists will relay how their projects address and balance a range of issues, including relevant building codes, community participation, carbon reduction, connection to nature, cost efficiency, and the employment of innovative construction techniques.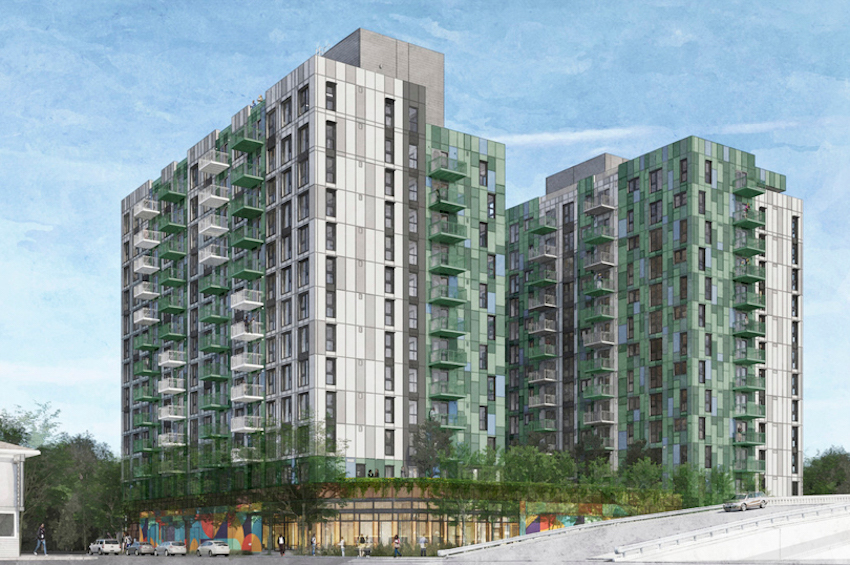 Photo courtesy of SERA Design
The McEvoy Dupont Apartments, San Jose, CA
| | |
| --- | --- |
| | Mark Ginsberg FAIA, LEED AP, is a founding partner of Curtis + Ginsberg Architects LLP,. Curtis + Ginsberg Architects has worked on well over 17,000 units of Housing, most of them affordable and most of them sustainable. He was the 2004 President of the AIA New York Chapter, is a member of the NYSAFAH Board of Trustees, and is President of Citizen's Housing and Planning Council. |