Design Innovation Using Wood
Webinar On-Demand
Sponsored by Think Wood
Learning Objectives:
Define the aesthetic, environmental, and structural strengths of wood as a building material.
Describe innovative uses in wood building design strategies employed in two high-profile projects.
Discuss the benefits of mass timber and CLT in the construction of modern building projects.
Explain the basic focus of the overall design and construction process behind the highlighted projects.
Credits:
This course is approved as a core course
This test is no longer available for credit
This webinar will explore innovative uses of wood in building design, focusing on mass timber and cross-laminated timber (CLT), and profile two unique projects that embody the aesthetic, environmental, and structural strengths of wood as a building material.
Joseph Mayo, AIA, LEED AP, an architect at Mahlum, winner of a 2016 AIA Associates Award, and renowned author of Solid Wood: Case Studies in Mass Timber Architecture, Technology and Design, will provide an overview of the wood renaissance in the industry and the overall benefits of using wood in the construction of modern building projects.
Brian Court, AIA, partner at Miller Hull, will present on the Bullitt Center, a prototype high-performance urban office building located in Seattle, dubbed the "greenest commercial building in the world."
Tom Chung, AIA, LEED AP BD+C, principal at Leers Weinzapfel Associates (LWA), will present on the highly touted UMass Design Building, with a basic focus on where and how mass timber and CLT fit into the design process.
The presentations will be followed by a moderated discussion focused on how ambitious projects using wood construction address several key issues, including:
Cost: What tradeoffs, if any, are required achieve design excellence using wood? In the featured projects, did using wood add costs that needed to be recouped in other areas of the project, or did it actually reduce overall costs?
Regulatory barriers: Were there any regulatory or other legal barriers that the project needed to overcome? If so, what strategies did the design team use to overcome them?
Drivers: Did the owner request a wood building, or did you, as the architects, propose it? If the latter, what led you to suggest a wood design?
Design constraints and opportunities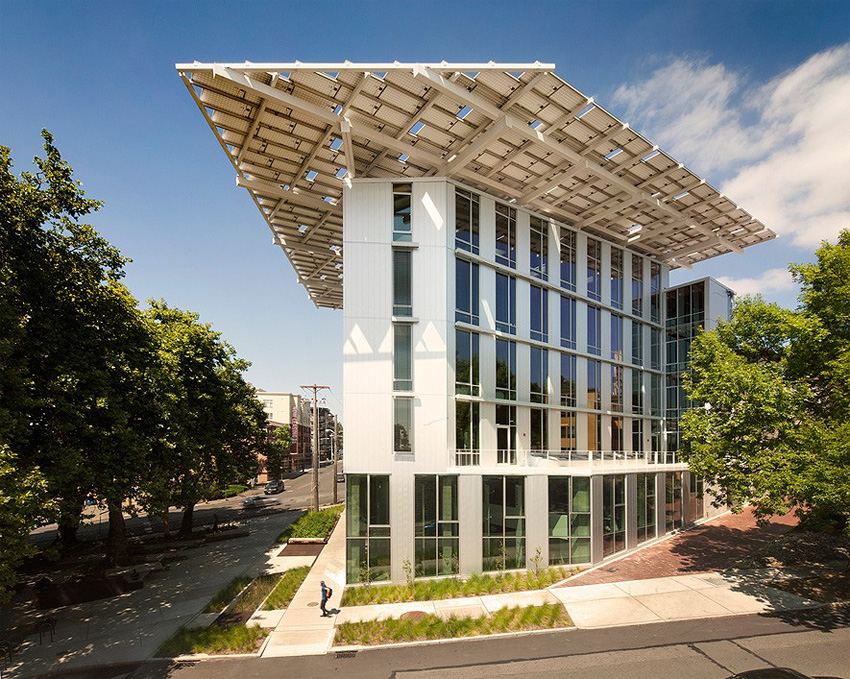 Photo courtesy of WoodWorks
Photo courtesy of Think Wood, Inc.
| | |
| --- | --- |
| | Tom S. Chung's, AIA, LEED BD+C, Principal Leers Weinzapfel Associates Architects. journey from Seoul, Korea, where he was born to the United States where he has been raised and educated gives him a deep multicultural understanding of design in its cultural context. Educated at the University of Virginia and the Harvard Graduate School of Design, he is a dynamic and talented design leader with the ability to inspire others. In his more than 20 years with the firm, Tom has been the primary designer for a number of the firm's most prominent award-winning projects. As adjunct faculty, he has taught design studios at Northeastern University School of Architecture, exploring architecture and urban design subjects, and has been a juror at design reviews, including the Graduate School of Design at Harvard University. |
| | Brian Court AIA, Partner The Miller Hull Partnership LLP AIA National Firm Award Recipient demonstrates outstanding design excellence and leadership in his work advancing complex programmatic demands, rooted in a rigorous performance-based design process. His involvement with numerous high-profile and complex landmark design projects, and deft combination of both time-tested and innovative design strategies and emerging technologies, has earned him the reputation as an advocate for groundbreaking sustainable design. A graduate of the College of William and Mary and with a master's degree from the University of Washington, Brian received the AIA Seattle Young Architects award in 2013. |
| | Joseph Mayo, AIA, LEED AP, Associate Mahlum | Architects Inc. is an architect in Seattle and author of the book Solid Wood: Mass Timber Architecture, Technology and Design. At Mahlum, he advised on the first installation of Oregon-made structural cross-laminated timber (CLT) in the country and is currently working on a series of CLT classroom buildings in Washington. Joseph is a frequent writer and speaker on wood architecture and the economic viability of large timber buildings. |
| | |
| --- | --- |
| | Think Wood is a leading education provider on the advantages of using softwood lumber in commercial, community and multifamily building applications. We introduce innovators in the field to our community of architects, engineers, designers and developers. For support or resources, contact us at info@ThinkWood.com. |
Originally published in June 2017
Notice