Architecting Change: Design Strategies for a Healthy, Resilient, Climate-Smart Future
Sponsored by Think Wood
Case Studies: Carbon and Climate
Design professionals across the country and around the world are increasingly constructing buildings using light-frame and mass timber structures in a commitment to combat climate change. Not only does wood continue to store carbon, but its insulative thermal properties also lend well to energy-efficient solutions like Passive House.
Mass Appeal: CLT Passive House Demonstration Project
Rendering courtesy Generate, Placetailor
CLT Passive House Demonstration Project in Boston.
A Boston-based CLT Passive House Demonstration Project is a mass timber, mid-rise, multifamily, certified Passive House building that shows how cross-laminated timber systems can meet complex design and sustainability goals. It's the brainchild of MIT start-up Generate and design-build firm Placetailor.
"Mass timber buildings, like Model-C, have the ability to tackle climate change [and] are also mid-rise to accommodate urban density," says Generate CEO John Klein. The five-story, mixed-use demonstration project is Boston's first full cross-laminated timber (CLT) building, housing fourteen residential units and a ground floor co-working space. The project was designed to operate at net-zero carbon, which is achieved by calculating both the building's embodied energy and its operational energy, and offsetting any annual excess energy use through carbon offset purchases. The building is Passive House certified and meets the Boston Department of Neighborhood Development's Zero Emission Standards. It is scheduled to begin construction in spring 2021.
Net-Zero Energy
A net-zero building, also known as a zero-net energy (ZNE) building, net-zero energy building (NZEB), or zero-energy building, is "an energy-efficient building where, on a source energy basis, the actual annual delivered energy is less than or equal to the on-site renewable exported energy."
Net-Zero Carbon Building
A net-zero building means all life-cycle greenhouse gas emissions from all sources derive a sum of zero or less. This includes accounting for life-cycle impacts of operational energy use, water consumption, and construction (including materials extraction, manufacturing, transport to the site, installation and wastage, repair, replacement, refurbishment, and end-of-life processing). It also includes benefits (avoided impacts) from the reuse of materials and permanently sequestered carbon.
High-Density, Mid-Rise, Light-Frame Construction: Yobi Microhousing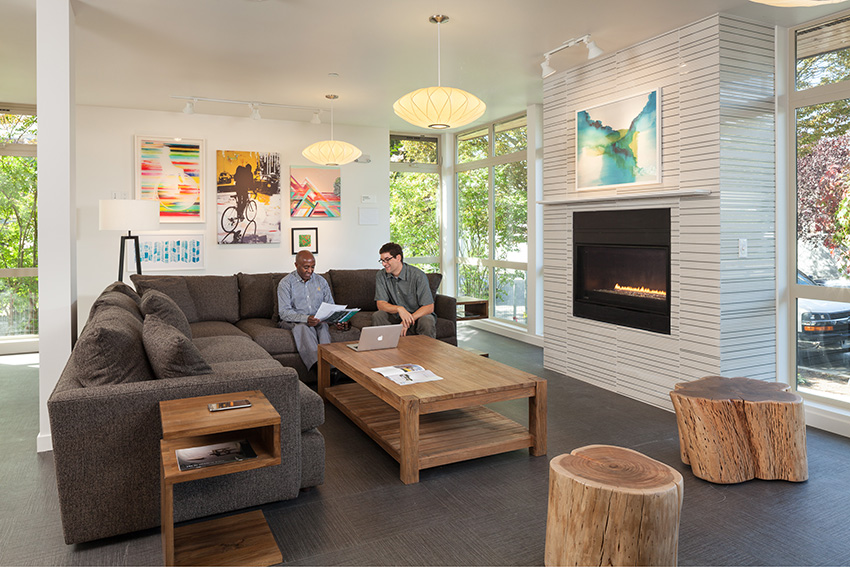 Photo courtesy © 2015 William P. Wright
Yobi Microhousing in Seattle.
Today's wood-frame buildings can offer more affordable housing options. Four-to-six story wood-frame structures are a sweet spot for urban infill and neighborhood densification—helping to pencil out housing in bigger cities with rising costs. An excellent example is Yobi Microhousing in Seattle.
A central strategy in the Yobi project is the creation of shared common space that contributes to an efficient building footprint. Conventional wood-frame construction with dimensional lumber shear walls combined with high insulation levels and sealed openings to create a high-performance exterior envelope for the project with energy use that is 40% lower than current energy code requirements.
The 13,689-square-foot, four-story structure accommodates 40 sleeping units built over a partially-below-grade basement. A ground floor provides common areas including a lounge, community kitchen, laundry area, and media room.
"Wood makes it much easier to build an efficient envelope," says David Neiman, a principal architect for the project. Based on energy use per person, Yobi is 70 percent more energy efficient than conventional housing, according to Neiman.
Climate-Friendly Educational Design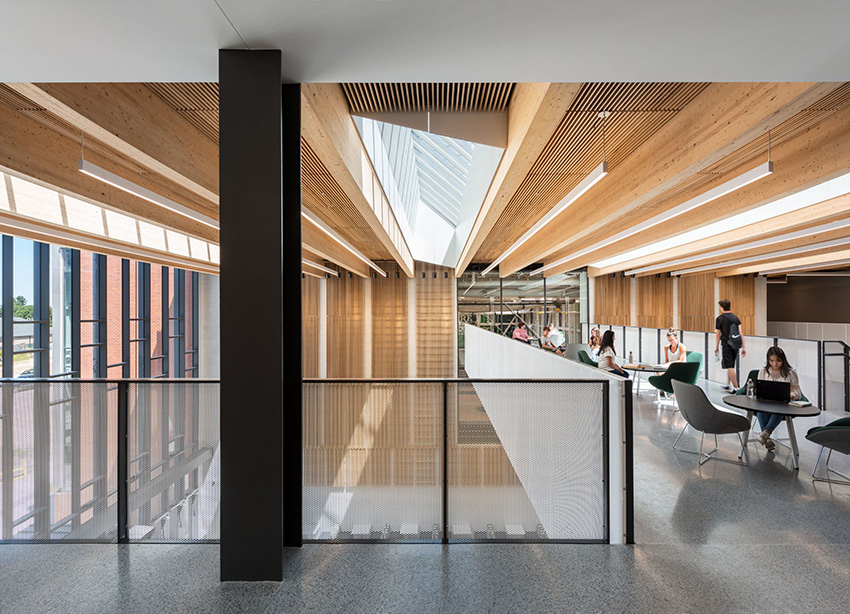 Photo courtesy of Chuck Choi, courtesy Perkins&Will
Billerica Memorial High School in Billerica, Massachusetts.
Offering lessons in sustainability, more and more of today's education design—from elementary to post-secondary—showcases climate-smart low-carbon strategies. At Billerica Memorial High School in Billerica, Massachusetts, timber contributes to the building's carbon-conscious design. Embodied carbon in the sustainably certified spruce timber structure offsets the equivalent of a typical school bus traveling over 460,000 miles. The 30,000-square-foot facility, designed by Perkins&Will, elegantly combines wood, steel, and glass, to give a modernist nod to its neighboring neoclassical civic buildings, while delivering a high-tech, future-ready educational environment.
T3: Low Carbon Commercial Construction
Standing at seven stories tall, T3 (Timber, Transit, Technology) was the first commercial property in the U.S. to use timber for its structure and interior finishing. It demonstrates how large timber projects can lower the carbon footprint of the built environment, while providing a warm and innovative commercial space. The 220,000-square-foot building was constructed with 8-foot-by-20-foot panels of wood that were stacked across beams of glued, laminated timber. The panels themselves were constructed using dimension lumber.
Approximately 2.2 million board feet were used in the structure, which will sequester about 700 tons of carbon for the life of the building. It was also built in significantly less time than conventional steel-framed or concrete buildings, completed in just two and a half months at an average of nine days per floor. Given timber's light weight, lower production time, and costs, T3 developer Hines has replicated this building prototype in Atlanta, with plans to expand to other markets including Chicago, Denver, Toronto, and Melbourne.
SOURCES