Speed Framing: Revolutionary Designs that Accelerate the Pace of Steel Construction
Sponsored by The Steel Institute of New York
Learning Objectives:
Explain the background issues that led to development of these revolutionary design concepts.
Describe the features of these designs and how they work, including their performance under fire conditions.
Identify the differences between them and traditional core and floor system designs that contribute to time savings during construction.
Utilize the knowledge gained to educate clients in the benefits of these designs, providing data on the potential reductions in schedule and the cost savings associated with them.
Credits:
This course can be self-reported to the AIBC, as per their CE Guidelines.
This course is approved as a Structured Course
This course can be self-reported to the AANB, as per their CE Guidelines
Approved for structured learning
Approved for Core Learning
This course can be self-reported to the NLAA
Course may qualify for Learning Hours with NWTAA
Course eligible for OAA Learning Hours
This course is approved as a core course
This course can be self-reported for Learning Units to the Architectural Institute of British Columbia
This test is no longer available for credit
Builders of steel-framed high rises already see faster erection times than those using other materials because of steel's inherent advantages during the fabrication, staging, and erection phases. But two recent innovations are poised to accelerate the pace of steel construction even further. The non-proprietary design concepts were developed by Magnusson Klemencic Associates (MKA), an international, award-winning structural and civil engineering firm headquartered in Seattle. In both cases, they achieve more efficient construction by replacing reinforced concrete with steel during the construction of high-rise buildings. The first, which is already being employed in several U.S. buildings, is a modular assembly of concrete-filled composite steel plate shear walls that makes it possible to build four floors in a week instead of the three to five days per floor typical of an all-concrete building core. Another innovation just entering the testing phase, uses an assembly of modular bays fabricated from steel plate spanning structural floor beams in lieu of reinforced concrete-on-metal deck. A raised floor system bearing on the steel plate provides the finished walking surface as well as a ready-made raceway for ductwork and cabling.
The webinar will be presented by MKA's Ron Klemencic, who conceived the ideas for these innovations and has employed them in projects around the country. Joining him will be representatives from Schuff Steel, Brett Manning, SE, Vice President of Engineering, and David P. Wright, Director of Preconstruction, who will present the perspective of the erector who has constructed buildings that feature these designs.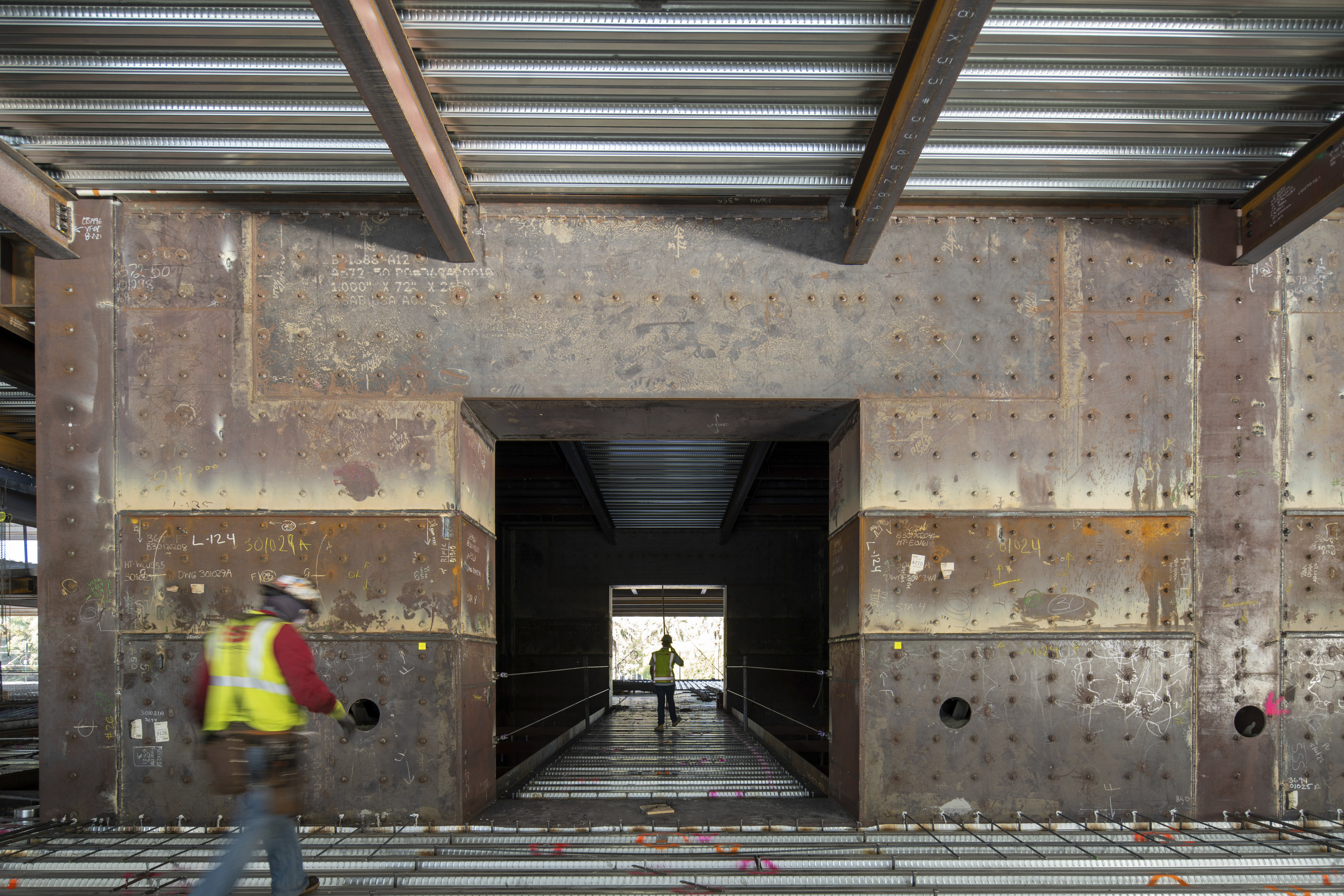 Photo courtesy of Jason O'Rear/Magnusson Klemencic Associates
 SpeedFloor erection at 200 Park Avenue in San Jose, CA
 Ron Klemencic, PE, SE, Hon. AIA, NAC, NAE is Chairman and CEO of Magnusson Klemencic Associates (MKA), an award-winning, 185-person structural and civil engineering firm founded in 1920 and headquartered in Seattle, Washington.  His portfolio of work includes projects in 29 states and 25 countries, including iconic high-rise buildings such as the 61-story Salesforce Tower in San Francisco, 101-story St. Regis Chicago, and 58-story Rainier Square in Seattle.  

Developers and architects seek Ron for his creativity, "big picture" approach, and unique ability to consistently produce innovative and cost-effective designs.  Ron was one of the leading innovators behind the recent implementation of SpeedCore—a first-of-its-kind structural system that uses prefabricated core elements with assembly-line-like efficiency to erect tall buildings fast, safe, and efficiently.  

In recognition of his leadership in the structural engineering profession and advancement of Performance-Based Seismic Design (PBSD) of high-rise buildings, Ron was awarded the Fazlur R. Khan Lifetime Achievement Medal from the Council on Tall Buildings and Urban Habitat (CTBUH) and the Ernest E. Howard Award from the American Society of Civil Engineers (ASCE). He also was inducted into the National Academy of Construction (NAC) and National Academy of Engineering (NAE).

 

 Brett Manning, SE is Vice President of Engineering for Schuff Steel, with over 30 years of experience in both the construction industry and working as a structural engineer. Experience has included development of design criteria, structural analysis, preparation and review of contract documents and construction engineering on significant projects throughout the Western United States. Construction Management experience includes sports venues, hospitals, commercial, aviation and institutional facilities.  

Mr. Manning is registered as a Structural Engineer in California and Oregon, and a licensed Civil Engineer in Nevada. Committee participation includes ANSI/AISC 358 Connection Prequalification Review Panel, AWS D1.8 and SEAONC Seismology Steel Subcommittee.  

 David P. Wright, known by most as either Dave P., or simply DPW, is the Director of Preconstruction for Schuff Steel Company (Schuff). Schuff is one of the largest Steel Fabricator and Erectors in the country and is consistently listed as a top ranked Structural Steel erector by ENR's Top 600 Specialty Contractors. Schuff operates 6 fabrication shops and 7 offices in the United States, as well, they can self-perform steel erection in over 20 states.  

David has served with Schuff in several capacities during his 22 years with the company, including Project Engineer, Project Manager, Project Executive, VP of Project Management, and currently Director of Preconstruction. During that time his portfolio of projects includes iconic structures such as new stadiums for the NFL's Arizona Cardinals and Denver Broncos, the new global award-winning terminal at Tocumen International Airport in Panama, the successful long span roof lifting operations at the new Google Bay View campus in Mountain View, and the nearly completed 200 Park Ave project in San Jose.  

David has a passion for complex projects which require non-typical approaches to design and construction. He is a firm believer in getting into the "Details" of the project early and helping develop the execution plans that will ensure the project is able to be successful! He has a particular interest in projects which allow early & open collaboration between the Design Team and the construction trade partners, as these provide the best opportunity for solving challenges in a TEAM environment to successfully meet project goals.

 
| | |
| --- | --- |
| | The Steel Institute of New York is a not-for-profit association created to advance the interests of the steel construction industry by helping architects, engineers, developers, and construction managers develop engineering solutions using structural steel construction. |
Originally published in February 2022
Notice