Managing Risk During Intricate Curtain-Wall Projects
Early collaboration and a design-assist approach are key to successfully delivering complex facades
Sponsored by Ornamental Metal Institute of New York
Learning Objectives:
Identify the pros and cons of project-delivery methods and the reasons why design-assist is often suited for complex curtain-wall projects.
Explain modeling programs and tools utilized by architects and facade designers to optimize daylighting and create these innovative facades.
Describe best practices for mitigating economic and safety risks throughout the supply chain.
Discuss relevant case studies demonstrating successful complex curtain-wall project delivery, construction safety, and the resulting designs promoting daylit and occupant well-being.
Credits:
This course can be self-reported to the AIBC, as per their CE Guidelines.
As an IACET Accredited Provider, BNP Media offers IACET CEUs for its learning events that comply with the ANSI/IACET Continuing Education and Training Standard.
This course is approved as a Structured Course
This course can be self-reported to the AANB, as per their CE Guidelines
Approved for structured learning
Approved for Core Learning
This course can be self-reported to the NLAA
Course may qualify for Learning Hours with NWTAA
Course eligible for OAA Learning Hours
This course is approved as a core course
This course can be self-reported for Learning Units to the Architectural Institute of British Columbia
This test is no longer available for credit
Largely driven by a desire to deliver that next iconic building, corporations, higher-education institutions, and even private-sector clients are actively engaging architects to design sleek curtain-wall facades that stand out from the crowd.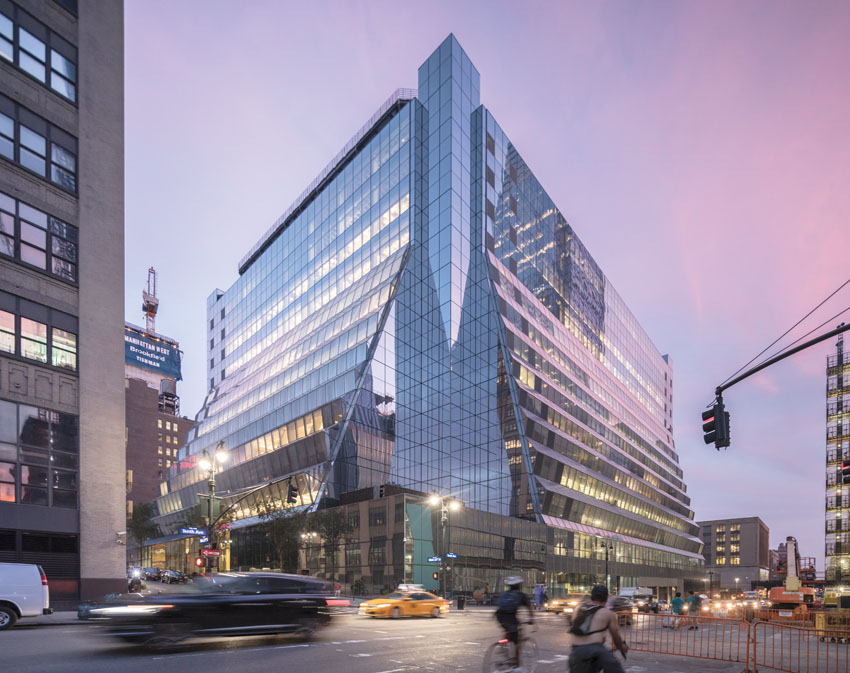 Photo courtesy of REX/© Laurian Ghinitoiu
REX and Front's redesign of the 5 Manhattan West angled curtain wall was successfully achieved with a well-managed design-assist project approach, closely involving the full project team.
"Brand and user experience is huge, and clients want inspirational, high-performance spaces that walk the walk in terms of environment and sustainability," says MIT School of Architecture Associate Professor of Practice Marc Simmons, founding principle of the New York-based facade systems design firm Front.
"As the face of the building, we feel a responsibility to deliver a thoughtful, dynamic skin that will contribute to the residents' and public's experience of the home and the city fabric," adds Marci Clark, Ph.D., development director, architectural historian, JDS Development Group, New York.
From large high-tech companies to public courthouses to universities, cutting-edge curtain-wall designs, particularly in urban areas where mid-sized and tall buildings are on the rise, are filling an important niche.
"Curtain walls offer the best combination of single-source, high-performance, customized enclosures, and are often the most desirable alternative to meet the complex demands of modern large projects like quality, speed, and lower risk," says Sameer Kumar, AIA, LEED AP, director of enclosure design, SHoP, New York.
Another driving factor enabling the design and execution of complex curtain-wall designs is the latest technological advancements. Perhaps most significant has been the transition from 2-D AutoCAD to 3-D drawing platforms, such as Rhino, Revit, Inventor, Softworks, and Cotia.
In addition, Jeff Heymann, vice president, Benson Industries, Portland, says the application of CNC, BIM, and robotics to the manufacturing process has enhanced the capabilities of glass fabrication. Consequently, the fabrication, coating, insulation, lamination, and production of larger glass lites and bent glass—both hot and cold formed—is more predictable and readily available.
"Glass sizing is being pushed larger and larger, and companies are developing ways to curve, laminate and use glass in ways that were previously unthinkable," adds Anthony Kantzas, facade consultant, Front, New York.
And new techniques with frits and screen printing, digital printing, and new interlayers have made glass a greater part of the facade's shading scheme, decorative features, and overall aesthetic.
Heymann adds that improvements in CNC and equipment intelligence have increased the ability to fabricate aluminum extrusions and panels with a high degree of complexity to keep pace with building geometry and form. He is also seeing more interest in adopting different materials into aluminum-framed curtain walls, be it terracotta, other metals, cementitious products, or photovoltaic panels.
While the results of these enhanced technological capabilities are often remarkable, complex facade projects require a close-knit building team, optimized leveraging of expertise, and a well-sequenced operation from design to fabrication to construction, in order to optimally mitigate risk and efficiently deliver projects.
"The best practice by far when dealing with a novel, innovative, or complex facade design is to engage all key players involved in the implementation of the facade program as early in the process as possible," says Mic Patterson Ph.D. LEED AP, ambassador of innovation and collaboration, founder, immediate past president, Facade Tectonics Institute, Los Angeles.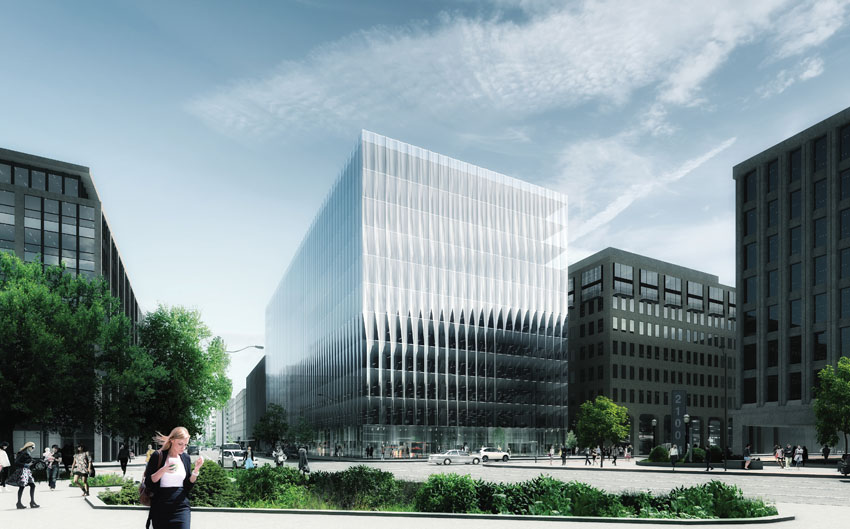 Photo courtesy of Samson Properties
2050 M Street's striking Washington, D.C., facade, delivered via design-assist, creates a kaleidoscopic effect with hundreds of identical, subtly curved insulated glass panels with no mullions for a full all-glass aesthetic.
SELECTING THE RIGHT PROJECT-DELIVERY APPROACH
In selecting a project-delivery method, the decision should be dictated by the individual needs of each project.
"The geographical location, the overall project schedule, and the specific mix of materials on a project are some of the key variables that contribute to the procurement strategy," Kumar explains.
For example, if building performance is the main goal, a design-build approach might be a good way to go. Similarly, more simplified designs are usually suited for a traditional project-delivery model.
However, with more complex designs, experts advocate for design-assist, despite the fact that building owners may be hesitant to depart from the traditional way of doing things. Design-assist is the procurement method by which, prior to completion of design, a construction contract may be awarded on a best-value basis pursuant to which a contractor provides design assistance to the architect or engineer of record through a design professional separately retained by the contractor. It is a collaborative, team-oriented process that capitalizes on the benefits of early engagement of all parties.
"The facade contractor does not define the project-delivery strategy, but when asked, we always encourage a design-assist approach," confirms Jeffrey Vaglio, Ph.D., PE, AIA, vice president of Advanced Technology Studio, Enclos, St. Louis. "The preference toward design-assist is because it aligns with our in-house technical strengths, and embracing of prototyping technology allows us to add value and advance critical decisions that are all in the best interest of a project schedule."
As a contractor, Heymann agrees, "In our experience, the best project-delivery strategy for major projects is to engage us in a design-assist usually 20 to 24 months before curtain wall is to be ready to install on-site."
This way, the contractor can most optimally work along with the design team as a true partner to help develop the facade to a point where the scope of work can be locked in by the curtain-wall fabricator with a lump-sum price. "We can then manage a schedule that works within the overall construction schedule," he concludes.
While this looks great on paper, one of the challenges is that fact that the AECO industry is notoriously risk averse and therefore wary of innovation, explains Patterson. So the process of embracing of truly collaborative project-delivery processes has been frustratingly slow.
Patterson believes that the problem is fundamental: The industry is founded on deeply instilled competitive practices and has yet to gain adequate experience in true collaboration.
"This is why attempts at embracing collaborative delivery strategies often stall out or are largely abandoned before a project's completion," he laments.
Unfortunately, advanced facade designs are almost impossible to execute without a fully team-integrated process.
"It is critical that a complex or novel facade design, or one involving any form of innovative product or material, utilize some form of collaborative delivery strategy," he says.
In cases where the project stakeholders are willing to go with a design-assist process, Matt O'Malley, DPR Construction, Reston, Virginia, offers some best-practice advice from the perspective of the general contractor (GC).
Be collaborative but also proactive about managing the design-assist process. Do not leave it to the design team and to the curtain-wall subcontractor. The GC has to drive the process to ensure the right results.
The GC needs to maintain relationships with all players in the supply chain, not just the prime subcontractor.
The GC also needs to understand where the materials are coming from. This includes visiting the various shops and facilities along with the prime subcontractor in order to ensure production schedule and quality.
While most of the supply-chain management will be the responsibility of the prime subcontractor, the GC needs to take an active role in helping to ensure performance.
Adding some additional insights on the design-assist process, O'Malley observes that most of the major curtain-wall subcontractors prefer working this way, and that most of the major vendors have large backlogs and need to be engaged early enough to ensure capacity.
Originally published in Architectural Record
Originally published in November 2019
Notice