Less Is More with Lightweight Honeycomb Reinforced Stone and Porcelain Panels
Engineered panel systems use real stone or porcelain and produce less weight, less labor, less environmental impact, and less cost creating more attractive design solutions.
Sponsored by TerraCORE Panels, LLC
This test is no longer available for credit
The most common challenge associated with dimension stone is addressing its weight. This is obvious in the mining and rough cutting of the stone, but it becomes even more significant after leaving the quarry. Transporting large, heavy, multiple pieces of stone means that it is more costly to move from the quarry to the fabrication site, and then to the job site, resulting in a significant amount of embedded energy in the final products. This weight ripples through the rest of the building, particularly if it is used for exterior or interior wall panels, since the structure supporting the stone needs to be beefed up to handle the added dead load of the dimension stone. Installation of heavy stone panels requires appropriate equipment and skilled labor to assure a proper and durable end result. All of this impacts the cost and time required to use dimension stone on buildings. It also offsets some of the environmentally appealing aspects of using a natural material by increasing the impact of its use over its life cycle.
Lightweight Stone Panels
How can the attractive and desirable benefits of stone be retained while overcoming the limitations and challenges of dimension stone? The answer lies in innovations made by manufacturers to produce lightweight stone panels.
The process of fabricating lightweight panels begins with the same quarried stone blocks and slabs with the same benefits and choices of dimension stone. However, once delivered to the manufacturer, the process changes. It is based on using a thin layer of stone that is backed with a lightweight honeycomb layer to reinforce the stone and keep it strong enough to use on a building. The honeycomb is made of fiberglass and/or recycled aluminum with superior performance and strength. In addition to the inherent strength of the honeycomb reinforcing, it also allows for some flexibility and absorption of building stresses that might otherwise cause damage to dimension stone. Because of this composite type of fabrication, the amount of stone is reduced, meaning that the weight is dramatically reduced, such that a single stone block can be used for two or three times the amount of wall panels compared to full-depth dimension stone panels.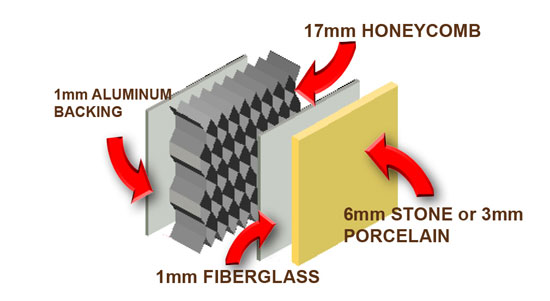 Image courtesy of TerraCORE Panels, LLC
Honeycomb reinforcing can be used behind a full range of stone types to create a lightweight, durable system.
Many natural stone choices can be used for lightweight panels with multiple finish options available, including polished, honed, flamed, bush hammered, sandblasted, antiqued, and acid washed. The specific type of stone selected often affects the manufacturing process. Harder stones like granite can be sliced to a rather thin slab of 7 mm (approximately 3/8 inch) thickness and are finished to their desired appearance. They are then adhered directly to the honeycomb reinforcing with epoxy. Once cured, the panels are cut to their exact finished size and the edges are finished and treated. Softer stones like marble and limestone start with an unfinished slab of conventional thickness. The honeycomb reinforcing is then applied to not one, but both sides of the slab. Now fully reinforced, the stone is split down the middle so two separate panels are created, each with a stone face that is half the thickness that it started with. The panels are then cut to their finished size, and the faces and edges are finished as desired or specified.
When it comes to producing multiple panels, some manufacturers will simply take full-sized dimensioned slabs, add honeycombs, and then cut the panels out of the slabs which can generate significant waste or unused product depending on the panel sizes needed. In order to maximize the yield of the stone, minimize waste, and reduce environmental impacts, other manufacturers look more carefully at the panel sizes compared to the slab sizes. By planning out the cutting patterns ahead of time, the dimensional slabs and the honeycombs are cut first to a rough shape that may be an inch or two larger all around. Then they are precisely cut to final sizes as called for by the architectural design with the edges and faces finished according to specifications. In this way, the yield from each slab can be maximized and the use of the honeycomb reinforcing can be kept very efficient. Each panel is numbered to equate to its location on a building elevation or wall, particularly since different sizes may be needed to accommodate a particular design.
The final step in the manufacturing process is to prepare the panels for installation. Most manufacturers of panels also manufacture their own system for installing them. Typically this involves an aluminum interlocking clip or track system that allows the panels to hang securely on the building wall system. Hence, the appropriate clips or channel pieces are precisely secured onto the back of the panels in the factory. The complementary rail pieces that are intended to be field installed are also fabricated and shipped along with the panels. Once complete, the panels and installation system are crated and packaged to be shipped to the building location. They are organized in crates according to the requirements for installation on each building elevation with each crate numbered just as the panels are according to their final design location.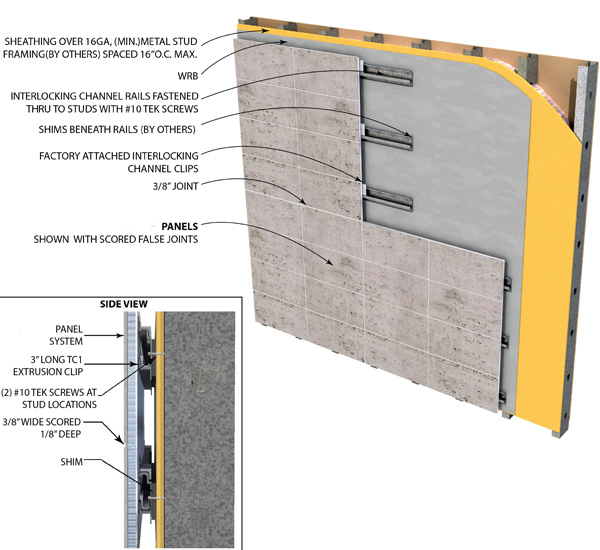 Image courtesy of TerraCORE Panels, LLC
A clip system can be used to install the panels to a wall assembly with clips attached during fabrication and channels attached in the field.
The results of this innovative process include a building that has the visual and performance characteristics of stone with up to 80 percent less weight compared to dimensional stone. This means that the panels can be readily hung on 16-gauge metal stud walls thus keeping structural costs low by keeping the building more lightweight. The manufacturing process of creating permanently bonded panel assemblies' means there is little worry of warping, expanding or contracting like many heavier stones. They can also be fabricated in a full range of custom or standard sizes up to 4 feet by 8 feet (common stone slab size) or sometimes even larger. When it comes to installation, the lightweight panels have been found to be 5 to 10 times faster to install than solid heavy dimensional stone, thus saving construction time and reducing labor costs. Most of these savings come from the engineered clip or channel system that is installed in the factory and allows for a very efficient installation process. Overall, the final lightweight reinforced panel products are highly tested and fully warranted by manufacturers as a result. Further, in the event that other stone products are needed to complement the design of a building it is possible to specify a full line of diverse dimensional stone products often from the same manufacturer to match the lightweight panels.
Porcelain Panels (Large format)
A variation on incorporating lightweight reinforced panels into a building design is to use panels with large-format manufactured porcelain instead of cut stone. Porcelain is a well-known building product often used for wall or floor tile. It is similar to clay-based ceramic tile, but in fact it is made with different materials that make it denser, more durable, and much less water absorptive. It is manufactured from natural raw materials that include kaolin, silica sand, and feldspars that create these distinctive performance qualities. These materials are atomized, mixed in a press, and fired in a kiln at 2,100 degrees F or higher to create the finished product. Along the way it can be reinforced with fiberglass mesh and its appearance can be varied from a continuous, uniform look to a variegated look that can mimic the swirls and veins of marble or other stone. Either way, since the material is sometimes made using a through body process that is the same all the way through, the color is also all the way through. That means that a chip or nick may be hard to notice unlike ceramic tile that is glazed with color only on the surface. By contrast, for patterned appearances, a roto gravure printing process is used that creates an image on the surface of the porcelain only.
When large-format porcelain is used in wall systems, the size of the individual units is larger than tiles so they are simply referred to as panels. In the interest of controlling weight and cost, their thickness is reduced as well, down to as little as 1/8 to ¼ of an inch. Using the same principles as reinforced stone panels, the porcelain panels are backed with aluminum honeycomb adhered to the back side of the porcelain. The fabricated panels can then be hung to the supporting wall using clips or channels in the same way the reinforced stone panels are. In some cases, the honeycomb backed porcelain can be directly applied to the wall surface using appropriate adhesives.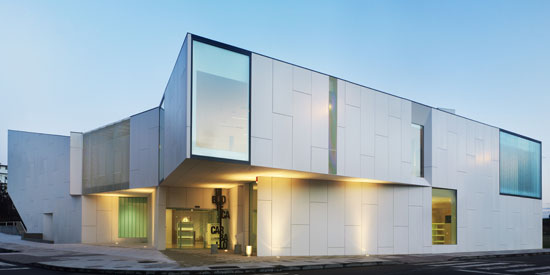 Photo courtesy of TerraCORE Panels, LLC
Porcelain wall panels can be used in larger sizes and offer a different variety of aesthetic appearances than stone.
One of the differences between stone panels and porcelain panels is the larger potential size of porcelain panels which can be manufactured in widths up to 39 inches and lengths that can go up to 118 inches or nearly 10 feet. These larger sizes mean fewer joints, expedited installation, and dramatic design opportunities. From a physical performance standpoint, the porcelain panels exhibit bending strength and water resistance that is better than most stone and ceramic solutions. Its thin size and stable make up also give it very positive thermal expansion coefficients when compared to other building materials. Over the long haul, building owners and maintenance crews will appreciate its resistance to abrasion, stains, chemicals, graffiti, and color changes from sunlight. In all, it is a durable and attractive solution that is on the order of 50% thinner and lighter than standard porcelain products. That means it requires less raw material, less processing and transportation cost, and less impact at the end of its useful life.
Originally published in June 2014
Notice