Yes, We Can! Multifamily Housing Meets Sustainability
LEED certification, Passive House certification, attacking homelessness—these projects show you how it's done.
Sponsored by TAMLYN
Learning Objectives:
Describe the funding model and its benefits used to build Teacher's Village.
List the strategies used during construction of the Bouleta building to achieve airtightness goals.
Summarize the model of housing diversity used in the Future Towers project.
Provide two ways the designers of the Shermerhorn building sought to engage the community.
Credits:
This course is approved as a core course
This test is no longer available for credit
This course is part of the Multifamily Housing Academy.
Below are a set of links to building type studies from Architectural Record, which are in-depth analyses of particular kinds of buildings, with photos, drawings, specifications, detailed descriptions, and design solutions. Click on each link below, read the article then complete the quiz to earn your credit and certificate of completion.
Multifamily and affordable housing is experiencing a major shift from the days of government-funded high-rise towers. Architects and designers are making socially conscious choices, and with those, great strides in improving the homeless population in some cities, as well as the sustainability and resiliency in multifamily housing.
Teachers Village by Richard Meier & Partners Architects with KSS Architects
This LEED-certified multifamily building in Newark, New Jersey, is one of the first ground-up residential construction in the city in decades.
Lila Allen
New Tallest Passive Tower Performs on Budget
Bouleta, a 28-story residential high-rise in Bilbao, Spain, has become the world's tallest building certified under the Passive House standard.
Katharine Logan
Upcoming Multifamily Project in British Columbia Combines Passive House and Mass Timber
This design uses cross-laminated timber (CLT) wall, floor, and ceiling panels and CLT-based modular cladding panels, pre-built offsite with insulation, windows, and a metal skin, to achieve its affordability, sustainability, and livability trifecta.
Katharine Logan
Future Towers by MVRDV
Housing more than 10,000 people, this project in Pune, India, also sought to support sustainability, recycling, and community engagement.
Clifford A. Pearson
Gentrification's Effect on Urban Communities
The Shermerhorn building in Brooklyn houses formerly homeless individuals and low-income working people. Design played an important role in neighborhood acceptance.
James S. Russell, FAIA
Interview with Rosanne Haggerty
Rosanne Haggerty is the founder of Community Solutions, which addresses sustainability in the housing market and the larger problem of fragmented local housing and social-support systems.
Cathleen McGuigan and Suzanne Stephens
The House by Handel Architects at Cornell Tech
Some call it plain, but this 26-story, 273,000-square-foot high-rise on New York City's Roosevelt Island still represents a milestone for green multifamily development.
Joann Gonchar, FAIA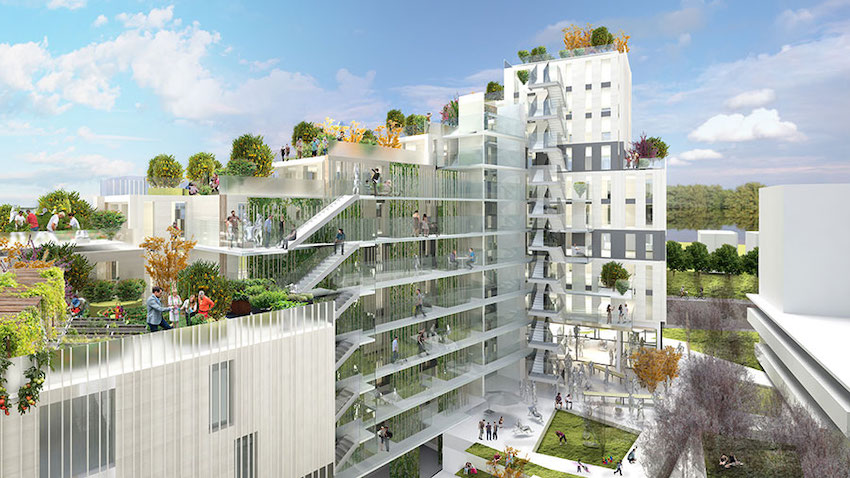 Image courtesy of Lang Wilson Practice in Architecture Culture
| | |
| --- | --- |
| | TAMLYN is a family-owned company with more than 40 years of involvement in construction materials and building science and has taken another step forward to become a leader in the building enclosure field. We offer quality products, competitive prices, and fast service. www.tamlyn.com |
| | |
| --- | --- |
| | TAMLYN is a family owned company with 45+ years in the building products industry who continues to create new extruded aluminum trim components for the multifamily market across our XtremeTrim® and XtremeInterior™ lines. XtremeTrim® is a line for various siding products from fiber cement to T&G cedar. XtremeInterior™ is a line unique and contemporary details for drywall applications. For more, www.tamlyn.com. |
Originally published in March 2019
Notice