Sustainable Extruded Aluminum Trim Profiles Deliver Aesthetics and Durability
Sponsored by Tamlyn
This test is no longer available for credit
Trim finishes
Extruded aluminum trim is typically available in standard color finishes or primed ready-to paint, and also in anodized finishes.
Pre-colored
Manufacturers recommend one of the standard palette colors because each is made to the exact standards of the largest U.S. cementitious siding manufacturer. The fully engineered paint-coating system is computer matched, fade resistant, uses non-VOC (volatile organic compound), and is expected to last eight years.
Custom color
Design professionals requiring custom colors, can specify a primed ready-to-paint finish. Manufacturers typically provide a painting guide and recommend following a paint manufacturer's instructions for an eco-friendly, sustainable, recyclable, fire resistant direct to metal (DTM) paint material. Aluminum does not rust. It can, however, corrode if its protective coating is uncovered. Manufacturers recommend recoating trim after making end cuts or if there are surface scratches.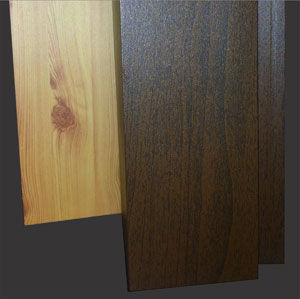 Photo provided by Tamlyn
Examples of custom-patterned extruded aluminum trim.
Custom pattern
Design professionals can also order trim in a custom pattern. In one example in an airport interior, the wallpaper pattern was repeated on the aluminum trim covering panel joints in order to provide a continuous unbroken appearance.
Clear anodized finish
A clear anodized finish is an electrochemical conversion process that deposits an oxide film on the aluminum trim. While a natural oxidation process occurs on bare aluminum, producing the controlled oxidation process artificially creates a thicker, harder, and more durable "oxide film." Clear anodized is an extremely durable finish and is resistant to most forms of corrosion. Design professionals should note that clear anodized finishes can vary slightly from one piece of trim to another and should consider this characteristic before ordering.
Special color anodized finishes
Manufacturers also offer special color anodized finishes if required. Typical colors are gold, black and bronze. Again, design professionals should note that finishes can vary from one piece of trim to another. Typically, the color of the anodizing will fall within a certain range, which usually can be determined prior to anodizing. The manufacturer should provide anodized color detailes upon request. Specifyers should required anodized coating thickness be tested in accordance with ASTM B244-68.
LEED® Credits
Extruded aluminum trim products are typically made from 75-100% post industrial and post consumer scrap. They can contribute to credits in categories MR Credit 4 Recycled Content and MR Credit 5: Regional Materials of the U.S. Green Building Council's Leadership in Energy and Environmental Design (LEED®) certification, 2009 for New Construction and Major Renovations.
MR Credit 4: Recycled Content
1–2 Points
Intent
To increase demand for building products that incorporate recycled content materials, thereby reducing impacts resulting from extraction and processing of virgin materials.
Requirements
Use materials with recycled content such that the sum of postconsumer2 recycled content plus 1/2 of the preconsumer content constitutes at least 10 percent or 20 percent, based on cost, of the total value of the materials in the project. The minimum percentage materials recycled for each point threshold is 10 percent recycled content for one point; 20 percent recycled content for two points.
MR Credit 5: Regional Materials
1–2 Points
Intent
To increase demand for building materials and products that are extracted and manufactured within the region, thereby supporting the use of indigenous resources and reducing the environmental impacts resulting from transportation.
Requirements
Use building materials or products that have been extracted, harvested or recovered, as well as manufactured, within 500 miles of the project site for a minimum of 10 percent or 20 percent, based on cost, of the total materials value.
Conclusion
Available in a number of configurations, extruded aluminum trim can add architectural distinction to both the interiors and exteriors of a wide range of building types. Typically manufactured to work as a system with cementitious or fiber cement panel or lap siding, it is more convenient and easier to install than trim made from wood or fiber cement panels and saves labor time. Since aluminum is 75 percent to 100 percent post industrial and post consumer scrap, it also sustainable and can contribute to LEED points. While it is critical that design professionals understand how to incorporate water and moisture management systems in building design, they should be aware that trim products by themselves do not necessarily include moisture management or insulation systems.
| | |
| --- | --- |
| | Tamlyn manufactures Xtreme Trim™ consists of sustainable extruded aluminum profiles for James Hardie fiber cement and other materials. Xtreme Trim™ profiles are designed to work together as a system to create an aesthetically attractive and durable appearance. |
Notice