Sustainable Extruded Aluminum Trim Profiles Deliver Aesthetics and Durability
Sponsored by Tamlyn
This test is no longer available for credit
Keeping Moisture Out
Walls with cladding leak just like masonry walls and must drain and dry moisture since water is the most significant factor in the premature deterioration of buildings. Leakage paths exist at any opening in the wall surface, whether intended or unintended. Joints between materials and around windows and doors, vents, cracks, and porous surfaces are all potential entry points for water. As mentioned above, trim manufacturers either recommend or offer moisture management products that help meet code requirements.
Code Requirements
According to the International Code Council (ICC) 2012 Section 1405.4 Flashing, "1405.4 Flashing. Flashing shall be installed in such a manner so as to prevent moisture from entering the wall or to redirect it to the exterior. Flashing shall be installed at the perimeters of exterior door and window assemblies, penetrations and terminations of exterior wall assemblies, exterior wall intersections with roofs, chimneys, porches, decks, balconies and similar projections and at built-in gutters and similar locations where moisture could enter the wall. Flashing with projecting flanges shall be installed on both sides and the ends of copings, under sills and continuously above projecting trim."
The International Residential Code (IRC) 2012 states: Wall Covering – Section R703 Exterior Covering: R703.1 General. Exterior walls shall provide the building with a weather-resistant exterior wall envelope. The exterior wall envelope shall include flashing as described in Section R703.8. The exterior wall envelope shall be designed and constructed in a manner that prevents the accumulation of water within the wall assembly by providing a water-resistant barrier behind the exterior veneer as required by Section R703.2 and a means of draining to the exterior water that enters the assembly. R703.8 Flashing. Approved corrosion-resistant flashing shall be applied shingle-fashion in a manner to prevent entry of water into the wall cavity or penetration of water to the building structural framing components. Self-adhered membranes used as flashing shall comply with AAMA (American Architectural Manufacturers Association) 711. The flashing shall extend to the surface of the exterior wall finish.
Flashing
Aluminum has long been the flashing of choice because it is widely available, inexpensive, lightweight and fairly easy to handle. A coil of aluminum trim coated on both sides with a paint system that is specifically formulated for residential applications will serve most residential and light commercial applications.
Pre-cut and pre-formed profiles designed for siding, counter, brick ledge, window and other areas, have the advantage of being available in custom sizes and colors that match trim and siding.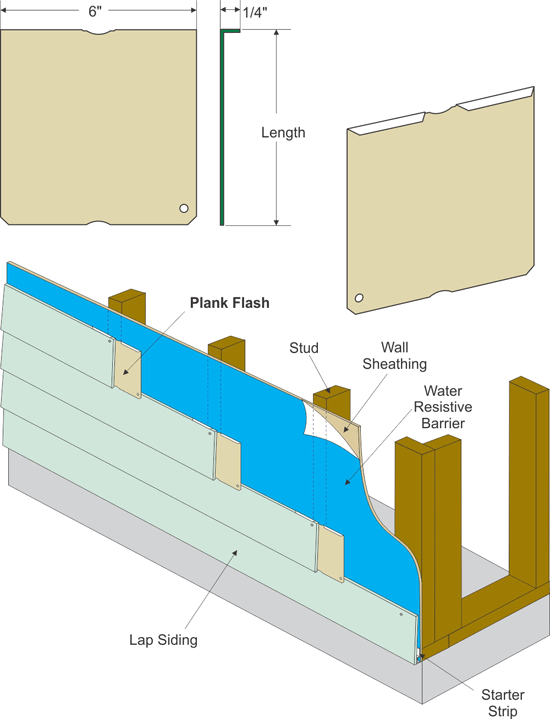 Drawings provided by Tamlyn
Aluminum butt joint flashing is pre-cut and easily installed.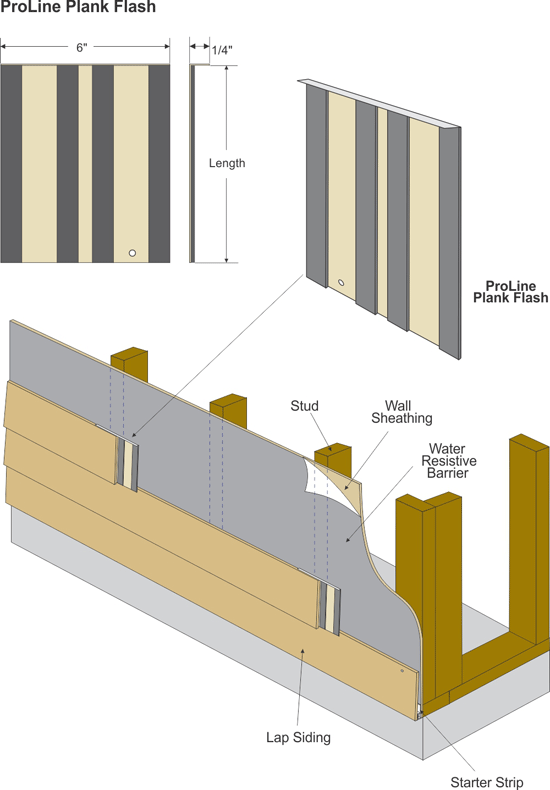 Drawings provided by Tamlyn
Example of aluminum butt joint flashing with strips of EPDM rubber, which diverts water downward.
One example of an aluminum profile newly on the market is butt joint flashing with strips of non-polluting EPDM (ethylene propylene diene monomer (M-class) rubber.) It reduces moisture penetration behind the joint where two planks butt together and drains water over the top edge of the last full course of siding. The puncture resistant flashing is primed or painted on both sides in order to eliminate any reaction with the fiber cement of the siding. The coating or paint also prevents reflective mirror-like flashback as is found when traditional unfinished metal flashing is used. The stiff aluminum material helps hold a tighter seal against the siding and diverts water downward so as not to allow water pressure to enter and wick off to the sides and find its way behind the siding. No nailing is required as the flashing slips beneath the lap siding, so no additional holes are introduced in the wall. Aluminum flashing is preferred to using cut pieces of traditional housewrap to prevent water penetration at lap siding butt joints. The reason is that housewrap is intended to perform as an air barrier, not as flashing. Housewrap also has limited ultra violet exposure life when uncovered during construction or when visible at butt joints Roofing felt is another material that is less durable than aluminum flashing because it tends to weep (allows water to penetrate) and break down over time.
Manufacturers advise always applying a layer of self-stick material such as asphalt or butyl tape before installing aluminum flashing on treated lumber. This prevents a chemical reaction between the flashing and copper azole in treated lumber. (Copper azole is a wood preservative replacement for chromated copper arsenate (CCA) which has been phased out for most residential applications.)
Housewrap and Rainscreens
Exterior walls performance requirements are included in 2009 ICC 1403.2 "Weather protection: Exterior walls shall provide the building with a weather-resistant
exterior wall envelope
. The exterior wall envelope shall include flashing, as described in Section 1405.4 (above.) The
exterior wall envelope
shall be designed and constructed in such a manner as to prevent the accumulation of water within the wall assembly by providing a
water-resistive barrier
behind the exterior veneer, as described in
Section 1404.2
, and a means for draining water that enters the assembly to the exterior. Protection against condensation in the
exterior wall
assembly shall be provided in accordance with
Section 1405.3.
(1405.3 Vapor retarders. Class I or II vapor retarders shall be provided on the interior side of frame walls in Zones 5, 6, 7, 8 and Marine 4.)"
Housewrap
The primary insurance of moisture mitigation for the building envelope is housewrap that is specifically designed to allow water or moisture to drain. There are several advantages to using an integrated wrap/drainage product. These include requiring no additional installation step and no design change to the wall/siding assembly. One type of housewrap on the market eliminates excess moisture from an exterior wall by providing drainage space between the housewrap and exterior sheathing. This is achieved by bonding very small spacers to the wrap.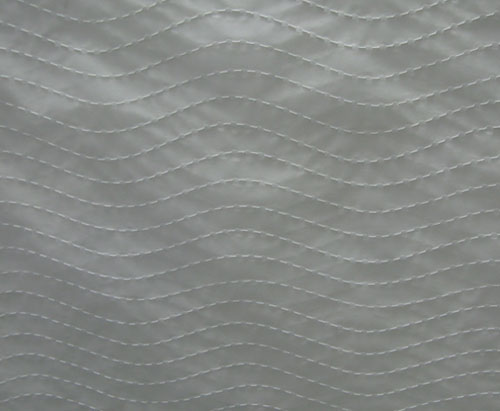 Photo provided by Tamlyn
Example of a moisture management housewrap with 1.5 mm spacers that provide a drainage space between the sheathing and cladding material.
Rainscreen
Another option for meeting code requirements is a rainscreen system. A rainscreen is a moisture management technique for controlling rain entry in an exterior wall. It generally comprises an air space immediately behind exterior cladding plus a water resistive barrier that wraps the building wall assembly. The air space that is created by the rainscreen between the back of the cladding and the face of the water resistive barrier is designed to reduce the forces that draw water into the assembly. Water that does reach the back of the cladding drain from the wall assembly via the space created by the rainscreen. In addition to the drainage capabilities, a rainscreen system also helps accelerate the drying of water vapor that accumulates in the interior wall assembly by moving air throughout the air space. There are several rainscreen options available:
Installing "weeps" in masonry construction. "Weeps" or "weeper holes" are small openings left in the outer wall as an outlet for water inside a building to move outside the wall and evaporate.)
Constructing a rainscreen wall using furring strips that space the cladding away from the wall. This provides a vent space that helps to dry the back of the siding. Traditionally, layered tarpaper and flashing behind the furring strips created what is called a drainage plane. Now housewrap is more commonly used than tarpaper.
Rainscreen products. These can be batten strips in the form of plastic slats typically 1-1/2-in x ½-in placed on top of the housewrap.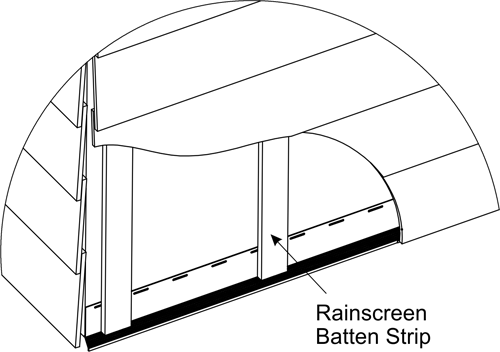 Photo provided by Tamlyn
Example of a rainscreen strips product used to create a cavity between the cladding and building wall assembly.
Notice