Advancements and Applications in Resinous Floors and Walls
Safe, cleanable, and durable, resinous flooring can be specified in numerous applications
This course is no longer active
Sponsored by Stonhard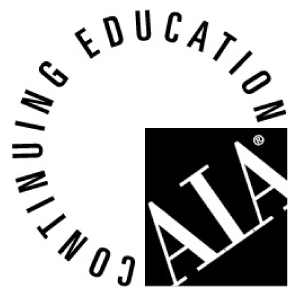 Continuing Education
Learning Objectives - After this course, you should be able to:
Discuss resinous flooring products and their applications.
Summarize the advantages of resinous flooring.
Identify the sustainability features of resinous flooring and how they contribute to LEED® points.
Describe the steps required to ensure a successful flooring installation.
Credits:
Faced with the task of specifying a flooring product, design professionals are guided by the specific needs of the project. Cost-effectiveness, durability, safety standards, overall performance, and design goals are all features that need to be evaluated when selecting a flooring system for any of today's many commercial and industrial applications. One material that meets multiple requirements is resinous flooring. Formulated from different resins, it has many advantages over other flooring systems.
Traditional flooring systems
Before discussing those advantages, it is useful to review the characteristics and drawbacks of commonly used traditional commercial flooring systems, such as vinyl composite tile (VCT), vinyl sheeting, terrazzo, carpeting, and sealed concrete.
Vinyl Composite Tiles and Vinyl Sheeting
Vinyl flooring is composed of colored vinyl chips formed into solid sheets of varying thicknesses for vinyl sheeting and cut into 12-inch squares for vinyl tiles. It has a low cost, durability, and ease of maintenance. Vinyl flooring is water resistant and can be repeatedly refinished with chemical strippers and mechanical buffing equipment. Its drawbacks include:
Inability to stand up well to heavy loads and can be damaged by sharp objects.
Vinyl tiles are easy to replace, vinyl sheeting is not.
Vinyl tile joins and sheet flooring seams may present cleaning problems and can harbor bacteria.
While vinyl is generally resistant to stains, it is susceptible to discoloration when it comes in contact with rubber such as rubber-backing matting.
Terrazzo
Terrazzo is a composite material poured in place or precast. It consists of marble, quartz, granite, and glass and is typically poured with a cementitious binder. It is then cured, ground, and polished to a smooth surface. Waterproof, durable, easily cleanable, and environmentally sustainable, its major disadvantages are its expense and slipperiness when wet.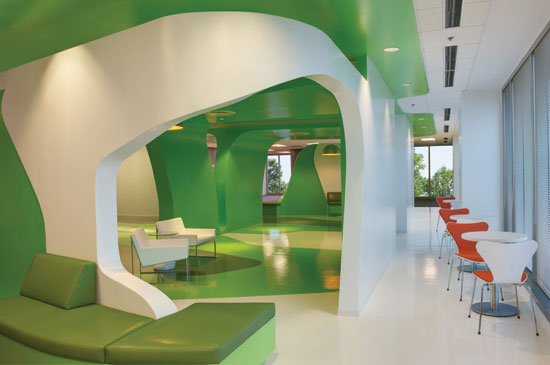 Decorative troweled epoxy floor unifies the design of a corporate office.
Photo courtesy of Stonhard
Originally published in Architectural Record
Notice