Revolutionary, Permanent Tensioned Membrane Aluminum Frame Supported Structures
Unique tensioned membrane aluminum frame supported structures are a permanent solution for architects seeking rapid, cost-effective construction, sustainability, and energy efficiency
Sponsored by Sprung Instant Structures, Inc.
This test is no longer available for credit
Fire Code Advantages
As listed above, the approved membrane to which Section 3102.3.1 is referring is to "meet the fire propagation performance criteria of NFPA 701 and the manufacture's test protocol." Typically, architectural membranes that are used as membrane structures would need to comply with NFPA 701, ASTM E-84, California State Fire Marshall, and the Canadian standards CAN/ULC-S-109 and CAN/ULC-S-102 fire-test standards to meet the intent of the building code. Typically, the architectural membrane is considered non-rated and the aluminum supporting framework can be considered noncombustible. This would define this structure configuration as Type IIB construction. Type IIB construction is the most common type of construction used in building materials. In conjunction with the membrane, and as per testing on behalf of the American Aluminum Association, 6,000 series aluminum also meets the noncombustibility requirements of ASTM E-136. Therefore, Type IIB construction for tensioned membrane aluminum frame supported structures is applicable.
Tensioned membrane aluminum frame supported structures are a complete building system. The interior is the finished wall system. Depending on the use and occupancy classification, the membrane acts as the interior finish and will need to meet the requirements of Section 803.1. Membranes can be specified with a Class A rating as per the testing requirements of ASTM E-84 with a flame spread of 25 or less and a smoked developed index of 450 or less. The membrane manufacturers need to provide the necessary documentation to ensure that the membrane meets the requirements of the IBC.
Based on experience with this type of structure and as attested to in the commentary section Appendix CA of ASCE 55, membrane structures can be considered as safe or safer than conventional structures for the following reasons:
An internal fire source may generate sufficient heat to damage the architectural membrane, which allows for the venting of smoke and heat.
High-vaulted ceilings create a smoke reservoir in the roof area, leaving the floor clear of smoke. This makes it easier for the public to safely exit the structure and for fire fighters to locate and extinguish the fire. This also provides early heat and smoke venting reducing the risk of flash over.
Roof monitors with dampers can be installed to remove smoke as it collects in high roof (smoke reservoir) areas.
Conventional sprinkler and fire alarm systems can be installed into membrane structures. Low-heat sprinkler heads are also available for these structures.
Although first generation tensioned membrane aluminum frame supported structures tend to be one-story clear-span buildings, new projects include those with interior partitions, and some include multistory interiors under the one-story structure. When designing a path or travel, emergency exits with panic hardware can be installed into the membrane structure as well as into interior partitions. Exit distances and widths can be adjusted based on occupancy accordingly.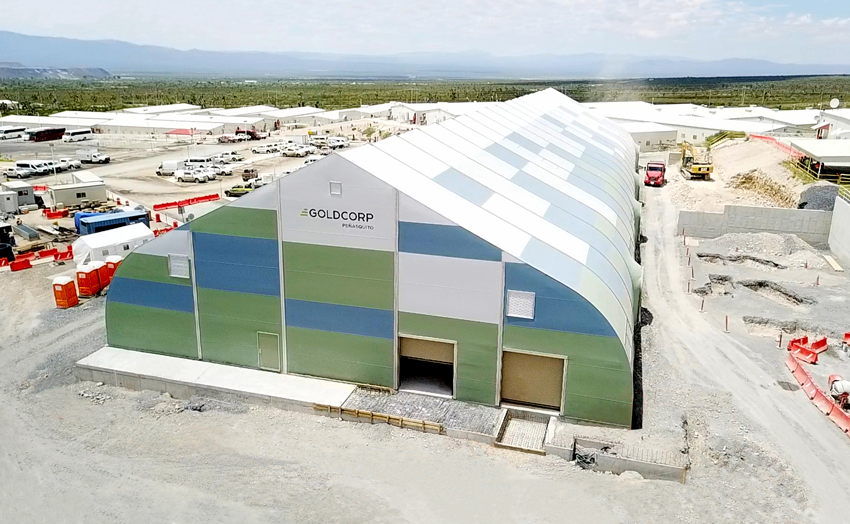 Photo courtesy of Sprung Instant Structures, Inc.
A lunchroom/safety meeting facility in the center of a mine site provides an inviting, colorful space for all employees to assemble. The 110-foot-wide by 300-foot-long membrane structure with a multicolored mosaic architectural membrane surface is located at Goldcorp-Minera Penasquito in Mexico.
Performance Architectural Membrane
The architectural membrane of a tensioned membrane structure provides the exterior wall, the roof and the finished interior surface of the building. Architectural membranes weigh from 18 to 24 ounces per square yard, making them one of the lightest finish building envelope materials available to a design professional. All-weather outer membranes are delivered on-site in rolls and winched along the frame from one side to the other using spacer bars, similar to the lofting of a sail. The membrane panels are tensioned across a spreader bar in the frame, and insulation is added to the ribs as well as an interior membrane, tensioned into place by hydraulic machinery. Manufacturers supply training and assistance to contractors as to the handling of the unique interior and exterior finish materials that are also part of the structural system. Jobsite quality standards for handling membranes to avoid scratches or blemishes on interior walls and ceilings should be developed and monitored during construction. The membranes have a selection of protective coatings available, from acrylics and polyurethanes with 15- to 20-year life expectancies to Tedlar and Kyner with 20- to 30-year life expectancies.
Membranes can have translucent surfaces to allow for additional daylight. Membranes can also be fitted with door and wall sections. The top sections of both the exterior and interior surface of the membranes are designed to allow for optional skylights along the apex of the spine of the building. These provide an abundance of natural light for high-ceiling structures.
By code, a fabric is defined as a two-dimensional cloth made up of yarns or slit tapes that may be impregnated with a matrix that binds them together. The yarns may be woven or laid, frequently coated or laminated. Membranes are defined as the flexible, coated, or laminated structural fabric of film that supports imposed loads and transmits them to the supporting structure. The membranes in a tensioned membrane structure carry only tension or shear in the plane of the membrane. Although tension membrane structures are engineered to have some movement in the frames, because the membrane is fed through extruded channels in the aluminum I beam, there are no wear points. When it is time to replace the membrane, sections can be replaced in segments without exposing any interior furnishings or fixtures. These surfaces can be specified with a protective film coating that will guard against ultraviolet rays as well as airborne contaminants. A durable, colorfast membrane can be provided with a warrantee for 25 years. Membranes can be specified with a solid color or printed with an unlimited selection of patterns, logos, photos, and symbols. They can be selected in multiple colors to match existing surfaces.
A Complete Building Enclosure
When the engineering of the building's climate protection is delivered as a complete wall system, the skin of the building contains the thermal insulation plus air and vapor barriers. Providing excellent thermal performance, air permeability is close to zero in these buildings. Insulated floor surfaces are completed in a similar manner to that of a traditional slab-on-grade building. All building systems that penetrate the exterior are achieved by the use of engineered fittings.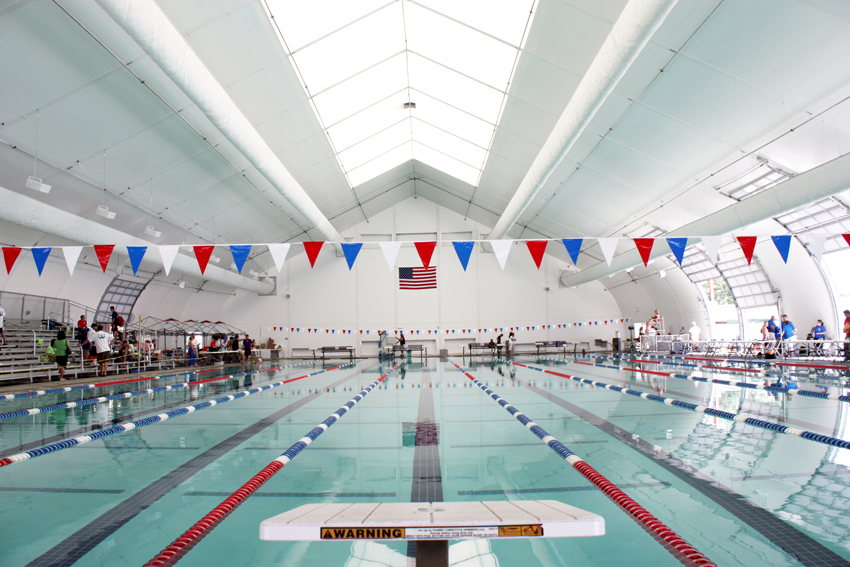 Photo courtesy of Sprung Instant Structures, Inc.
Kearns Oquirrh Park Fitness Center houses a 50-meter Olympic-size pool in a 23,400-square-foot, state-of-the-art, daylit swimming facility.
Architectural membranes can be selected with high-performance insulation to meet arctic climates or designed for relocation. These high-strength rip-stop membranes are fire resistant and durable. A blackout layer can be specified to prevent solar gain to manage climate control and a daylight membrane specified to provide an abundance of natural light, reducing lighting costs.
Examples of the climate adaptability of these structures include those that are installed at the North Pole as well as those used by the U.S. Military in the Kuwait desert. The Missile Defense System integrated architecture at Fluor Alaska, located in Shemya, Alaska, is engineered to withstand wind loads of 120 miles per hour. The Warwick Le Lagon Resort & Spa in Vanauata, in the South Pacific, was used as a storm shelter on March 13, 2015 during Cyclone Pam, a category 5 cyclone. The facility at Kirkwood Mountain Resort in Lake Tahoe performed perfectly during a period of record snowfall of almost 10 feet by continuously shedding the snow off its roof. These are among the many examples of the strength of the membranes supported on aluminum frames.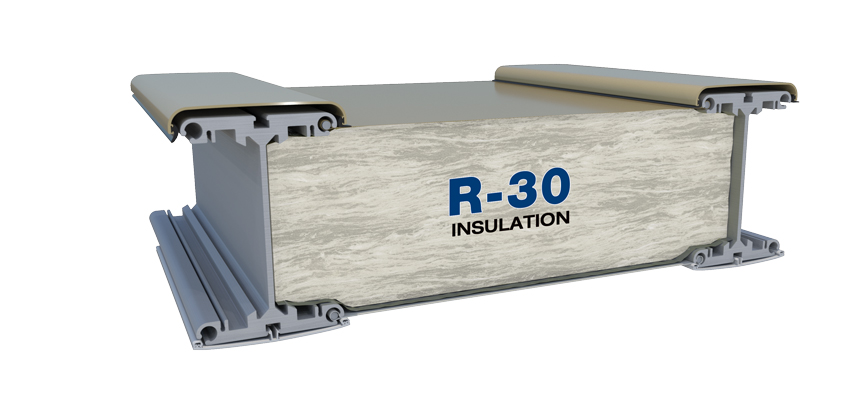 Image courtesy of Sprung Instant Structures, Inc.
Shown is a cross section of a 9- and 8-inch beam with R-30 formaldehyde-free insulation.
Originally published in Architectural Record
Originally published in June 2019
Notice