Lightweight Precast Building Envelopes Maximize Performance
Resilient and lean, fiber-reinforced modular precast wall systems maximize thermal performance, minimize construction scheduling, and produce buildings that meet the highest sustainability standards
Sponsored by SlenderWall by Easi-Set
This test is no longer available for credit
Surface Protection
There is a demand for traditionally clad buildings as well as modern. In the past, architects who desired special surfaces might specify elaborate and expensive formwork to create the smooth or rough desired aesthetic. Computer-aided photo-engraving technology projects transfers and mills images to the formwork, board, or plastic. Today, architects can select from a wide array of affordable and unique finishes. Facades can be photo engraved, graphically animated, and, in the near future, embedded with solar cells. Design professionals can choose unique concrete patterns, recreate historic details, or select from smooth limestone simulations to rough surfaces with exposed aggregate. These concrete surfaces are built in controlled factory environments. Attached to a complete wall system, these narrow concrete exterior panels, identical in appearance, are then mechanically bonded to the framing system, avoiding the vagaries of weather, sunlight, and inadvertent damage by construction crews.
The classical Federal-style Park Avenue buildings in New York City of the 1940s and 1950s era are characterized by plain stone surfaces with narrow colonnades, panels, tablets, and friezes incorporated into the building facade. Although the 19th century Manhattan architects would recognize the classic detailing of the Edgewater, New Jersey, luxury apartments, The Alexander on the Hudson, they would be astounded by its construction. The building is constructed of lightweight precast concrete panels with a buff acid etched finish and historic details, such as the cornices, reveals, and bull noses. This classical facade incorporates a concrete-to-stud connection that isolates the exterior precast concrete cladding from the structural stresses associated with wind loading, material expansion, and contraction and seismic shock. At 30 pounds per square foot in comparison to the 80 pounds per square foot of traditional precast, 1,023 panels were designed to be LEED friendly. While replicating the past, the building advances the future with environmental and structural performance and lean constructability and scheduling.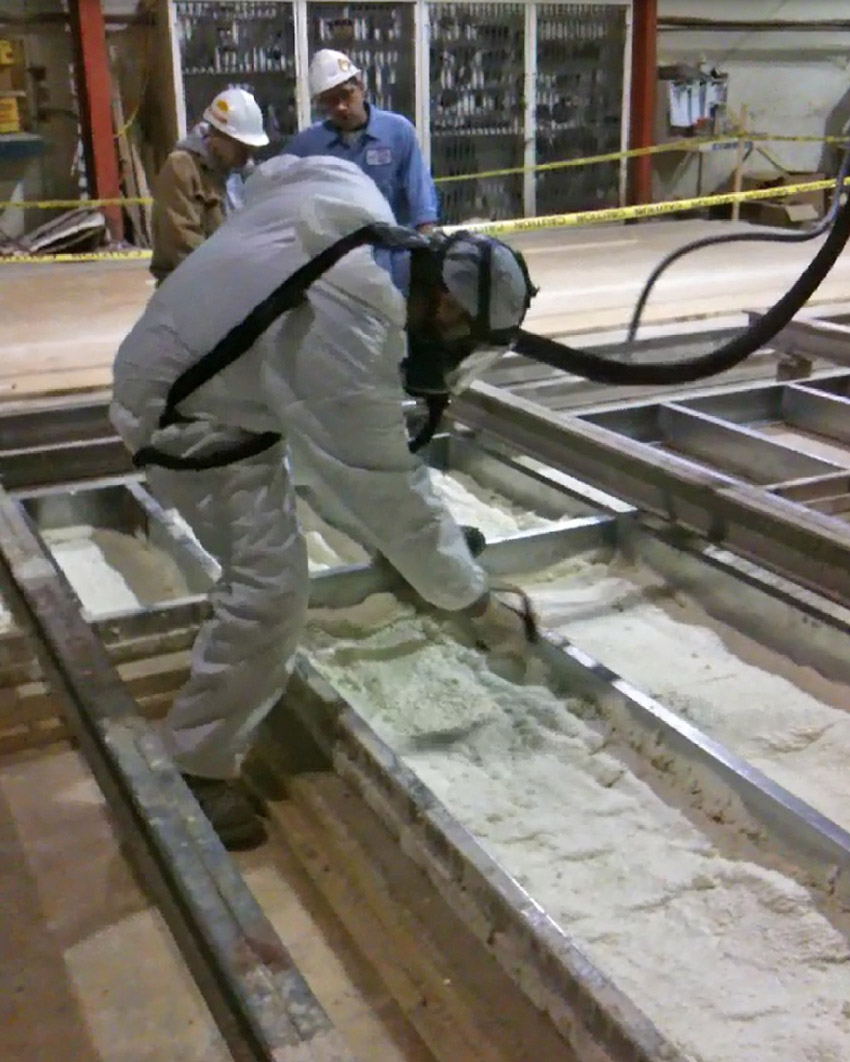 © SlenderWall by Easi-Set
Factory-applied foam insulation seals the air gaps and provides the guarantee of a quality thermal wall system.
Innovative 21st Century Walls
Scientists believe that technology has changed our perception of time. Technology is expanding the ability to produce complex materials for the construction market in shorter time periods. It has both provided an impatient market for timesaving construction as well as produced a solution to the creation of "instant buildings." Project owners and project teams are increasingly facing shorter schedules and tighter budgets.
Comparing old and new precast panel systems, the early systems designed for use in European housing were heavy and not necessarily factory controlled. According to the authors of the Postwar Building Analysis website:
"Although each system had its particular features, there were nevertheless some general characteristics most heavy prefabrication systems shared. Typically, a system consisted of a fixed set of panels for facades, floors, and inner walls, as well as prefabricated staircases. The panels were up to 8 meters long (or the width of one room) and were between 6 and 30 centimeters thick. The production process was highly mechanized. The panels were usually cast horizontally in steel molds. Reinforcement bars and hooks or other features to facilitate transporting, handling, and joining the panels were provided beforehand, as well as frames for doors and window openings. Different kinds of concrete could be used, in some cases layered within the same panel depending on its function. A panel's insulating capacity could be enhanced by adding an internal layer of insulation. Once cured and completed with surface finishes, the panels were transported to the construction site and placed in position. The metal hangers and protruding reinforcement bars were interlaced, and the joint was filled with concrete."12
Innovative 21st century lightweight precast concrete wall systems are the culmination of the visions of early design professionals. They desired a system that would provide a fully tested performance while shortening the construction process. Tom LePage of Barr & Barr, project engineer for the Huntington Hospital, sums it up by stating his appreciation for a fully tested performance. "Our overall objectives of design flexibility, sound construction, and speed of building erection—all at economical costs—were made possible with the modular lightweight precast panel system," he says.
These wall systems can be selected for climate zones ranging from hot and humid to extreme cold. Originally developed in the United States as a lightweight alternative to low brick and block commercial building, the growth of this industry has provided new opportunities for economic, efficient, sustainable, and resilient buildings.
End Notes
1Energy Flows & Energy Future. Top 10 Projects. The American Institute of Architects. Web. 7 Feb. 2018.
2New Orleans BioInnovation Center Built With Innovative, Lightweight Precast. SlenderWall. 2 Jan. 2013. Web. 8 Feb. 2018.
3Building Performance Database. U.S. Department of Energy. Web. 8 Feb. 2018.
4USACE Army LEED v4 Implementation Guide. U.S. Army Corps of Engineers. September 2014. Web. 9 Feb. 2018.
5Baltimore City Green Building Standards Volume 1: Regulations Manual. TerraLogos Eco Architecture. 2010. Web. 10 Feb. 2018.
6"Over-Cladding for Thermal Performance and Building Resiliency." Buildings XIII Conference. Ayers Saint Gross. December 2016. Web. 10 Feb. 2018.
7Design Standards. Cleveland Clinic. 2013. Web. 11 Feb. 2018.
8"Alternate-Cladding Value Is More Than Skin Deep." Commercial Architecture. 26 Jan. 2017. Web. 11 Feb. 2018.
9IBID.
10Ross, Chuck. "Luxury Project Showcases Precast's Design Flexibility." The Concrete Producer. 26 Oct. 2017. Web. 11 Feb. 2018.
11IBID.
121945–50. Post-War Building Materials. Web. 11 Feb. 2018.
Celeste Novak is an architect and author whose Michigan practice focuses on sustainable and universal design. www.linkedin.com/in/celestenovak
| | |
| --- | --- |
| | SlenderWall is a high-performance, thermal- and fire-code compliant, architectural precast composite envelope system. Reduce structural costs and on-site trades while increasing installation speed with the only product that combines lighter weight, durability, versatility, beauty, and performance in one package from outside skin through integral interior steel stud wall. www.slenderwall.com |
Originally published in Architectural Record
Originally published in April 2018
Notice