Lightweight Precast Building Envelopes Maximize Performance
Resilient and lean, fiber-reinforced modular precast wall systems maximize thermal performance, minimize construction scheduling, and produce buildings that meet the highest sustainability standards
Sponsored by SlenderWall by Easi-Set
Learning Objectives:
List manufacturing and technology advances that are streamlining modular precast concrete wall enclosures.
Discuss the components of lightweight modular precast concrete wall systems that contribute to high-value green building rating systems.
Identify thermal requirements of a manufactured wall system that provide continuous insulation and thermal gap protection in all climate zones.
Compare a variety of buildings designed to take advantage of lightweight modular precast wall systems in projects that range from renovations to new construction and traditional to modern design.
Credits:
This course can be self-reported to the AIBC, as per their CE Guidelines.
This course is approved as a Structured Course
This course can be self-reported to the AANB, as per their CE Guidelines
Approved for structured learning
Approved for Core Learning
This course can be self-reported to the NLAA
Course may qualify for Learning Hours with NWTAA
Course eligible for OAA Learning Hours
This course is approved as a core course
This course can be self-reported for Learning Units to the Architectural Institute of British Columbia
This test is no longer available for credit
A dramatic LEED-certified high-rise office in Coahilla, Mexico, the Insignia de Saltillo is composed of 718 skewed parallelograms. Ironically, this building unites the most recent advance in lightweight precast panel technology with a facade designed to emulate the interweaving of fabric banners of the Middle Ages. From the building of the aqueducts to the construction of skyscrapers, advancements in technology and manufacturing processes have made concrete and subsequently precast concrete panels some of the most versatile materials on the planet.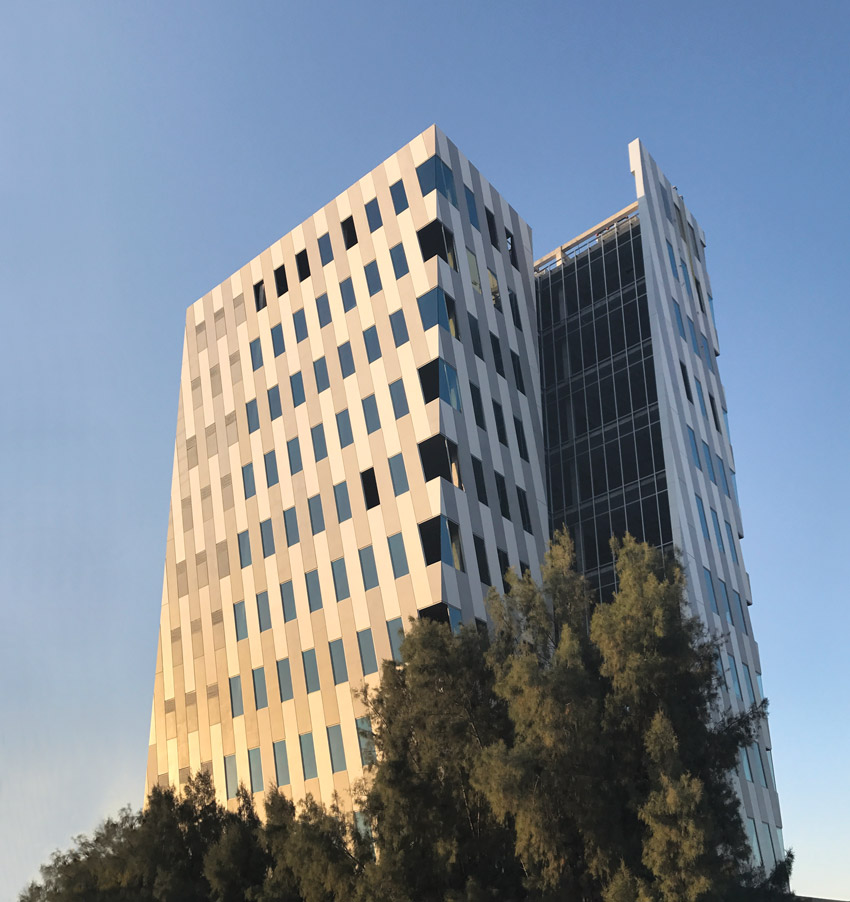 © Opticretos
The Insignia de Saltillo designed by Cuatro 44 Architecture is the first LEED-certified building in Coahilla, Mexico. The 718 skewed parallelograms provide an energy-efficient facade composed of lightweight precast concrete panels.
Driven by the demand for new housing in the 1940s and 1950s, European engineers developed a method of precasting concrete into panels modularized and built in factories as an economical means to faster and more durable construction. By the 1970s, insulated concrete sandwich panels were a common part of a contemporary architect's design palette. They were a go-to material for economical load-bearing walls in housing and commercial buildings. As manufacturing and technology advances began to lighten panel enclosures, composite thermal panels were developed to meet new demands for energy efficient buildings.
According to Art Miles, president of Easi-Set Worldwide, "Off-site prefabrication and modularization of lightweight composite precast facade assemblies has revolutionized the building construction process. They provide solutions that deliver maximum value to owners by integrating design optimization, financial savings, factory-controlled quality, improved site safety, higher energy performance, and ecofriendliness that fit squarely into the lean building model." While architects were searching for building materials that met green building performance ratings, manufacturers were also investing in efficient ways to build lighter, stronger buildings that reduced waste. By the 1990s, many manufacturers began to implement lean manufacturing processes striving for ways to streamline construction. Manufacturing and technology advances are part of the story as to how "heavy" precast building systems became the streamlined modular precast wall enclosures used in sustainable buildings today. In addition to the increased use of technological solutions and industry advances, architects are adding value for owners by using an integrated design process. This process includes the early coordination of design aesthetic, performance, and scheduling goals with contractors and material suppliers.
Within the past 20 years, innovative architectural precast designers began to look at ways to make panels lighter (e.g., removing the 4 to 6 inches of structural concrete behind the 2 inches of architectural precast face mix). They have incorporated in its place functional features (e.g., perimeter framing, insulation, and drywall ready) while maintaining the ability to introduce reveals, projections, and true brick finishes. These lighter panels could also be made larger, thereby reducing the number of loads shipped to the site and speeding building envelope completion. Additionally, the movement toward off-site manufacturing in a controlled environment reduced site construction costs, reduced waste, and improved cladding quality. Another benefit of these lighter-weight panels is that they can also be used to reclad existing buildings using the as-built foundation and superstructure.
Industry has invested in the development of turnkey products that dovetailed into the concept of energy and waste reduction and the economical and efficient use of materials for the green building movement. "Reduce, reuse, and recycle" has become a design and engineering criteria for building materials. Over the past 20 years, The American Society of Heating, Refrigerating and Air-Conditioning Engineers (ASHRAE) has published increasingly stringent energy standards that require energy modeling and continuous insulation. These standards are embedded in the International Energy Conservation Code(IECC) and used as a criteria for many regulatory agencies as well as green certification programs. ASHRAE 90: Prescriptive Wall Insulation Requirements prescribes "insulation that is continuous across all structural members without thermal bridges other than fasteners and service openings. It is installed on the interior, exterior, or is integral to any opaque surface of the building envelope."1 Off-site, factory-controlled materials are key to meeting ASHRAE standards and can provide financial and environmental benefits to project teams. Protecting the environment while conserving resources is embedded in today's lean manufacturing. Panelized lightweight precast concrete panels are part of a growing industry of efficient, sustainable building systems made possible by 21st century technology.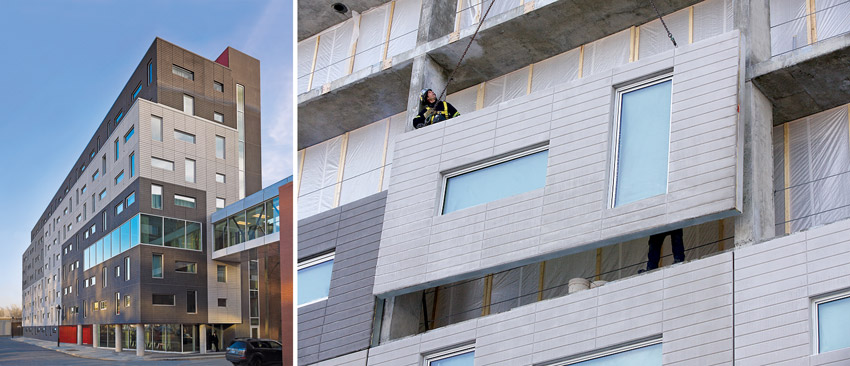 © Serge Jacques (left); © BPDL (right)
The ÉTS School of Technology Student Residence in Montreal, Canada, was developed jointly by the ÉTS construction and operations teams, architects Régis Côté and Associates, structural and civil engineers Pasquin St-Jean and Associates, and electromechanical engineers Beaudoin Hurens. The general contractor Groupe Decarel met a fast-track, 18-month deadline by installing factory-assembled, lightweight precast concrete panel systems complete with windows, thermal enclosure, and perimeter framing as part of the LEED Gold application.
A lightweight precast concrete sustainable wall enclosure provides thermal efficiency, minimizes waste, increases performance, and streamlines the construction process. New composite systems are developed with the aid of high-tech digital fabrication systems and the direct exchange between architects and manufacturers to ensure design integrity. These precast concrete panel systems are built in temperature-controlled factories with digital tools that measure and monitor thermal performance to meet The International Energy Conservation Code thermal requirements from zones 1 through 7.
New wall systems include 2-inch concrete enclosures developed to match traditional as well as modern aesthetics. They can weigh up to 60 percent less than traditional precast wall systems. These concrete precast walls are modularized to include the facade, moisture/air barriers, insulation, and, in some examples, windows and interior framing. The complex wall enclosures designed for the 10-story Insignia corporate offices in Mexico and the ÉTS School of Technology Student Residence in Montreal, Canada, demonstrate the wide array of performance values that can be achieved in both northern and southern climates.
A performance study of the BioInnovation Center in New Orleans provides even more details of how lightweight precast concrete systems meet the demands for stringent aesthetic and green building standards.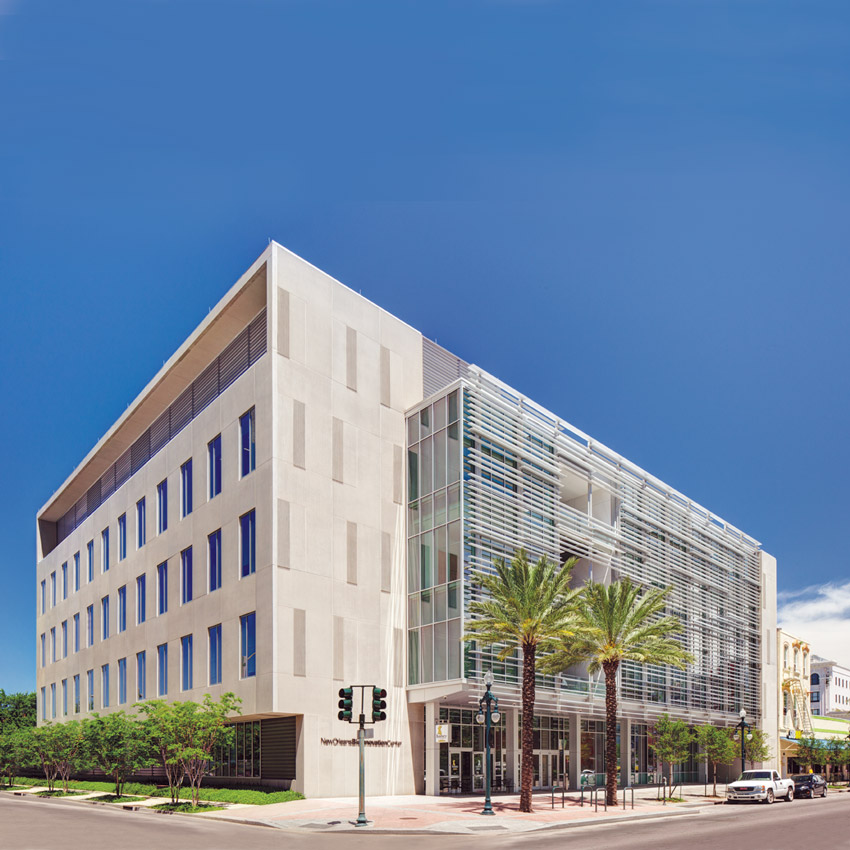 © Alan Blakely/SlenderWall by Easi-Set
Strategies that maximized performance for the New Orleans LEED Gold BioInnovation Center included the choice of a high-performing, lightweight modular precast concrete wall system designed to meet LEED Gold standards.
Originally published in Architectural Record
Originally published in April 2018
Notice