Replacing the Fluorescent Lamp with Linear LED Luminaires
The drive for energy efficiency and new componentry delivers viable LED solutions
This course is no longer active
Sponsored by Selux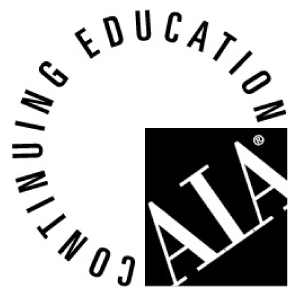 Continuing Education
Learning Objectives - After this course, you should be able to:
Discuss the performance, energy efficiency, and life-cycle characteristics of LED lighting systems.
Identify the reasons why LED systems require new testing procedures.
Summarize the sustainability programs and LED developments that are accelerating the introduction of new luminaire products.
Compare efficacy and other performance features of linear LED luminaires with linear fluorescent luminaires.
Credits:
Design professionals are well aware that in the hierarchy of energy-efficient lighting, LED (light-emitting diode) systems are superior to compact fluorescent systems and are far superior to the incandescent lamp. They also know that LED technology will go a long way to help counteract our expanding carbon footprint. But they may not know that within the last year, many new linear LED luminaires have come on the market that now represent a viable alternative to the traditional linear fluorescent fixture.
According to the U.S. Department of Energy (DOE), which has adopted a comprehensive strategy to accelerate the LED market, LED lighting is expected to represent 36 percent of luminaire sales for the general illumination market by 2020, which translates into energy savings of 19 percent. The replacement of traditional fluorescent lighting with linear LED luminaires (the complete lighting unit rather than the lamp alone) will significantly contribute to those reductions.
The Fluorescent Lamp
Since it appeared on the market in the late 1930s and spread rapidly during World War II as wartime manufacturing demanded better lighting, the fluorescent lamp has been the mainstay of commercial and industrial lighting. Both T12 and T8 lamps remain common in existing buildings, but due to recent federal efficiency standards, almost all new commercial construction uses T8 or T5 linear fluorescent lamps.
The light produced by a fluorescent tube is caused by an electric current conducted through mercury and inert gases. This allows the phosphor coating on the glass tube to emit light. Fluorescent lamps require a ballast to regulate operating current and provide a high start-up voltage. Electronic ballasts outperform electromagnetic ballasts by operating at a very high frequency that eliminates flicker and noise. Electronic ballasts also are more energy-efficient. Special ballasts are needed to allow dimming of fluorescent lamps. Improvements in technology have resulted in fluorescent lamps with color temperature and color rendition that are comparable to incandescent lamps.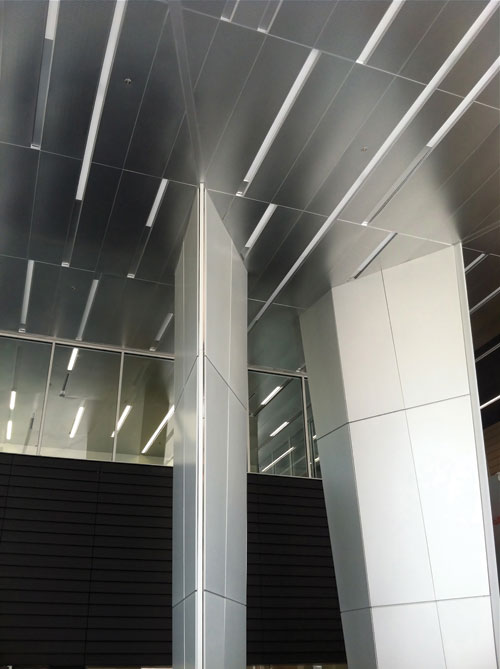 Linear LED luminaires light Marquez Hall, the new state-of-the-art teaching and research facility at the Colorado School of Mines, Golden, Colorado.
Photo by Kenneth Wiese, courtesy of Selux
Originally published in Architectural Record
Notice