Healthcare Environments Are Looking Up
The role of ceiling system specifications in enhancing health, well-being, and comfort
Sponsored by ROCKFON
Learning Objectives:
Describe ways in which specifying high-performing ceilings—including stone wool tiles, metal ceiling panels, wood ceilings and suspension grid systems—can affect sustainability, daylighting, and other energy-efficiency goals within a range of healthcare environments.
Describe the role of a ceiling's acoustic ratings and the impact on occupant privacy and comfort within medical settings.
Discuss how ceilings systems affect infection control and maintenance within hospital and other healthcare environments, and the potential effect this has on patient care.
Identify a number of healthcare design options for ceiling systems and how they can help create an inviting setting where patients, staff and visitors feel increased satisfaction and comfort.
This course is part of the Healthcare Academy
This webinar is part of the Healthcare Academy
High-performing ceiling solutions can offer acoustic, infection control and aesthetic benefits that impact the critically vital functionality, safety, comfort, and overall atmosphere of healthcare facilities. From ceiling systems with excellent acoustic performance to cut down on noise to energy-efficiencies related to lighting and cooling, there is arguably no specification that has greater importance to the health of a building and its occupants. More so, a properly specified (and installed) ceiling system can help prevent common healthcare setting problems such as mold and infections due to enhanced cleanability and ease of maintenance. Often made of recycled and recyclable materials, and with a virtually unlimited palette of colors and design options, ceiling systems can offer a real boost toward creating an appealing and comfortable environment. This webinar will feature projects where ceiling systems are integral to overall success, and will provide an overview of the important role that ceiling systems can play in the design of safe, high-performing, efficient healthcare settings.
Parini Mehta, AIA, LEED AP, is an associate principal at CO Architects, specializing in healthcare design and planning. Parini will discuss ceiling systems in Cedars-Sinai's Advanced Health Sciences Pavilion Outpatient Surgery Suite. This 45,000-square-foot suite uses an "earth to sky" interior design concept inspired by the imagery of dappled light through treetops and starry skies. This can be seen in the ceiling formations in the nurse stations and waiting area, where visitors are greeted by a reception desk under a starry-sky ceiling. The organically shaped ceiling forms are made with acoustical plaster and have strategically placed fiber-optic lights. Made to resemble clouds, they are used as wayfinding devices, placed in areas so visitors can easily find staff. The clouds are rimmed with inset cove fiber-optics that cast ethereal light designed to provide a calmer experience to both patients and staff. The ceiling light features are complimented by natural light, which streams into pre-op and PACU stations as well as into the ORs through clerestory windows in the scrub area.
Rockfon's Diana Hart, CSI, IIDA, will present "Ceiling Systems for High-Performing Healthcare Facilities," aimed at providing webinar attendees with a detailed look at the important role ceiling systems can play in a safe, comfortable healthcare environment. Among the topics that will be covered will be how high-performing ceiling systems can enhance a project's sustainability goals, indoor air quality, daylighting, and acoustics … among other advantages. Diana will also examine current standards and regulations for healthcare settings, made all the more critical in light of the pandemic.
Rounding out our panel is industry-expert Annie Bevan, Executive Director of mindful MATERIALS—an international collaboration hub and digital library of sustainability data from building product manufacturers and independent reporting bodies.
The presentations will be followed by a moderated discussion focused on how a range of ceiling system specifications address several key issues within healthcare facility projects.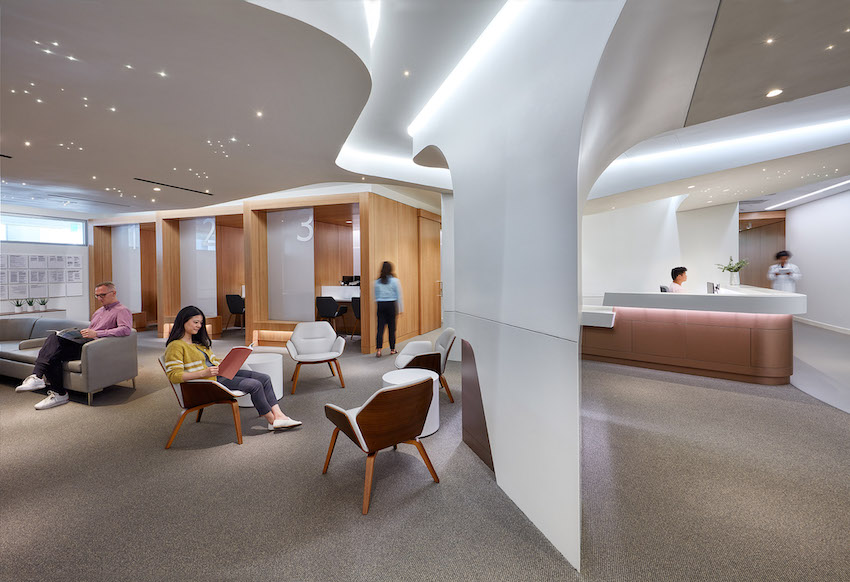 Photo Kim Rodgers/Courtesy CO Architects
| | |
| --- | --- |
| | Parini Mehta, AIA, LEED AP, spearheads CO Architects' strategic planning, programming, and design for clients such as Cedars-Sinai Medical Center, Kaiser Permanente, Scripps Health, and Children's Hospital Los Angeles (CHLA). She has co-chaired the AIA Los Angeles Healthcare Committee, presented at the Environments for Aging Expo & Conference, and guest-lectured at the USC School of Architecture's Healthcare Design Studio. Parini holds a B.S. from University of Michigan and a B.Arch from Southern California Institute of Architecture (SCI-Arc). |
| | Annie Bevan, Executive Director, mindful MATERIALS has been actively engaged with mindful MATERIALS since 2016 and has worked closely with all stakeholder groups over the past fifteen years, inclusive of third-party reporting bodies, manufacturers, architects, designers, consultants, contractors and owners. Annie's well-rounded and experienced understanding of needs coupled with her well-known energy and passion has driven her proven ability to advance the quality and availability of transparent data on the health and sustainability of building materials. |
This test is no longer available for credit
| | |
| --- | --- |
| | Rockfon provides customers with a complete ceiling system offering, combining stone wool ceiling panels with suspension grid systems, metal ceiling solutions, and now wood ceilings. Our products help create beautiful, comfortable spaces. Easy to install and durable, they protect people from noise and the spread of fire while making a constructive contribution toward a sustainable future. |
Originally published in August 2022
Notice