New Designs and Restorations of Classics: Museums for the Next Decade
From the Louvre Abu Dhabi on the Arabian Gulf to the U.S. East Coast to California, these museum designs will inspire future generations.
Sponsored by Pilkington North America – NSG Group
Learning Objectives:
Explain the design objectives of the U.S. Pavilion at Expo 2020 Dubai.
Describe the steps taken to restore the glazed roof of Philip Johnson's Sculpture Gallery at the Glass House.
List one way the design of Columbia University's Arts and Science Centers went beyond the museum's core programmatic needs.
Discuss the strategy that helped SO-IL and BCJ win the competition for design and construction of the Manetti Shrem Museum.
Credits:
This course is approved as a core course
This test is no longer available for credit
This course is part of the Zoos, Museums, and Arts Academy
Below are a set of links to building type studies from Architectural Record, which are in-depth analyses of particular kinds of buildings, with photos, drawings, specifications, detailed descriptions, and design solutions. Click on each link below, read the article then complete the quiz to earn your credit and certificate of completion.
While the design and construction of tall buildings garner a lot of publicity, these museum designs make dramatic statements as subtle pieces of architecture. With attention to their surroundings and the ways in which natural light can contribute to design, these projects are steering museum design into the next century.
Louvre Abu Dhabi by Ateliers Jean Nouvel
From bronze-framed glass display cabinets to an exquisite glass ceiling, the Louvre Abu Dhabi has been more than a decade in the making and well worth the wait.
Josephine Minutillo
An Expression of Movement: Fentress Architects' Design for U.S. Pavilion at Expo 2020 Dubai
The U.S. pavilion at the next world expo in Dubai in October 2020 will be a cylindrical building that is an expression of movement, according to Denver-based Fentress Architects.
Fred A. Bernstein
Restored Sculpture Gallery Reopens at Philip Johnson's Glass House
New glazing and lighting restore Philip Johnson's Sculpture Gallery at the Glass House in New Canaan, Connecticut, to its original glory.
Miriam Sitz
Columbia University's Arts and Science Centers by Renzo Piano Building Workshop
The predominantly transparent Jerome L. Greene Science Center and neighboring mostly opaque Lenfest Center for the Arts are the first completed buildings at Columbia University's Manhattanville Campus, a 17-acre site in Harlem.
Fred A. Bernstein
The Manetti Shrem Museum of Art by SO-IL & Bohlin Cywinski Jackson
At UC Davis, the inspiration for the distinctive canopy's simple construction and sensuous design—reaching as high as 34 feet and dipping as low as 12 feet—came from the surrounding farmlands and their greenhouse structures.
Josephine Minutillo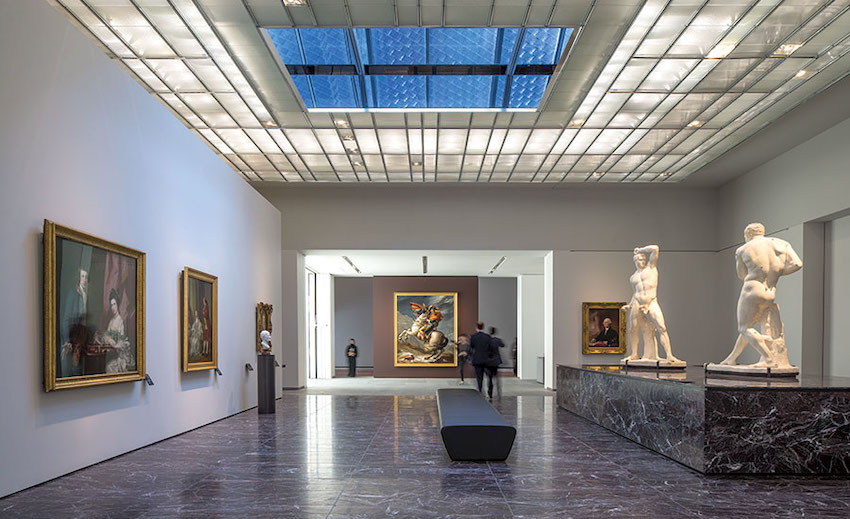 Photo © Danica O. Kus
Louvre Abu Dhabi by Ateliers Jean Nouvel
| | |
| --- | --- |
| | The flat glass business of the NSG Group, operating under the Pilkington brand, is one of the world's largest manufacturers of glass and glazing products for the building and automotive markets, with manufacturing operations in 29 countries on four continents and sales in 130 countries. |
Originally published in February 2019
Notice