Glass Options for Enhanced Building Design
Multiple glass options offer customized ways to suit different building needs
Sponsored by Pilkington North America – NSG Group
This test is no longer available for credit
Green Building Contributions Of Glass
The US Green Building Council (USGBC) has developed the LEED® rating system for green buildings which has been recognized as the leading green building standard in this country. LEED version 4, introduced late in 2013, is summarized below to determine which credits properly selected glass products can contribute to.
Optimize Energy Performance
LEED v. 4 places a strong emphasis on reducing the use of fossil fuels and increasing the use of non-polluting renewable energy. As we have seen, the range of glass products available allow architects and other design professionals to truly optimize performance by selecting glass that is coated, tinted, or otherwise fabricated to best suit a particular building and its location, and even vary the selections to suit individual building facades and installations. If on-site renewable energy is pursued, it is likely that photovoltaic solar cells will be considered which the properly selected glass will support and make possible. In order to receive points in this credit category the building must demonstrate a percentage increase in energy savings in accordance with ASHRAE standards. The number of points earned depends on the degree of energy savings and/or the amount of energy generated on site.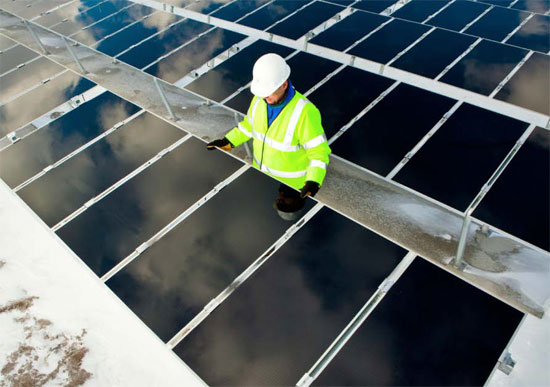 Photo courtesy of Pilkington North America
Solar photovoltaic systems rely on appropriate solar glass to allow the optimization of energy being produced without relying on any fossil fuels.
Materials and Resources
This area has changed dramatically between the different versions of the LEED® rating system.
The Materials and Resources category under LEED v. 4 takes a rather different approach to defining the green nature of building products. The approach focuses on the full life cycle of those products. The key documentation needed to demonstrate performance under this approach is referred to as an Environmental Product Declaration (EPD). Individual manufacturers or a trade association can prepare specific or generic EPDs for products. In the case of glass products, check with the manufacturer to see what is available for documentation to earn the appropriate points for this updated category.
Indoor Environmental Quality
Under IEQ Credit 8.1 Daylight & 8.2 Views, glass plays a very significant role as has been discussed. The beauty of the range of glazing choices is that daylight can be brought into spaces while still addressing the thermal needs of the building and without blocking the view. Glass products have daylight transmissions ranging from 92 percent down to 8 percent, when single glazed. As outdoor daylight (no direct sun) is in the 1,000 to 2,500 foot candle range, even the lowest transmission (darkest) glass in large sizes, can meet the minimum credit requirement with only 8 percent transmittance of 1000 foot candles (i.e., 80 fc luminance).
Innovation in Design
Under both LEED 2009 and LEED v. 4, credit is given for recognized innovations that exceed minimum performance levels in green building components or systems. Hence, it is entirely possible to achieve some additional credit by using some of the innovative or emerging technologies related to glass that improve on LEED minimum performance levels. More significantly, it is possible to show innovation by using these systems to improve the building overall by finding appropriate ways to address differing needs and strike the right balance between them under different operating conditions.
Conclusion
Architects design buildings to meet a variety of criteria and in so doing combine professional skill with appropriate material and product selection. Float glass has been shown to be a vital and integral building material that is manufactured in a full range of products to address many general and very specific design issues. As such, architects are now able to select specific glass products for different projects and facades from a vast range of combinations of tempered, laminated, tinted and coated glass. By understanding the differences and benefits between the different manufactured choices the performance, aesthetics, and functionality come together to create building designs that can meet or exceed expectations.
Peter J. Arsenault, FAIA, NCARB, LEED AP, practices architecture, consults on green and sustainable design, writes on technical topics, and presents nationwide on all of the above. www.linkedin.com/in/pjaarch
As a leading global glass manufacturer, the NSG Group provides one of the broadest ranges of glass products available in the world today. Pilkington products help control energy usage, protect against fire, insulate against noise, provide safety and security, afford decoration and privacy, incorporate self cleaning properties and are used in all-glass facades.
www.pilkington.com/na
Originally published in July 2018
Notice