Fiberglass Fenestration: A Durable, Sustainable, and Economic Alternative for Windows and Doors
By combining the benefits of aluminum, vinyl, and wood windows, fiberglass composites provide aesthetics and longevity for any environmental condition.
This course is no longer active
Advertorial course provided by Pella® Windows & Doors
Learning Objectives:
Discuss the evaluation design criteria used by architects and owners when researching, designing, and specifying windows and doors.
Evaluate the comparative performance qualities of fiberglass composite against aluminum and vinyl windows.
Explain the characteristics of fiberglass composite that make it a durable and sustainable material.
Understand why fiberglass composite is ideally suited for fenestration under extreme thermal and environmental conditions.
Credits:
Whether designing residential, commercial, or institutional building types, architects and owners carefully consider the qualities and long-term advantages of fenestration materials. Windows and doors provide essential protection and architectural character to a building, and must also respond to various owner-driven requirements, from aesthetics and cost, to performance, maintenance, and life cycle.
Fenestration, or the arrangement, proportioning, and design of windows and doors in buildings, keeps occupants dry and protected from environmental elements, while providing sound insulation, thermal control, natural daylight, and ventilation, thereby contributing to indoor air quality and personal comfort. Collectively, these characteristics contribute to how building occupants perceive the quality of their interior spaces and overall environments.
Sustainability and energy efficiency also are increasingly important criteria during product research and selection for many architects and owners. As Leadership in Energy and Environmental Design (LEED®) certification, developed by the U.S. Green Building Council, becomes more widely implemented for various building types, maintaining healthy indoor air quality, attention to environmental concerns, and assessing energy production required for material manufacturing, are also reviewed during the design and specification process for public and private sector projects.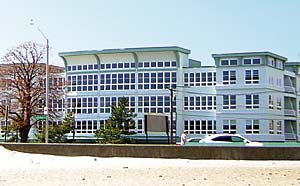 Fiberglass composite windows are excellent for ocean front environments because they resist moisture, as shown at this multi-family housing project in Revere Beach, Mass.
Architect and photo credit: Walter Jacob Architects
With these factors in mind, fiberglass composite is ideally suited for windows and doors in any climate, and almost all building types. More durable than aluminum or vinyl, with the thermal efficiency of wood, fiberglass composite windows are an economically competitive alternative to vinyl window products. The multiple advantages and benefits of fiberglass composite make it a versatile fenestration choice because of its strength, durability, low maintenance, energy efficiency, and sustainable qualities, as well as its resistance to corrosion, dents, and scratches.
This article will discuss the properties and evaluation criteria used by architects and building owners when designing and specifying windows and provide examples of fiberglass composite window applications.
Architectural Record
Originally published in June 2006
Notice