Successful Perimeter Fire Containment
Shedding light on common misconceptions about PFC systems
Sponsored by Owens Corning
Learning Objectives:
Discuss the importance of perimeter fire containment (PFC) as it relates to the health and safety of building occupants.
Identify the code requirements for PFC.
List the six basic design criteria that are used when designing and installing PFC systems.
Name five common misconceptions about the design, installation, and inspection of PFC systems.
Explain why all-vision glass curtain wall systems should not default to the ASTM E-119 exception within the building codes.
Credits:
This course can be self-reported to the AIBC, as per their CE Guidelines.
This course is approved as a Structured Course
This course can be self-reported to the AANB, as per their CE Guidelines
Approved for structured learning
Approved for Core Learning
This course can be self-reported to the NLAA
Course may qualify for Learning Hours with NWTAA
Course eligible for OAA Learning Hours
This course is approved as a core course
This course can be self-reported for Learning Units to the Architectural Institute of British Columbia
This test is no longer available for credit
In 2005, a fire broke out on the 21st floor of The Windsor, an iconic high-rise building located in Madrid, Spain. The fire spread quickly from floor to floor. After burning for 20 hours, the floor spans of the upper stories collapsed.
There are few visions as terrifying as a skyscraper with multiple floors ablaze. High-rise buildings present a special problem when it comes to protecting occupants from the risk of fire. Large numbers of occupants must travel long vertical distances to exit the building using limited points of egress. Despite these challenges, building codes and design practices have greatly improved the safety of these buildings over the years.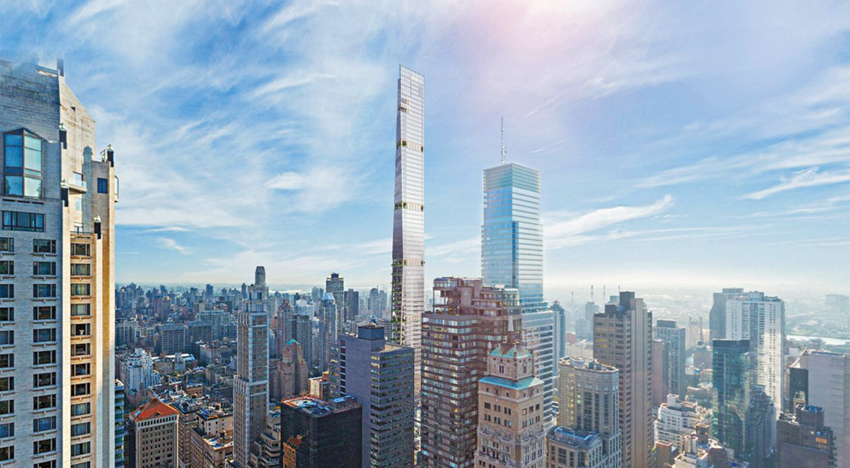 All images courtesy of Owens Corning
Steinway Tower, a 1,400-foot, 82-floor residential high-rise in New York City, has the distinction of being the world's skinniest skyscraper. Completed in 2018, the project incorporated enhanced fire protection in curtain wall and perimeter fire-containment (PFC)systems.
There are three major strategies when it comes to protecting the life safety of building occupants: detection, suppression, and compartmentation. Detection consists of alarm systems such as smoke and heat detectors. Suppression includes active systems that rely on switched mechanisms to function—for example, a sprinkler system that is triggered by rising temperatures. Compartmentation, also known as passive fire protection, is a strategy that divides a building into compartments through the use of fire-rated walls and floors and keeps a fire contained at the source of origin.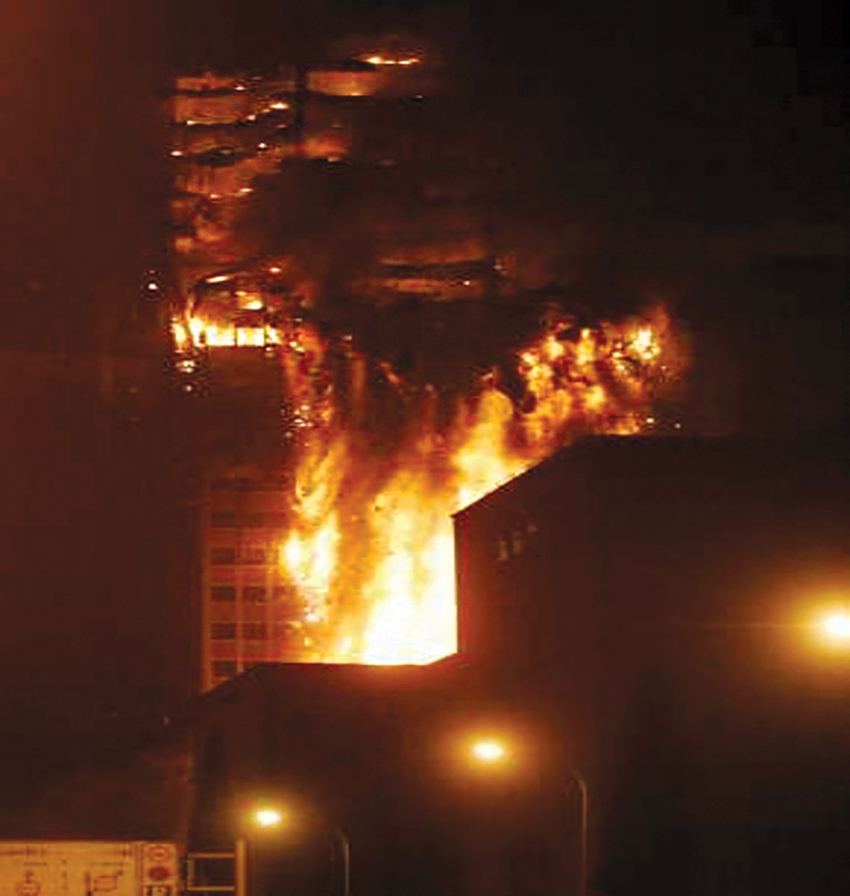 This photo of the Windsor Tower located in Madrid, Spain shows the results of "leapfrog" fire propagation. Note how the fire has spread vertically along the outside of the high-rise.
A passive system prevents or slows the spread of fire from the room of origin to other building spaces, limiting building damage and providing more time for the building occupants to safely evacuate or reach an area of refuge. Compartmentation also allows first responders to effectively fight the fire. Passive systems do not require on/off mechanisms; once properly installed, they provide protection continuously.
Detection systems and active strategies may be tampered with or purposely disarmed. Both of these strategies are also subject to electrical and mechanical failures, and therefore may not always function properly. For the best protection, buildings will utilize all three strategies; this way, if one fails, there is a backup system in place to increase escape time and occupant safety.
The size and number of buildings being constructed today are bigger in every dimension, and they contain more occupants than ever before. Consequently, high-rise fire protection has never been more critical. Curtain wall systems are becoming increasingly common in these buildings. These nonstructural exterior building coverings typically consist of exterior cladding made from lightweight, durable materials, such as aluminum panels, thin stone panels, or glass infill in a combination of spandrels and vision glass.
Although curtain wall systems enable distinctive and dynamic designs while protecting buildings against the elements, they have a unique feature that makes them vulnerable to spreading fire from floor to floor.
Upon installation, curtain wall systems create a void between the fire-rated floor slab and the edge of the nonrated curtain wall. In the event of a fire, this unprotected space at the edge of the slab acts as a chimney for fire and hot gases, helping a fire to rapidly spread from floor to floor. Though it may seem like a small space—theses joints are often just a few inches wide—when multiplied by the number of lineal feet on all four sides of the building and by the number of stories in the building, this space becomes a significant pathway for smoke and hot gases.
This is exactly what happened in the case of The Windsor. This high-rise was built at a time when building codes did not require the perimeter void to be protected. Consequently, fire was able to rapidly propagate from floor to floor.
Perimeter fire-containment (PFC) systems mitigate this risk by providing firestopping at the void between the slab edge and the curtain wall. PFC systems must be designed and properly installed to mitigate the risk of fire. Such systems are tested by independent third-party labs and listed in their directories.
PFC systems can mean the difference between life and death, and a building that does not have an appropriately designed and properly installed system is a serious fire risk. They are especially important in tall structures, where the points of egress are limited and escape time becomes critical. Fire attack strategies are also limited in tall buildings. Fire services ladder trucks can only reach so high; anything above the seventh floor is out of the realm of a feasible ground attack.
Originally published in October 2020
Notice