SNAFU-Situation Normal: Acoustics Fouled Up
Recognizing and avoiding common acoustics issues
Sponsored by Owens Corning
Learning Objectives:
Name the four types of acoustic requirements for any project.
Identify at least two non-owner sources for each acoustic requirement type.
Name at least one commonly found SNAFU for each acoustic requirement type.
Select a solution plan to at least two SNAFUs.
Credits:
In the spring of 2000, in response to noise complaints from neighbors and driven by low cost, the owners of The Station were primed to follow a chain of incredibly bad acoustic advice leading to the installation of flammable urethane and styrene foam on the walls and ceiling of their nightclub. During the next two years, at least one visiting band recognized the danger; however suppliers, building contractors, and three separate fire and building inspections did not.
Project requirements for architectural acoustics, noise/vibration isolation, speech privacy/intelligibility, and property line noise emission exist to meet federal law, building and fire codes, state and local ordinances and industry standards; as well as the owners design guidelines and desires. Although the owners guidelines and desires may be negotiable, inattention to other acoustic requirements leads to SNAFUs. A majority of these SNAFUs remain undetected, giving a false sense of project success. A few of these, like The Station nightclub fire, result in loss of life, millions of dollars in payouts and even jail time. Those that are detected typically generate field issues, expensive redesign and rework, and a loss of owner confidence.
In this webinar, two seasoned acousticians share some of the more common acoustic SNAFUs and suggest how to avoid similar problems.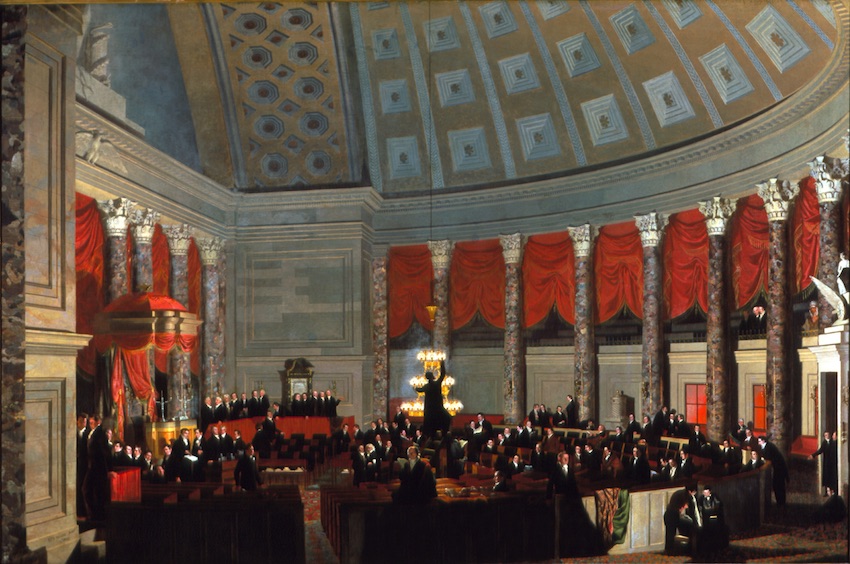 By Samuel F.B. Morse
Unresolved acoustic SNAFUs caused the U.S. Congress to quickly abandon the otherwise beautiful Hall of the House of Representatives shown here in Samuel Morse's 1823 painting.
| | |
| --- | --- |
| | Seth M. Harrison, PE, manages the Architectural Acoustics Group at Metropolitan Acoustics, an acoustics and vibration consulting firm based in Philadelphia. Seth is responsible for ensuring the company's high-quality standards are reflected in all acoustical projects. His diverse career in acoustics ranges from architectural acoustics consulting to research and development of noise control techniques for jet engines. As a licensed professional engineer with field experience commissioning building systems, he has a firm grasp of constructability and cost implications related to noise and vibration control within buildings. Seth is an active member of INCE and ASA. He is a member of the ASA Architectural Acoustics Committee and has served as the Treasurer of the Philadelphia Chapter of the ASA since 2013. |
| | |
| --- | --- |
| | Jon W. Mooney, PE, started his career as an Aerospace Engineer working on spaceflight and defense industry programs. His work includes design and analysis of systems for SkyLab, Space Shuttle, Patriot missile and anti-submarine sonar systems. During this time, he developed advanced acoustic modeling and simulation techniques which we now use to accurately model and simulate the acoustics of architectural spaces. Jon is an active member of INCE, ASA and INCOSE. He also serves as architectural acoustics editor for Walls & Ceilings magazine and writes technical book reviews published in Noise Control Engineering Journal, Noise News International and other publications. His extensive project experience may be viewed at www.jwmooney.com |
| | |
| --- | --- |
| | Owens Corning develops, manufactures, and markets insulation, roofing, and composites. The company's businesses use their deep expertise in materials, manufacturing, and building science to develop products and systems that save energy and improve comfort in commercial and residential buildings. |
Notice