Destination Dispatch Elevator Systems Benefit Passengers, Building Owners, and Design Professionals
Increased elevator handling capacity, enhanced tenant satisfaction, and improved energy efficiencies are among the many advantages of elevator destination dispatch management.
Sponsored by Otis Elevator Company
This test is no longer available for credit
Zoned DD Passenger and Building Interface
An important feature of a zoned DD passenger/building interface is that it facilitates access for people with disabilities. It can also be personalized to tenants' needs in the form of a virtual "concierge," thus potentially providing added value to leases. Building interface can serve asymmetrical floors (elevator groups that have an uneven number of stops) and unique grouping arrangements.
Americans with Disabilities (ADA)
"Elevators can be the most important building system technology for persons with mobility impairments and disabilities in multistory buildings," says George von Klan, GVK Elevator Consulting Services. Awarded by San Francisco's Mayor's Disability Council for his work on elevator technology that is usable by persons with disabilities, von Klan notes that destination dispatch elevators actually provide superior interface and operation for disabled individuals. This includes assignment of the adjacent elevator, additional visual and audio way finding, and speech—allowing for different walk speeds, longer door open times, and providing additional space in the elevator car.
But more importantly, von Klan points out, DD systems can recognize individual passengers' needs and provide customized operation based on their unique requirements.
In the event of a building emergency, a DD system can know the location of a wheelchair-bound person, say, and dispatch an elevator to that floor. At present there are no such requirements. "If we sincerely intend to improve access," says von Klan, "there is a clear need for better elevator accessibility standards."
At present disability standards such as ADA tend to treat people with disabilities the same way. But in reality a person in a wheelchair who speaks only Spanish has different requirements than someone who has a significant visual impairment or someone who is deaf.
Most DD keypads are typically configured to meet ANSI A17.1 and European EN81-70 accessibility requirements. Touchscreens and touchpads are not described in ANSI A17.1 or EN81, but since the worldwide destination dispatching market is moving toward touchscreen rather than mechanical keypads, manufacturers are incorporating an accessibility button in touchscreens and touchpads.
Concierge Passenger Interface
Some destination systems can serve as a virtual concierge, offering intuitive guidance for passengers. A typical graphic screen choices offers passengers choices that can include a "Welcome" screen for guiding first-time visitors, a "Location" screen that provides a quick access to all main building facilities (for example, entrances, food, shipping, and activities), and a "Building Directory" that has company names as well as their floor numbers so that visitors need not know a company's floor number. A "Restricted" menu item can handle specific requests and services such as assigning a dedicated car for special groups to keep everyone together, giving priority to VIP passengers (see below), requesting a freight/service elevator for suppliers, or moving to building maintenance mode.
After a destination is placed on the keypad or touchscreen, the concierge screen will orient the passenger as to the direction to reach the allocated elevator. The orientation screen can show a simple arrow and picture of a passenger standing in front of the fixture. Manufacturers usually offer both standard and custom dynamic, and static signage.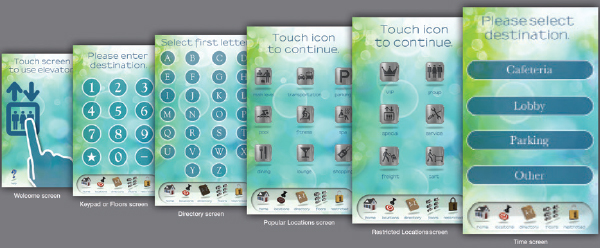 Examples of passenger graphic interface screens that serve as a virtual concierge.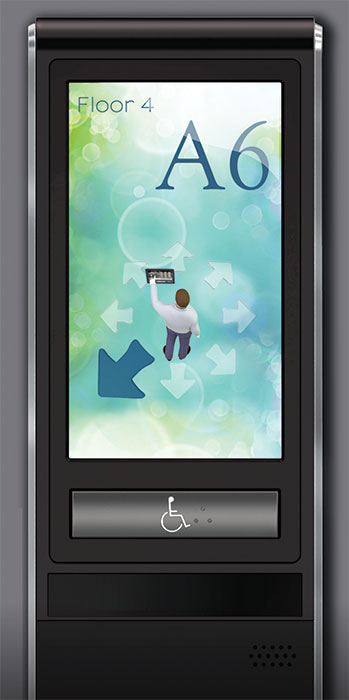 Images courtesy of Otis Elevator Company
An orientation screen directs a passenger to his/her allocated elevator.
Originally published in Architectural Record.
Originally published in October 2015
Notice