Technology and Trends in Sustainable Tropical Hardwoods
New products for fastening and finishing systems ensure ease of installation, low maintenance, and beauty
Sponsored by Nova USA Wood Products LLC
Learning Objectives:
Identify the characteristics of sustainable tropical hardwood options related to appearance, durability, and other performance issues.
Investigate the different tropical hardwood options available from different locations around the world.
Recognize the different sustainability certifications that are applicable to the selection of tropical hardwood.
Specify sustainable tropical hardwood, including the means for installation and finishing based on best practices.
Credits:
This course can be self-reported to the AIBC, as per their CE Guidelines.
This course is approved as a Structured Course
Approved for structured learning
Approved for Core Learning
This course is approved as a Core Course
Course may qualify for Learning Hours with NWTAA
Course eligible for OAA Learning Hours
This course is approved as a core course
This course can be self-reported for Learning Units to the Architectural Institute of British Columbia
This test is no longer available for credit
There is no substitute for the natural beauty of newly installed tropical hardwood; but keeping it looking great and achieving the desired performance over time requires careful attention to detail. Choosing the best hardwood species and specifying the appropriate fastening and finishing systems will ensure an aesthetically pleasing, low-maintenance and successful design in terms of installation, performance, and appearance.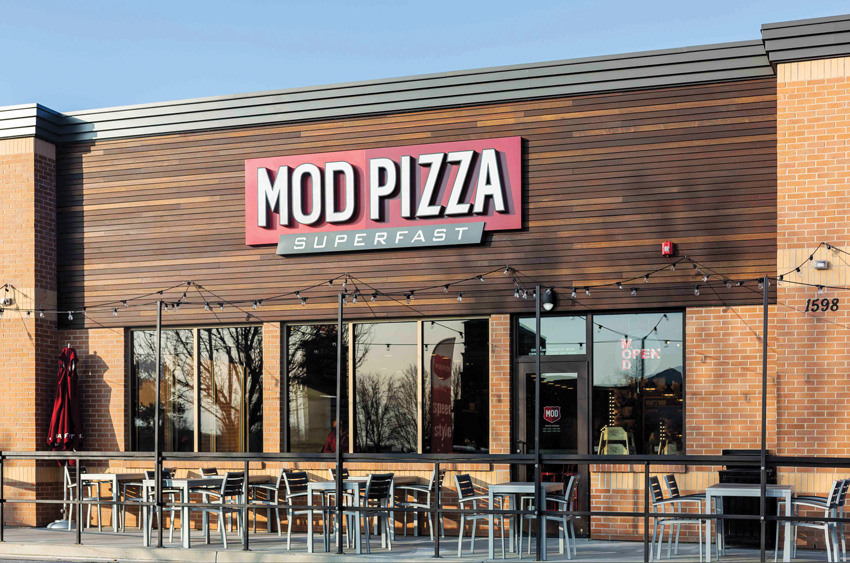 All images courtesy of Nova USA Wood Products LLC
Tropical hardwoods are increasingly popular for exterior applications due to their highly attractive appearances, exceptional durability, and certifiable sustainability. Shown here is batu hardwood creating a sign band facade area that is held in place with resilient rainscreen clips and finished with polymerized tung oil in black walnut.
Anyone with experience in working with wood quickly discovers the diversity between the individual species. Each one has unique properties which determine the suitability for different uses. There are many great choices when it comes to selecting a species of wood for decking, siding, trim, and finish work. Hardwoods harvested from tropical locations around the world have become a popular choice because they provide very desirable traits related to appearance and natural durability, especially for exterior use on buildings. However, architects looking to use tropical hardwoods in buildings often receive conflicting and contradictory information regarding characteristics, sustainability, and even legality of different tropical wood species. Once a suitable species is determined, questions will certainly arise on the best practices for installation and finishing.
Overall, this course will provide the key information needed to specify the species, installation, and finishing of tropical hardwoods to get the best results possible in conventional or green and sustainable buildings. The course will introduce the latest technologies in both fastening and finishing systems, as well as present a wide variety of product options available in common species of tropical hardwoods. Lastly, the course will review some of the international programs that are used to successfully determine sustainability.
Natural Beauty and Durability: The Amazing Diversity of Tropical Hardwoods
Naturally durable tropical hardwoods have exceptional strength, hardness, and beauty. There is no comparison in terms of performance and quality of wood fiber. Producing long length and relatively defect-free lumber, tropical hardwood trees grow tall and straight in the most lush and verdant climates on the planet. Imported primarily from South America and Southeastern Asia, these naturally durable tropical hardwoods have grown in popularity over the past few decades.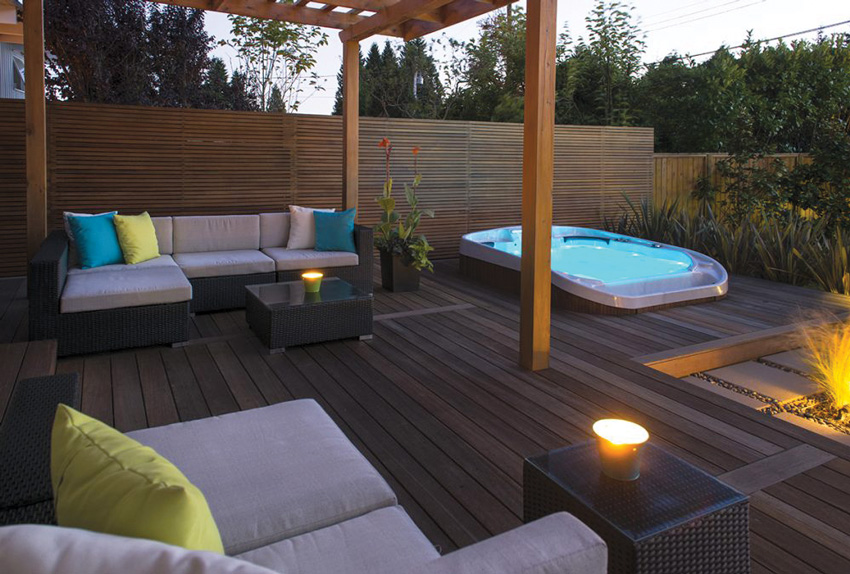 Naturally durable tropical hardwood is an ideal choice for decks and outdoor living spaces because of its strength and ability to hold up against the weather. (Supplier: POCO Building Supplies, Contractor: Houston Landscapes)
The tropical hardwood market today includes a wide variety of incredible woods. Ipe may be the most well-known, but there are plenty of other sound choices when it comes to rot-resistant, durable tropical hardwoods. From South America, cumaru, garapa, massaranduba, tigerwood, and even purpleheart have been used in exterior applications. From Southeast Asia, merbau, yellow balau, and red balau, or batu, are all rot-resistant choices. In fact, our tropical rain forests have hundreds of commercially marketable species that are uniquely beautiful as well as naturally durable. All of these woods can be used successfully in exterior applications. The key is to understand the potential issues and design accordingly.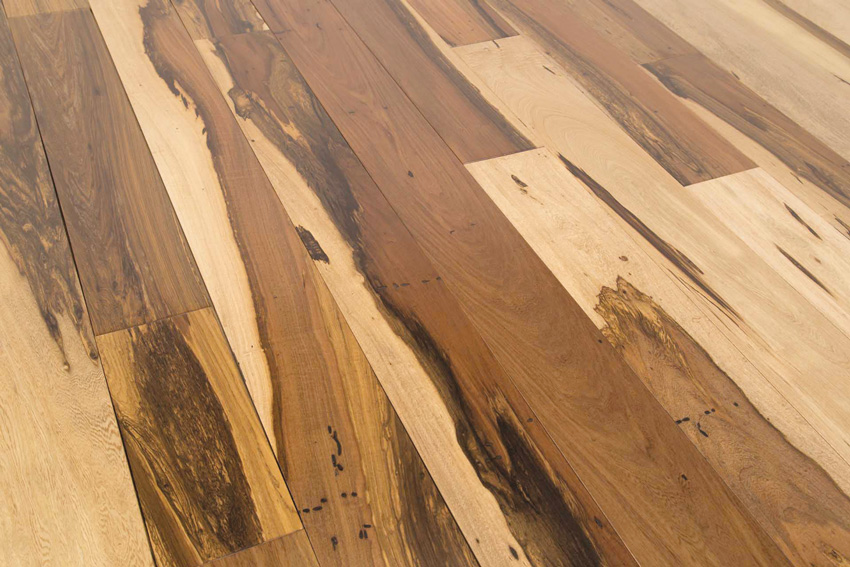 Stunningly beautiful and incredibly hard, guajuvira is also known as Brazilian hickory. This species of tropical hardwood is typically used for interior flooring.
Tropical hardwoods first started showing up on outdoor decks, where they provided a significant upgrade in appearance and longevity when compared to other wood species and composites, including softwood materials that were finished or treated with preservatives. These hardwoods soon caught on for use as exterior siding and rainscreen cladding. Additionally, these durable hardwoods started to be used for wood trim, soffits, and exterior wall panels instead of other more costly materials. Tropical hardwoods are also being fabricated into outdoor furniture and structural timber framing due to their pleasant appearance, durability, and longevity in outdoor environments.
Tropical hardwoods have similarly been used for many years as interior flooring. It makes perfect sense that some of the most beautiful and hardest woods in the world are sought-after for interior flooring.
Critical Success Factors in Designing with Tropical Hardwoods
Successful designs with tropical hardwoods require paying close attention to the installation and finishing details as well as a complete understanding of the particular species of hardwoods that are specified in the project. The most common mode of failure is not designing to accommodate the natural expansion and contraction of wood due to moisture exposure and varying humidity levels. This situation is easily avoidable by specifying the proper fastening system, ventilation, and even finishing—which helps prevent moisture from penetrating the wood unevenly.
The latest technology in hardwood installations is the use of resilient fastening systems. Recognizing that in exterior conditions wood will continue to shrink and swell with humidity changes over the seasons, at least one company has produced an attachment system that accommodates this natural movement. These resilient clip systems also help make installation faster and easier.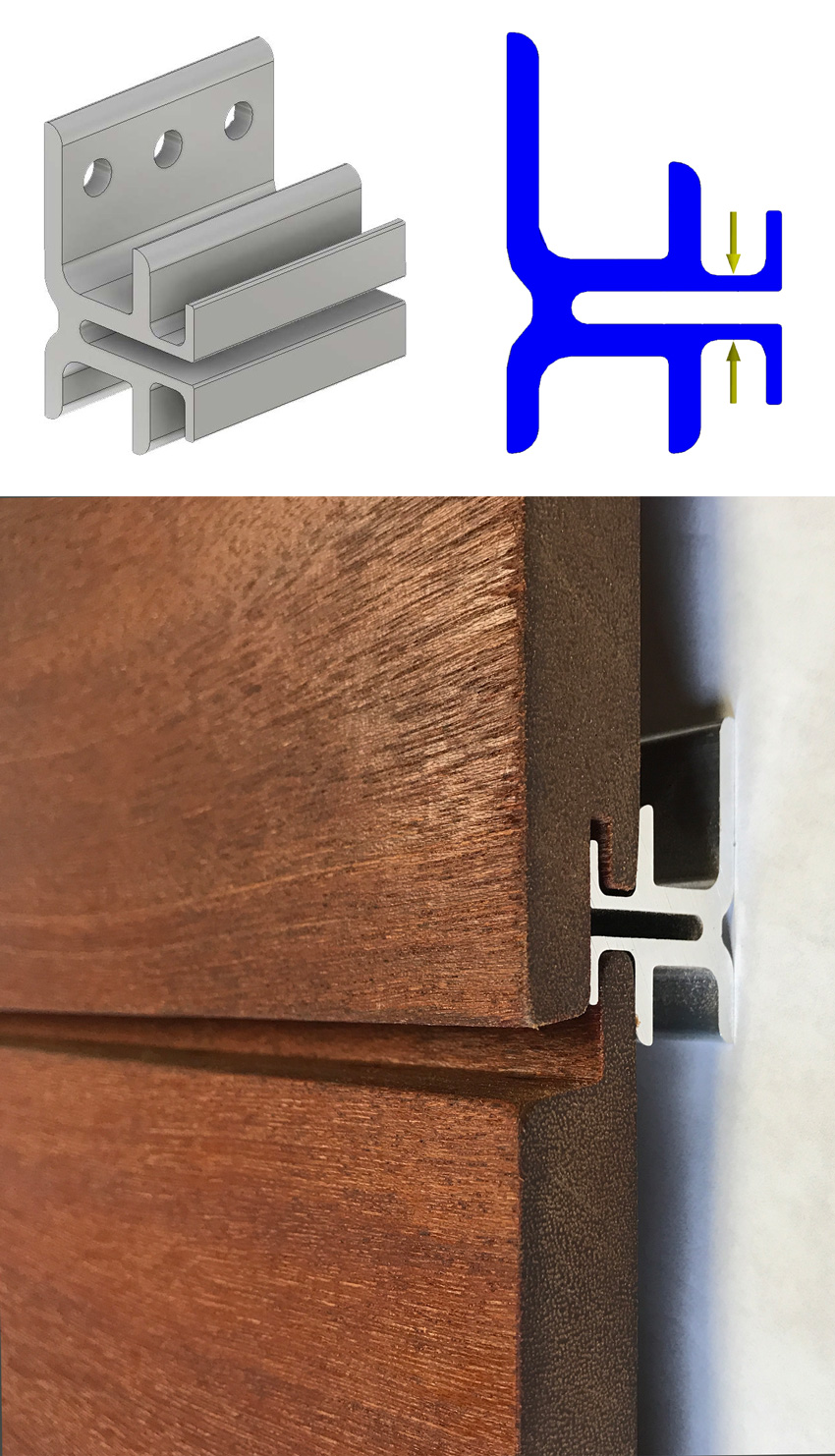 Resilient clip systems for attaching rainscreen siding accommodate the natural movement of wood as it shrinks and swells with changes in moisture content.
Another common complaint is just how quickly a beautiful hardwood installation begins to weather. Low-quality linseed oil finishes offer next to nothing to protect the material and do little to help keep the wood looking beautiful. Significant color degradation can be seen in as little as three months after installation. Finishing systems have improved massively over the past few years to include nanotechnology water-based products, synthetic oils, and tung oil products. Featuring ultraviolet (UV) rays protection and color retention, these new finishing products have been shown to keep projects looking fresh for notably longer.
Originally published in Architectural Record
Originally published in June 2019
Notice