The 21st Century Classroom: Flooring for Learning
How premium rubber flooring supports exceptional learning environments.
Sponsored by nora systems, Inc.
Learning Objectives:
Discuss the importance of the physical learning environment as the "third teacher" in today's state of the art classrooms.
Evaluate flooring in educational settings as an outcome driver for both students and teachers.
Examine the role of premium rubber flooring as a component in achieving educational goals.
Specify flooring with characteristics that enhance teaching and learning, with a focus on: safety, indoor air quality, acoustics, comfort, effective operational optimization and maintenance, and a durable, sustainable life cycle.
Credits:
"Look at your learning space with 21st century eyes. Does it work for what we know about learning now or what we knew about learning in the past?" —The Third Teacher
Design innovation in educational facilities at all levels is undergoing a revolution. The multi-author book, The Third Teacher: 79 Ways You Can Use Design to Transform Teaching & Learning, summarizes many of the most important emerging concepts about the impact of the physical environment on teaching and learning.i Evidence-based design—making design decisions based on research about how aspects of the physical environment directly influence human performance and well-being—has transformed health-care architecture, measurably improving outcomes for patients, families, and staff. Now, the same principles are being applied to the design of spaces for learning. A growing body of research and many impressive examples around the country show an exciting range of new products and ideas for learning environments that give students what they will need to succeed as global citizens in a complex, technological world.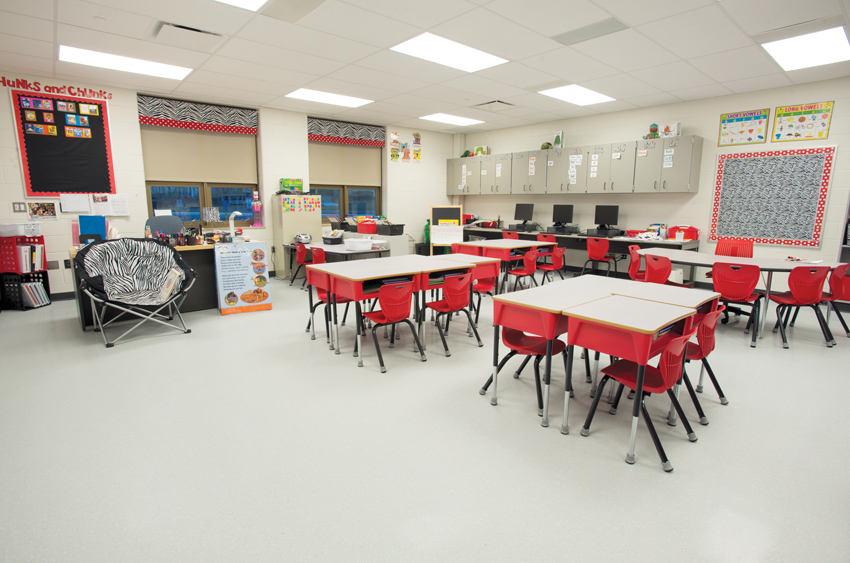 All images courtesy of nora systems, Inc.
The premium rubber flooring product selected for the new Thornwilde Elementary School in Hebron, Kentucky, has essentially become a standard for all Boone County Kentucky School District's new construction and renovation projects, based on experience with the flooring's performance, durability and low maintenance in schools throughout the district since the early 2000s.
The materials selected for these new spaces are key to the success of the most innovative designs but also to ensuring the most fundamental needs—healthy air, good light, clear sound, physical safety, and comfort. Even the best decisions about curriculum, assessment, teaching methods, and other important issues can be instantly undermined in the classroom by inferior materials; for example, if students can't hear or teachers have to repeat themselves, if the air quality is unhealthy, or if the floors are hard and unsafe.
On the flip side, physical environments with properly selected materials, effective light, and forward-thinking design have been shown to improve student performance and teacher success on a wide range of measures from test scores to absenteeism to reduction in headaches and asthma.
As with other materials in educational settings, flooring has to perform in new ways. Rubber as a flooring material has many inherent advantages, but there are significant differences even among rubber flooring products (see Figure 1). Premium rubber flooring differs in quality of ingredients, manufacturing, surface density, and performance characteristics that allow it to respond to new demands. The most functional rubber flooring products can stand up to collaborative floor plans and moveable furniture, foster communication by reducing unwanted and confusing sound, and provide the comfort and safety that aids concentration and reduces distraction. They help maintain healthy air quality and can be thoroughly cleaned without harmful chemicals, eliminating the fumes, labor, and disruption of stripping, waxing, and recoating.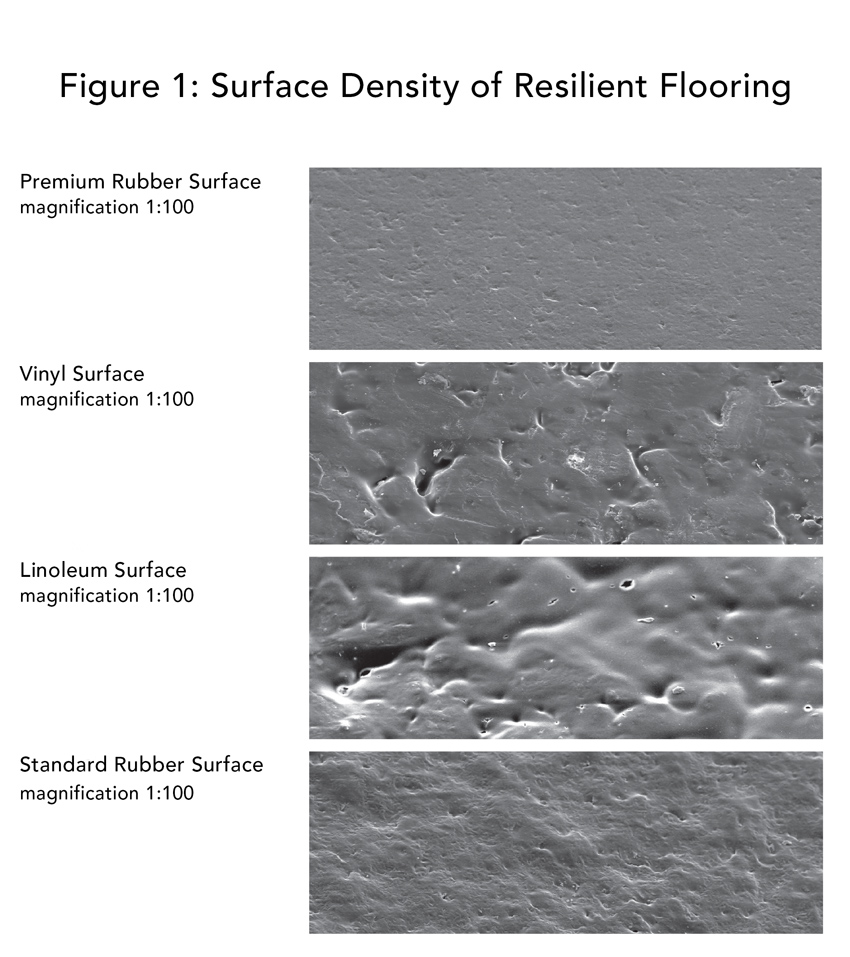 The advantages of high surface density include improvements in safety, acoustics, resistance to dirt and microorganisms, and ease of maintenance.
The large majority of schools are not built to optimize learning, health, and comfort, but to achieve minimum performance at the lowest cost. Many older classrooms are actually working against basic health and safety. Whether for brand new spaces or badly needed renovations, decisions about flooring will have a direct impact on the success of students and teachers for many years to come.
This course will illustrate how premium rubber flooring supports some of the most important new concepts in the creation of exceptional learning environments. Although most of the emphasis is on teachers and kids in K-12, the information is just as important and relevant to students of every age, from the littlest learners in daycare and pre-K spaces, to higher-education facilities and technical and career spaces for lifetime learning.
AGE OF COLLABORATION: DON'T STAY IN YOUR SEATS
The exact list of core concepts in today's best thinking about education differ, depending on the focus of the list maker—sometimes there are three "Cs," sometimes five or more. But three are on almost every list: collaboration, communication, creativity. The days of every student sitting quietly in his or her chair for hours at a time, desks lined up in front of a teacher who is the only one speaking, are gone, or at least educators are trying hard to show how counter-productive that scenario can be.
Beyond learning a set body of knowledge, students today are preparing for a future that will require teamwork on small scales and global scales, quick learning, and the ability to do many different jobs in a lifetime, most of which probably do not exist yet. An "agile classroom" is a learning space that can be reconfigured on a dime to engage different kinds of learners and to enable teachers to become guides, marshalling resources for groups of kids who are learning to think on their own and find the information they need. Students move their furniture easily to make small, project-based groups or find space to study alone undisturbed. Different learning styles are accommodated and encouraged. Communication skills are learned in one-to-one exchanges with teachers and other students, and through forms of media that we all use now and ones that we are just now inventing. Creativity thrives where technology connects the classroom to people, places, and networks all over the world, along with problems to solve and the capabilities to do it.
The physical environment has to be up to the challenge of these new ideas. In a classroom of the "old" model—which unfortunately still exists in most schools—the rich, active, agile learning environment described above, with its moving kids and moving furniture, would lead to a noisy, clattering, chaotic atmosphere. Floors would be scratched and stained at the very least, and often slippery with hard, unforgiving surfaces.
To provide a safe and effective foundation for a good learning environment, the flooring must perform well in several key areas discussed in the following sections: physical safety, healthy air quality, good acoustic performance, visual and ergonomic comfort, and the practical realities of today's educational buildings requiring low maintenance, durability, and sustainability.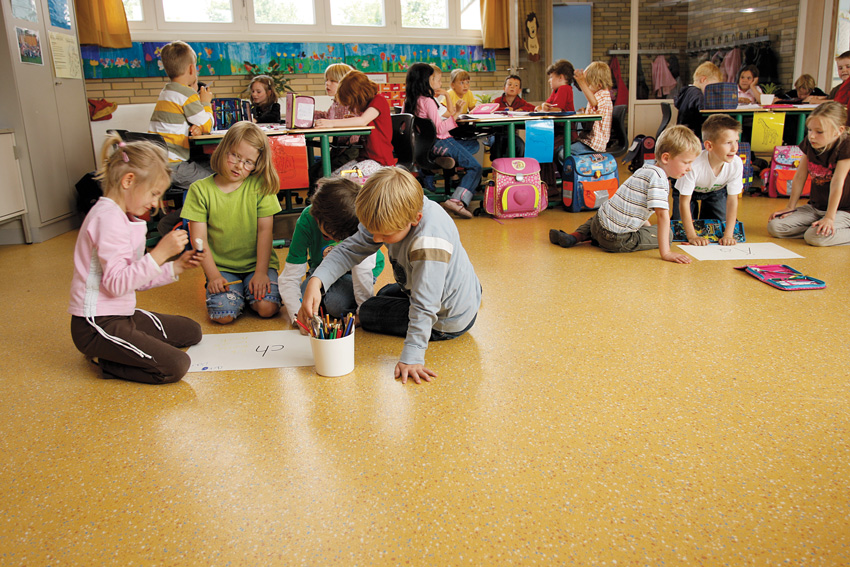 Exceptional learning environments emphasize movement and collaboration. In early grades especially, students need a comfortable, safe, healthy, and easy-to-clean floor.
Originally published in Architectural Record
Notice