Natural Stone Fact vs. Myth: Addressing Common Misconceptions
Sponsored by Natural Stone Institute

1 AIA LU/Elective; 1 GBCI CE Hour; 0.1 IACET CEU*; 1 AIBD P-CE; AAA 1 Structured Learning Hour; This course can be self-reported to the AANB, as per their CE Guidelines; AAPEI 1 Structured Learning Hour; This course can be self-reported to the AIBC, as per their CE Guidelines.; MAA 1 Structured Learning Hour; This course can be self-reported to the NLAA.; This course can be self-reported to the NSAA; NWTAA 1 Structured Learning Hour; OAA 1 Learning Hour; SAA 1 Hour of Core Learning
Learning Objectives:
Compare and contrast the performance of natural stone to artificial materials used in similar applications.
Counter myths around natural stone regarding its cost, maintenance requirements, and sustainability.
Describe the resources and applicable test standards relevant to natural stone.
Explain how natural stone can satisfy green building goals and support overall sustainability of building projects.
This course is part of the Natural Stone Academy
Natural stone is a beautiful, durable, and sustainable material that can be used for a broad range of interior and exterior applications. Unfortunately, some design professionals are hesitant to specify natural stone, either because they are unfamiliar with the product or have questions regarding its maintenance requirements. In fact, when the natural right stone is selected for the right application and installed properly, it can perform for decades.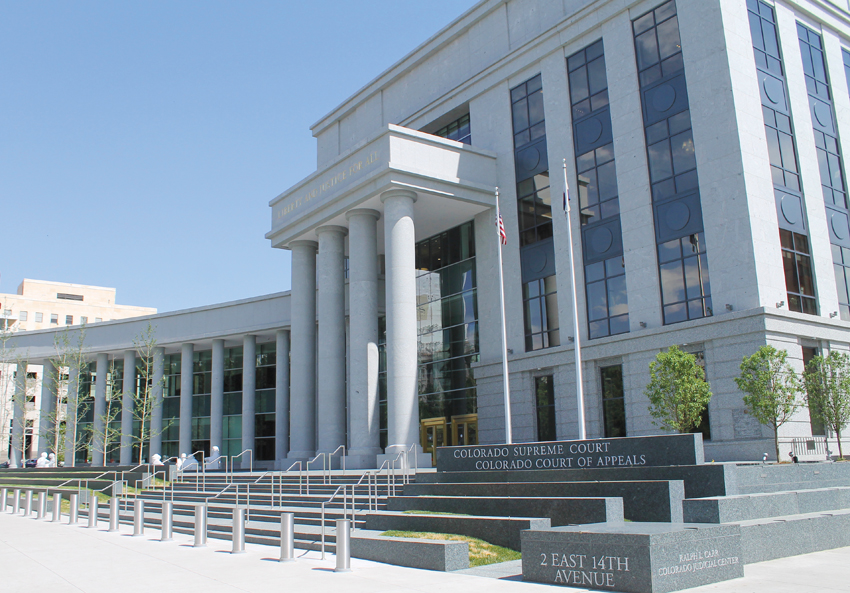 Photo courtesy of Gallegos Corporation
The columns and cladding for the Ralph Carr Colorado Judicial Center in Denver are composed of granite.
Natural stones are stones that have been harvested from their in-situ positions in the earth, then cut and machined into final products without alteration to the natural fabric of the materials. They may be cut into shapes, including slabs and tiles. Though a resin or sealer may be applied to the face, the internal fabric of the stone is unchanged. By contrast, engineered products that are made from aggregates bound together with cementitious or resin binders do not meet the definition of natural stone.
This abundant and variable material defines many of the world's iconic buildings, both ancient and contemporary. The fact that some of these buildings have endured for centuries is a testament to the material's strength and resistance to wear. Dimension stone is cut or sawn into specific shapes. It can be finished by honing, polishing, or sandblasting, all of which affects the stone's appearance. Many types of natural stone, including granite, marble, and limestone, can be fabricated into thin panels and used on the exterior of buildings.
Versatile, beautiful, and durable, natural stone has long been mankind's preferred building material. The applications for natural stone are nearly limitless. Historically, stone served as the structure for many buildings; today, it is more typically used as nonstructural cladding. Natural stone is used extensively in landscaping, serving as pavers, walkways, walls, and other outdoor structures.
Inside, stone can be installed as flooring and countertops, as well as in vertical applications, such as wall cladding. Other options include mantels, fireplace surrounds, bath surrounds, and furniture.
How Natural Stone Is Classified
When specifying natural stone, it is important to have basic knowledge about the material's inherent characteristics; this way, you can choose the appropriate stone for the given application. The stone's mineral composition and how it was formed can tell you much about how it will perform.
Natural stone can be divided into two broad categories based on its chemistry, or mineral composition. Calcareous stones such as marble, limestone, and onyx are made of calcium carbonate and tend to be affected by acids, even common ones like lemon juice. Siliceous stones are made of silica or silicates and make up close to 95 percent of the earth's crust. They include such common minerals as quartz, feldspar, and mica. Siliceous stones tend to be strong and resistant to acids.
Natural stone also can be categorized by how it is formed. Sedimentary stones are formed from preexisting rocks or the bodies of once-living marine organisms. Metamorphic stones are created through a combination of heat, pressure, and time. Igneous stones have their start as molten material that originates from deep with the earth near active plate boundaries.
Specifying Natural Stone
The Natural Stone Institute recommends proper testing, specification, and installation of natural stone. To meet these requirements, design professionals should work closely with a quarry or distributor during the specification process. Also consider using fabricators and installers that have been accredited by the Natural Stone Institute, as they have been tested and audited on their craftsmanship abilities.
One of the most important resources for design professionals is the set of standards and testing procedures developed by ASTM International and the American National Standards Institute (ANSI). These standards guide the natural stone industry and help protect end users. In fact, most architectural specifications require that stone meet certain specified ASTM or other testing standards before it will be accepted for use.
Design professionals can seek test data from a quarry, material supplier, or fabricator. In addition, these experts will be able to provide anecdotal and historical information about the performance of a given material. They may refer you to projects that used the same stone in a similar application. For more information, visit bit.ly/2Q9gsBR.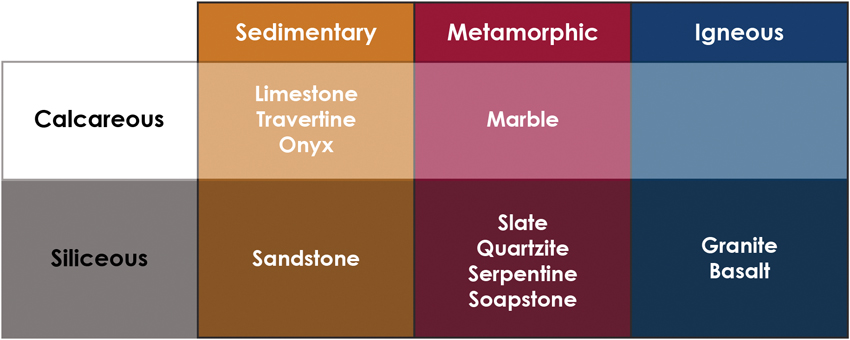 ASTM Test Standards
ASTM Test Standards relevant to natural stone can be divided into two broad categories: those that pertain to the stone's physical performance, and those that tell us something about how the stone will perform under certain circumstances.
ASTM C97: Absorption and Bulk Specific Gravity of Dimension Stone is the test method used to determine the absorption of water, expressed as a percent by weight, and the bulk specific gravity, which is the means by which density is determined.
ASTM C170: Standard Test Method for Compressive Strength of Dimension Stone is used for all dimension stone types, using a specimen that is a rectangular prism, cube, or cylinder. The compressive strength is reported as the failure stress in either lbs/in2 or MPa.
ASTM C99: Standard Test Method for Modulus of Rupture measures the bending or flexural strength of a stone material under a single-point load.
ASTM C880: Standard Test Method for Flexural Strength of Dimension Stone evaluates bending strength using two points of loading and a sample that is the actual thickness of the stone to be installed.
ASTM C1353: Standard Test Method for Abrasion Resistance of Dimension Stone Subjected to Foot Traffic Using a Rotary Platform, Double-Head Abraser determines the degree to which a stone material can withstand scratching or abrasion using an instrument called the Taber Abraser.
ANSI DCOF (dynamic coefficient of friction) measures slip resistance of an object in motion and is relevant for flooring applications.
ASTM C1354: Strength of Individual Stone Anchorages in Dimension Stone evaluates the performance of individual anchors with a specific stone product.
Which Tests for Which Application?
The test data you seek will largely depend on the application. If the stone is going to be installed outside, it must be resistant to weathering and decay, as it could be exposed to temperature extremes, freeze-thaw cycles, pollutants, and chemicals such as deicers. Because stones in interior applications are sheltered from the elements, the range of choices is much wider. However, there are special considerations for interior stones that are to be used in flooring applications or installed where they could be exposed to chemicals, grease, or prolonged moisture.
If the stone is being used in a structural capacity, you should seek test data for compressive strength and flexural strength. If the stone is to be exposed to the elements, study the stone's absorption, porosity, and permeability. In addition, you may want to seek test data for how it reacts to freeze/thaw cycles. If the stone is to be installed in a vertical application, study the anchorage system and specify ASTM C1354. If the stone is to be used in a floor areas that receive foot traffic, it should be tested for abrasive hardness and slip resistance. Absorption and density are also important considerations.
This test is no longer available for credit
Originally published in Architectural Record
Originally published in April 2021
Notice