Sustainable, Cost-Effective Renovations Using Terrazzo
Minimize demolition and optimize durability
Sponsored by National Terrazzo & Mosaic Association (NTMA)
Learning Objectives:
Identify the design and performance characteristics of terrazzo in terms of its makeup, durability, walking safety, sustainability, and aesthetic capabilities.
Investigate the design potential and innovative opportunities to sustainably renovate buildings by retaining the existing flooring without demolition.
Assess the functional contributions of terrazzo as it contributes to sustainable design using the LEED green building rating system.
Specify sustainable terrazzo installations in a variety of green and conventional buildings, and formulate appropriate selections related to specific applications.
Credits:
This course can be self-reported to the AIBC, as per their CE Guidelines.
This course is approved as a Structured Course
This course can be self-reported to the AANB, as per their CE Guidelines
Approved for structured learning
Approved for Core Learning
This course can be self-reported to the NLAA
Course may qualify for Learning Hours with NWTAA
Course eligible for OAA Learning Hours
This course is approved as a core course
This course can be self-reported for Learning Units to the Architectural Institute of British Columbia
This test is no longer available for credit
It has been said that the greenest building is an existing one. This logic proves true when the strategy is to reduce the environmental impact of building materials and construction by using what is already existing. A specific strategy is to consider the use of new flooring in a renovation project that does not require the selective demolition and removal of existing flooring. Of course, to be truly sustainable, the new flooring needs to be durable and resilient for a long service life. It would also need to be versatile with abundant design options, patterns, and colors available and the ability to be used on other surfaces too. On elevated floors, it would help if it were lightweight so as not to impose any unnecessary dead loading. Finally, the materials used in the flooring would need to be environmentally sustainable and suitable for green building design. While this may sound like a difficult list of needs to fulfill, there is a very well-known and readily available flooring that meets all these criteria: epoxy terrazzo. In this course, we address these aspects of using terrazzo flooring as a cost-effective, sustainable flooring in existing buildings.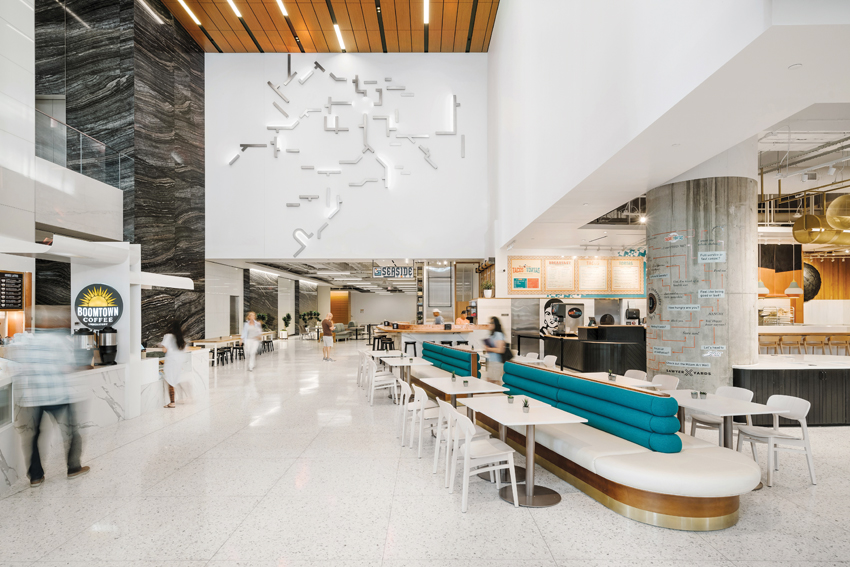 Photo: Chase Daniel; courtesy of NTMA
The Understory of the Bank of America Tower in Houston, Texas, designed by Gensler and Michael Hsu Office of Architecture uses terrazzo as the focal point for all interior finishes. It is the first LEED v4 Platinum Core & Shell certified project in the United States and the NTMA 2020 Job of the Year.
Terrazzo: A Proven Solution
Many architects and interior designers are familiar with terrazzo as used in contemporary and historic buildings. However, not all are aware of its history, current formulations, and sustainable or green building attributes, which are summarized as follows.
History
The use of terrazzo for flooring and wall surfaces has been common for centuries. Some would trace it back to ancient Egypt, where mosaic flooring was held in place with cementitious binders. The more recent version of the material is influenced by 18th century Italian craftsmen who placed marble fragments in a mortar base or spread marble chips into cement that was then ground and polished. Terrazzo made its way to the United States in the 1890s and became popular in the 1920s for its noted strength and durability as a flooring treatment.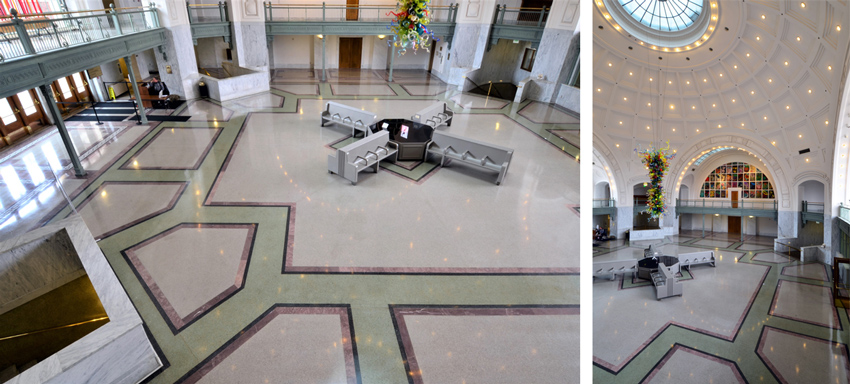 All images courtesy of NTMA
Terrazzo has been used since the early 1900s in the United States.
Beginning in 1924, the use of divider strips offered greater control over cracking, which was sometimes a problem without their use. The divider strips also allowed for different colors or textures of terrazzo to be separated, making it possible to design virtually any shape, pattern, or image into the surface. Around the same time, electric grinding machines became available, replacing the need to grind and polish the terrazzo surface by hand. The mechanization of the entire process meant that the costs and time associated with terrazzo were both notably reduced, making it a more affordable flooring option for many commercial and institutional buildings.
With great design versatility, solid durability, and increased affordability, the use of terrazzo increased, as did the number of companies and craftspeople dedicated to the trade. This prompted the formation, in 1923, of the National Terrazzo and Mosaic Organization (NTMA). As a full-service, non-profit trade association headquartered in Fredericksburg, Texas, NTMA has established national standards for all terrazzo floor and wall systems. It currently provides complete specifications, color plates, and general information to both architects and designers at no cost.
Current Formulations
Fundamentally, terrazzo is a composite system consisting of either a cement or resinous matrix (binder) with aggregates added that can be made of marble, granite, onyx, or glass. Terrazzo is most commonly poured in place, cured, and ground to a smooth, hard surface finish. There are also precast terrazzo products available that can be installed like tiles or used to form stair treads and risers. As such, it is commonly used for flooring, stairs, and even corridor walls whenever durable, easy-to-clean, and attractive surfaces are being sought.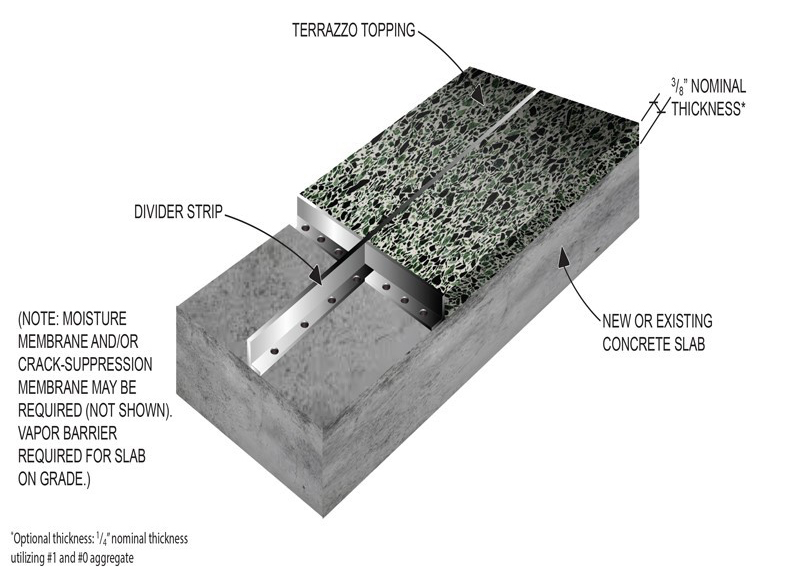 Epoxy terrazzo accounts for approximately 95 percent of current installations. It is relatively thin, lightweight, offers unlimited design options, is extremely durable, and is sustainable.
There are multiple variations on the way that terrazzo is formulated and installed:
Epoxy terrazzo: This is a nominal 1⁄4-inch-thick or 3⁄8-inch-thick resin matrix veneer placed on a flat concrete slab provided by others. It can be specified with glass, synthetic, or granite aggregates in lieu of marble to provide brilliant colors or chemical resistance. Recognized as the best thin-set system, it accounts for approximately 95 percent of all the terrazzo installed today. It offers unlimited matrix colors, color control, resiliency, chemical resistance, and tensile-compressive strengths not found in cement-based systems. It is excellent for multicolored patterns and designs. Epoxy terrazzo is lightweight (approximately 41⁄2 PSF for 3⁄8-inch thickness) and somewhat flexible, making it ideal for multistory use. It has the lowest maintenance cost due to its nonabsorbency. In sanitary areas, it can be installed with minimal dividers, providing seamless characteristics. When used in conjunction with a flexible membrane as a specified extra, it can absorb some horizontal concrete crack or control joint movement. From an installation standpoint, it has the quickest pour-to-grind installation time. It can be used over a variety of properly installed and prepared substrates including plywood.
Polyacrylate terrazzo: A nominal 3⁄8-inch-think polymer modified cement matrix veneer is placed upon a flat concrete slab provided by others. The polyacrylate polymer provides strength to allow for thinner applications of cementitious systems. It provides fast installation and moderate price range, making it ideal to replace vinyl or carpet without depth transition difficulties. It is also good to use in areas subject to moisture vapor transmission, where epoxy terrazzo or other non-breathing floors require additional steps to make them applicable.
Monolithic terrazzo: This is a 1⁄2-inch-thick cement matrix veneer placed upon a concrete slab provided by others. It is dependent on the concrete quality for flatness and crack prevention. It is appropriate for on grade or below grade. Its fast installation and economical price make it ideal where time and budget are critical but the beauty, low maintenance, and performance of terrazzo are desired.
Bonded terrazzo: This is a cement matrix and underbed system used for interior and exterior areas. It is meant for conditions that require 11⁄4 inches to 13⁄4 inches of recessed depth to be filled in addition to the 1⁄2-inch terrazzo topping. With the sand-cement underbed, it has less dependence on the concrete slab for flatness when compared to monolithic.
Sand-cushion terrazzo: A 1⁄2-inch cement matrix topping is used with a 21⁄2-inch to 3-inch underbed of low-slump sand cement. The complete system includes wire reinforcing, an isolation sheet, and a sand-dusting layer over a new or existing concrete slab. This is considered the best cement system and is intended for interior use. Due to the underbed's depth, wire mesh reinforcing, isolation sheeting, and sand layer, it will absorb minor substrate defects and prevent mirroring to the surface.
Rustic terrazzo: This is a terrazzo produced with a non-ground, textured surface intended for exterior use. This system is available with bonded and monolithic terrazzo. It offers infinitely variable textures, colors, and patterns that may be created in a weather-resistant, skid-resistant deck surface.
Note that in any of these terrazzo formulations, the aggregate chip sizes used can be selected to suit the intended design appearance. The sizes are only limited by the thickness of the terrazzo, such that chips can be #0 or #1 in 1⁄4-inch terrazzo with the option of #2 in 3⁄8-inch terrazzo. As mentioned, marble, granite, or other stone is the most common type of such chips, but others are possible. However, note that glass and other decorative aggregates do increase costs.
Originally published in Architectural Record
Originally published in June 2021
Notice