Understanding How Glazing Can Impact Safety and Fire Protection
Specifying the right glass to protect schools, churches, and public buildings
Sponsored by National Glass Association
Learning Objectives:
Summarize the qualities of protective glazing and how they pertain to occupant security.
Discuss the range of protective glazing products and the corresponding levels of protection that each can provide.
List factors to consider when specifying security glazing and glazing systems in schools, churches, government buildings, and public spaces.
Understand how codes and standards help specifiers choose the right products.
Review key fire-rated glass and glazing requirements, considerations, and market trends.
Credits:
This course is approved as a core course
This test is no longer available for credit
When specifying glass, architects and designers must consider many factors, including safety, security, energy efficiency, thermal protection, and daylighting. Over the past 20 years, safety in schools has increasingly become a concern due to the increase of gun violence and active shooter situations in schools, churches, government buildings, and public places.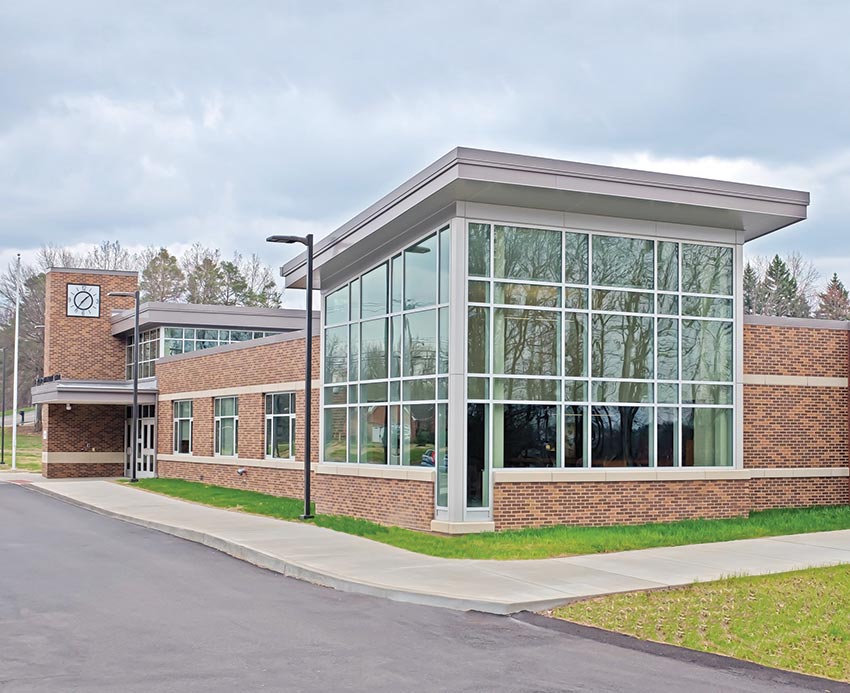 Photo courtesy of Global Security Glazing
Security glazing on an elementary school in Pennsylvania provides added security for occupants while allowing sunlight to penetrate the building, creating a positive environment for students.
These situations have caused an increase in funding for new school buildings and renovations on existing buildings which, in turn, has driven demand for protective glazing. Dodge Data and Analytics reports that the education sector is expected to grow 3 percent in 2019, while the rest of nonresidential construction will remain flat. School districts and officials are increasingly asking architects to develop design solutions to better protect students in the event of threats, from fires to intruders or active shooters. This is what Rob Botman, general manager, Glassopolis, calls the "second wave of school security glazing" that is happening right now. "The first wave was to increase security by filling existing openings with thick, heavy laminated glass assemblies. Unfortunately, the cost of these glazing solutions can be prohibitive. Now that architects have had time to digest the new school security objectives, they are coming up with better building designs that don't require extreme sole-source glazing. Instead of putting expensive glass everywhere, they are being more selective in where they apply the glazing." For the glass industry, the call for safer schools translates to requests for forced-entry-resistant products in addition to the already code-required fire-protection solutions. Designers also want these solutions while still meeting stringent energy codes and maximizing daylighting and views, as daylighting can improve student morale and performance in the classroom.
Oftentimes, projects will include various types of materials such as high-performance security glazing in areas most vulnerable to intrusion and then contain fire-rated glazing throughout the rest of the building. Specifiers must consider how fire-rated glass and other protective glazing can work together to provide added fire safety for occupants.
Fire has been a danger to buildings for centuries, and modern codes and standards have adequately accommodated for the threat. Designing safer schools and public buildings is an evolving concern and, due to the nature of the evolution of active shooter and intruder situations, requires additional education and specification assistance. Security glazing and fire-rated solutions are applicable for any project application. "It's not just schools—it's churches, government buildings, offices, etc.," says Urmilla Sowell, technical and advocacy director, National Glass Association. Quality products and protective glazing provide many benefits to buildings, with glass installations both inside and outside.
What Is Protective Glazing?
Protective glazing is an added protection that can be specified for glass products to help provide protection for occupants against both intruders and fires. While no glass is indestructible, protective glazing provides added protection and durability that can allow occupants extra time to get to safety in the event of an intruder or fire while also providing extended protection while law enforcement and emergency responders rush to the scene.
There are a variety of considerations for determining protective glazing applications in education facilities that, in many cases, involve multi-performance products. Hurricane-impact glazing, for example, may have contributed to the lives saved at Marjory Stoneman Douglas High School in Parkland, Florida. The building features code-required impact glazing at all levels. Investigators say the shooter appears to have attempted to shoot through a third-floor window, firing 16 rounds into the glass. The laminated impact-resistant glass, however, did not give him a clear opening.
There are many factors to consider when evaluating protective glazing in schools, such as the threat, time, weak link, budget, safe zones, alternate points of entry, interior openings, and fire protections.
Threat
Many school districts are looking to add forced-entry resistance to their school buildings, according to glass industry sources. "As these school shootings have become more prevalent, we started hearing demand for bullet-resistant doors and glass," says Kenny Webb, director of integrated solutions and marketing communications, Assa Abloy. However, traditional bullet-resistant solutions offer a level of protection beyond what is needed for forced-entry resistance. The goal for forced-entry resistance glazing is to "deter or delay access, giving time for first responders to arrive," Webb says.
Time
While glass can be made more durable, even the strongest glass has the potential to break. As discussed, the primary goal is to specify glass that can stand up to a threat long enough for first responders to arrive. The amount of time required will vary depending on the location of the entry point, meaning where it is in the building, and also where the building is geographically located. If the building is located in an urban area across the street from a police station, the need to withstand impact is less critical than a similar glass entry point in a rural area that is 15 minutes away from the nearest police station.
Weak Link
When considering the protective properties of a glazing system, look first for the weak link. Glass will often be the weakest link in a system until some type of safety glazing is employed. Once the glass is taken care of, look to the locks and hardware. When possible, specify multipoint locking at entry points and points of weakness. Architects can also employ reinforced doors and frames to harden the system further.
Budget
While security is a high priority for many people, the added protections provided by glazing solutions can be cost prohibitive when applied to all-glass entry points in a building. Schools often face budget restraints, therefore assessing the risk and picking a cost-effective solution can be a challenge. To accommodate for this, key discussions about balancing performance demand and budget should happen early in the project specification process. Fortunately, the glass industry offers a wide range of security solutions that can help accommodate the project budget. When specifying glass for these types of projects, let your supplier know your budget and concerns so it can help determine the best solutions for the project. Specifiers can choose from various products ranging from simple laminated glass to materials that are fully resistant to ballistics. The question is: How much protection is needed and for how long?
Safe Zones
Suppliers recommend that architects consider using a range of protection levels for different areas of the building. For example, certain secure zones will require higher levels of protection. If a school or business can't provide security glazing in all places, perhaps they can provide it in the "secure zones." A secure zone is a room or area where a large number of occupants can safely and securely congregate. An example would be the cafeteria or the gymnasium. These areas could include higher-rated protections such as bullet-resistant glass or additional security glazing not present in other parts of the building.
Key points of entry such as the front door should also be a focus. In schools, banks, or medical facilities, pass through windows and bullet-resistant products can provide extra security for occupants stationed at the entryway.
Alternate Points of Entry
Front entrances aren't the only locations for safety and security glazing. Ground-level windows and back and side doors should also be considered. All areas on the first floor should be protected, as they are much easier to access than areas on higher floors.
Interior Openings
Exterior solutions are a focus of forced-entry resistance. However, interior protections should also be considered. Classroom doors, for example, often have small glass areas in the panels. To help secure classrooms, the specifier could choose to use protective glass or glass with security glazing in addition to using special hardware to lock the doors against intruders.
Fire Protection
The addition of forced-entry resistance products must act in concert with requirements for fire protections. In many cases, these two protections work together; however, in some cases, they can work against each other. While it may seem like a good idea to add more and more layers of protective glazing for added security, an aftermarket film applied to a fire-rated glazing system will affect the product's ability to perform in a fire. The fire marshal can help a project team determine if the assemblies fully comply with fire-code requirements.
Understanding How Security Glazing Can Promote Building Security
In our modern world, there is a need for protective glazing on glass doors and windows to keep occupants safe. This is especially true in public buildings and areas where people congregate, such as schools, churches, and government buildings. While it would be great to make every window and point of entry bullet and fire resistant, the truth is the technological advancements that make areas more secure sometimes come with a high price tag. In response, the glass industry has developed a range of security glazing solutions that provide forced-entry resistance without the high price of more traditional bullet-resistant products. The products are not only designed to delay a potential intruder until first responders arrive but also provide daily benefits, such as thermal protection, enhanced acoustics, and daylighting. We'll discuss characteristics of and differences between various types of glass products, including monolithic safety tempered glass, single lite with film/plastic, laminated, laminated IGU, and multi-ply.
Originally published in Architectural Record
Originally published in June 2019
Notice