Large Glass: An Evolving Choice for Quality, Stunning Facades and Interiors
Sponsored by National Glass Association

1 AIA LU/HSW; 1 IDCEC CEU/HSW; 0.1 ICC CEU; 0.1 IACET CEU*; 1 AIBD P-CE; AAA 1 Structured Learning Hour; This course can be self-reported to the AANB, as per their CE Guidelines; AAPEI 1 Structured Learning Hour; This course can be self-reported to the AIBC, as per their CE Guidelines.; MAA 1 Structured Learning Hour; This course can be self-reported to the NLAA.; This course can be self-reported to the NSAA; NWTAA 1 Structured Learning Hour; OAA 1 Learning Hour; SAA 1 Hour of Core Learning
Learning Objectives:
List the qualities that designate a material as "large glass."
Describe how high-quality glazing systems are designed and implemented to support the health, safety, and welfare of building occupants.
Identify key considerations when specifying large glass.
Discuss techniques for handling and installing large glass.
This course is part of the Glass and Glazing Design Academy
In the not-so-distant past, glass was not commonly specified for large expanses of buildings. Prior to the implementation of modern manufacturing and glazing techniques, monolithic glass offered limited insulating properties and, therefore, could not reduce unwanted thermal heat gain or loss. Because of this, many older buildings often have smaller windows and solid doors instead of full facades made of glass.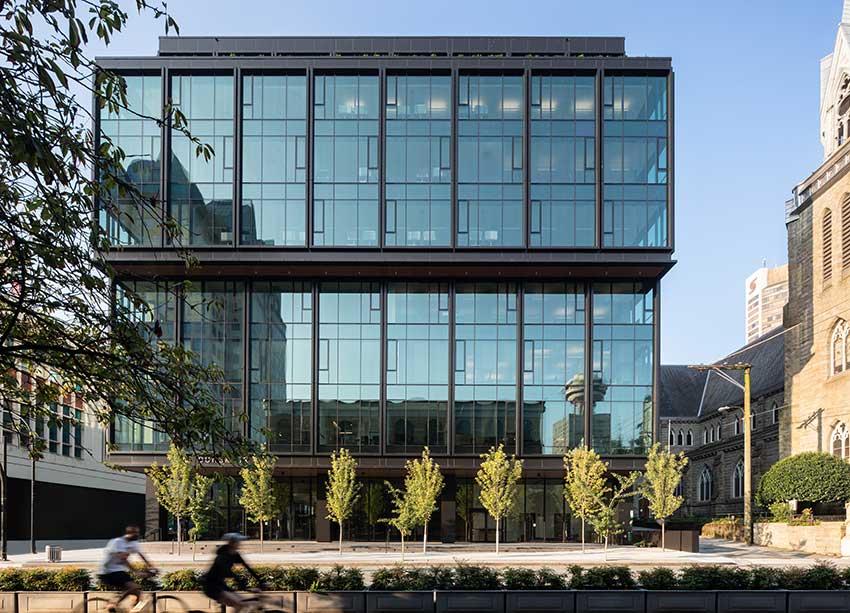 Photo courtesy of the National Glass Association
The aesthetically pleasing 402 Dunsmuir in Vancouver, Canada, is home to North America's top tech and entrepreneurial talent.
Advancements in glass and glazing technology and sustainability improvements have allowed for larger glass sizes that are more energy efficient while also providing the benefits of daylighting and connection to the outside environment. Architects and designers can create stunning glass facades using larger windows and glass installations in new construction, renovations, and retrofits. Large glass installations can also enhance indoor aesthetics, both in residential and commercial applications.
INTRODUCTION TO LARGE GLASS
Large glass, also known as jumbo glass or oversized glass, refers to glass panels that can be used to envelope the building with large expanses and minimal framing.
Recent architectural trends emphasize an increasing desire to bring more natural light into the spaces where we work, learn, and live through glass exteriors and interior glass panels that help direct light into open spaces within the building. As designers adapt to these new demands, the size of glass products being specified is getting larger and larger.
Glass used in commercial and residential construction is typically manufactured in flat sheets using the float glass process. In this process, molten glass is floated on a bed of molten tin, allowing the sheet to have a uniform thickness and flatness. Typical glass thickness ranges from 1.7 mm to 12 mm, and can go up to 25 mm. After the glass is floated, it may be further processed with coatings or lamination, and may be fabricated into an insulating glass unit (IGU) and installed into an appropriate framing system.
While there isn't a consistent industry standard or measurement for large glass, large glass is generally considered to be 130 in. x 230 in. or larger, whereas standard glass lites are typically 96 in. x 130 in. However, large glass lites have been produced in lengths greater than 65 feet. Large glass can then be fabricated into IGUs to help support energy efficiency goals while providing uninterrupted views and natural light that can transform spaces.
Thanks to improved manufacturing and glazing processes, large glass is more commonly specified in new construction, but can also be used in renovation and retrofits of older buildings.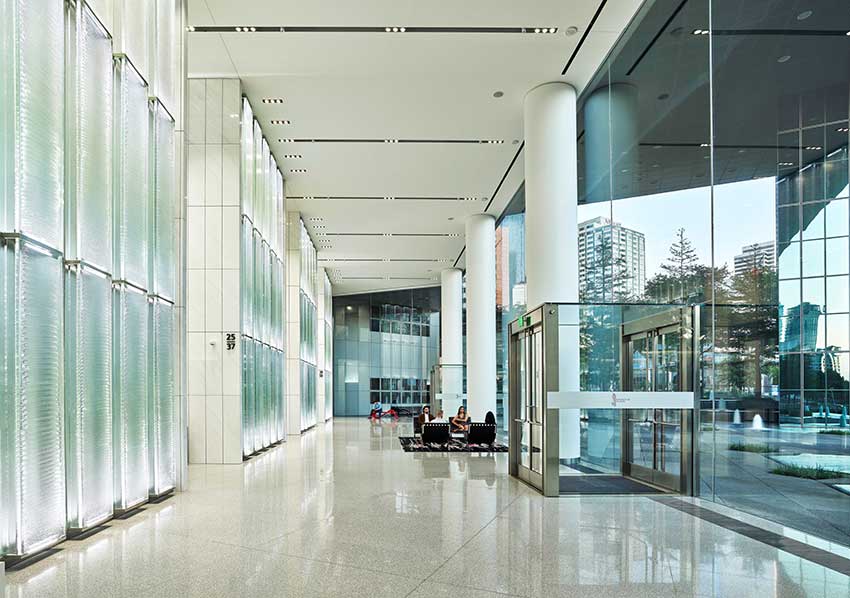 Photo courtesy of Timothy Hursley
Large frosted glass panels decorate the interior of Fountain Place in Dallas.
BENEFITS OF LARGE GLASS
Many popular, renowned buildings feature large expanses of architectural glass both externally and internally. These aesthetically pleasing buildings provide many benefits to occupants, including adequate daylighting, thermal comfort, energy efficiency, occupant safety and security, and stunning aesthetics.
Daylighting
Natural light is essential to ensuring the healthy function of our bodies and minds, affecting the regulation of melatonin and hormones. Many studies show the link to wellness and wellbeing with access to views and a connection to the environment. Windows and glass exteriors not only provide essential daylighting for occupants, but they also provide occupants with connection to nature and to the outdoors. In a report by Heschong-Mahone Group, proper daylighting was shown to reduce the likelihood of reports of fatigue, headache, difficulty concentrating, and eye strain.
Proper daylighting provides diffuse light and reflective light can eliminate the need for electric lights in spaces with large glass exteriors.
Later, we will discuss how various glazing options can help alleviate the unwanted side effects of daylighting, allowing occupants to enjoy all the benefits of view while indoors.
Energy Efficiency
The use of IGUs can help manage heat gain or loss, depending on the season and building orientation. Large glass expanses that do not have proper insulating qualities, or are not properly installed, can result in air and moisture intrusion. Unwanted air intrusion leads to inconsistent temperatures while unwanted moisture intrusion can lead to the growth of mold and mildew, which can become harmful to occupants.
Glass windows and doors are part of the building envelope, the first line of defense against the elements. Large IGUs, coupled with the use of sealants, can create airtight barriers between indoor and outdoor spaces. Thorough sealing of the building envelope directly impacts occupant comfort and HVAC system requirements.
Safety
Large glass can also provide safety for occupants, thanks to various methods of glass manufacturing and glazing options.
Heat-strengthened glass is twice as strong as annealed glass, while tempered glass is four to five times stronger than annealed glass. Laminated glass offers strength and protection thanks to a plastic interlayer sandwiched between two layers of glass that holds glass in place if it breaks.
Heat-tempered glass and laminated glass may be tested and certified as a safety glass. Safety glass is fabricated in a manner that will reduce the likelihood of injury should it break. Safety glass can be used in large glass applications as impact-resistant glass. Fire-rated glazing is typically specified in interior settings, especially corridors, stairwells, and doors. There are two different types of fire-rated glazing products available: fire-protective and fire-resistive. Fire-protective glazing helps to limit the spread of fire and smoke. In addition to preventing the spread of fire and smoke, fire-resistive glazing allows the glass to act as a barrier to radiant heat.
REDUCED SOUND TRANSMISSION
Large glass can also help reduce sound transmission and shield occupants from unwanted noise.
Laminated glass is often used in applications where sound transmission is not preferred. Outside noise pollution from cars, planes, and street traffic can infiltrate a space and become a nuisance. Thanks to advancements in manufacturing processes, occupants can enjoy the benefits of daylighting provided by large glass without the unwanted noise. This could be in expanses that separate interior spaces from exterior spaces, as well as in interior applications with glass floors, ceiling, stairs, or walls. Large glass dividers can also improve the sound quality of interior space while also allowing diffuse light to enter.
Laminated glass and insulating glass provide higher Outdoor-Indoor Transmission Glass (OITC) ratings than other glass types. The Sound Transmission Class (STC) measures the sound transmission loss through interior walls, ceilings, and floors which can also be a useful measure when specifying glass for large indoor applications such as floor-to-ceiling glass windows and doors between spaces.
Originally published in Architectural Record
Originally published in August 2022
Notice