Design and performance team up for the best project solutions
Sponsored by Construction Specialties; Hörmann High Performance Doors; JointMaster®, a division of Inpro®; NanaWall Systems; and Sherwin-Williams Coil Coatings
Learning Objectives:
Identify the significance of large-scale and component elements of a stadium exterior design.
Assess the importance of durability, style, health, and safety for interior spaces in a stadium, including common areas and locker rooms.
Explain the importance of proper attention to details for the performance of critical design components, such as operable glass walls.
Determine ways to apply the principles as presented into building projects demonstrated through case-study projects.
Credits:
This course can be self-reported to the AIBC, as per their CE Guidelines.
Stadiums continue to garner attention around the world as new ones are proposed, funded, designed, constructed, and operated. Meanwhile, existing ones are renovated and/or expanded in order to keep up with the emerging trends in state-of-the-art sports and entertainment venues. Many are associated with college or professional sports teams, but they also seek more hours of usage by attracting musical, entertainment, and local school events to use their facilities. Thus, they are truly multipurpose, multi-venue, and multi-user community assets. All of these appealing but complex variables mean that design professionals have a lot to consider when working on any of these facilities. Whether for a small community facility of 10 to 20 thousand square feet or large facilities in excess of a million square feet, all of them have to meet some basic requirements for design, construction, and smooth operation. We will take a look at some of those needs in this course.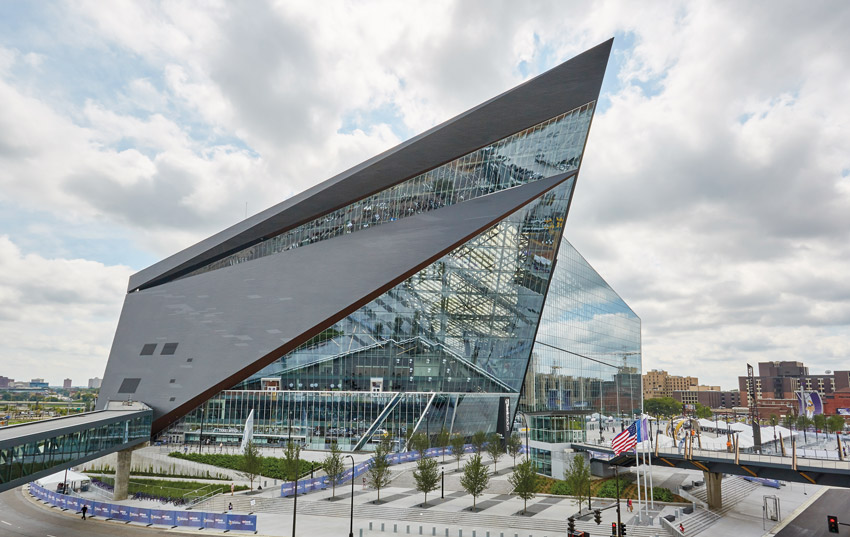 Photo courtesy of Construction Specialties
Stadiums serve many needs in a community and in the process need to accommodate many different design needs.
Shown: U.S. Bank Stadium in Minneapolis, home of the Minnesota Vikings football team and the 2018 Super Bowl
Exterior Design
A stadium is often known by its exterior appearance. Many people who never step foot inside will still experience it from the outside either in person as part of the community where it is located or in the media as its image is projected across the country or around the world. It is not surprising then that architects spend a good deal of design effort on this very visible aspect of such facilities, both in terms of expressed form and exterior finish materials. The form can respond to its surroundings, stand in contrast, or reflect the seating and field shape of the facility, all as determined by the design process.
The materials used on the exterior of a stadium are often chosen directly in concert with the form and statement being pursued. Those materials need to not only project the design intent but also provide long-term durability and economy both in terms of initial costs and maintenance costs. Toward that end, exterior design elements such as facade panels, roofing, curtain walls, and louvers commonly use factory-applied metal coatings to enhance design impact. Coatings are used to both protect the base steel and aluminum as well as offer virtually unlimited aesthetic variation. Careful consideration must be given to the selection and specification of the appropriate coating system to ensure it stands up over time. In that regard, factory-applied fluoropolymer coatings have become an industry standard providing durability and design flexibility. These well-known coatings have been in use in buildings for more than 50 years and have proven themselves in the marketplace as a resilient finish that is quite suitable for long-lasting monumental buildings like stadiums.
Fluoropolymer, high-performance coating systems are factory applied for high-quality control and consistency of the finish. There are essentially two types of resins that are used in these coatings. The first is polyvinylidene fluoride, commonly referred to as PVDF. Commonly used for monumental and commercial projects, it is usually formulated with a ratio of 70 percent PVDF resins and 30 percent other materials. It is a factory-applied, baked-on finish using a high heat process to cure the coating system. The second option is fluoroethylene vinyl ether, referred to as FEVE coatings. These offer a wider range of gloss levels from matte to high gloss and can achieve brighter, more vibrant, and higher-impact colors than PVDF. Both of these choices offer nearly unlimited options since they can be matched to any color (solid or metallic). They are also available with unique aesthetic effects like color shifting, high sparkle, and even prints that mimic other building materials, such as natural and weathered metals, wood, or stone. For any of these, there are choices in terms of gloss or matte finish and variations.
An important consideration for the architectural appearance on a building is batch-to-batch color consistency of the materials being coated. When working on a stadium project, the size may dictate an extended construction schedule such that the coating process is taking place on products spanning over months or even years. In that regard, it's important to identify and work with a manufacturer that offers batch-to-batch color consistency. This helps avoid panels that are mismatched—especially for metallic colors that can have a directionality to them. Properly selected and produced coatings can offer greater color consistency compared to natural and anodized metals, often with a price advantage as well.
Jeff Alexander is the vice president of sales for Sherwin-Williams Coil Coatings and observes, "We commonly see architects specify 70 percent PVDF and FEVE coating systems on stadium facades not only for their lasting durability and color retention but also because they are able to achieve such a wide range of aesthetic looks. Metal wall panels coated with 70 percent PVDF and FEVE coatings create a bold design statement for building exteriors, whether you're looking to incorporate team colors into your design or draw from a more classic color palette." Clearly, they are an option worth considering.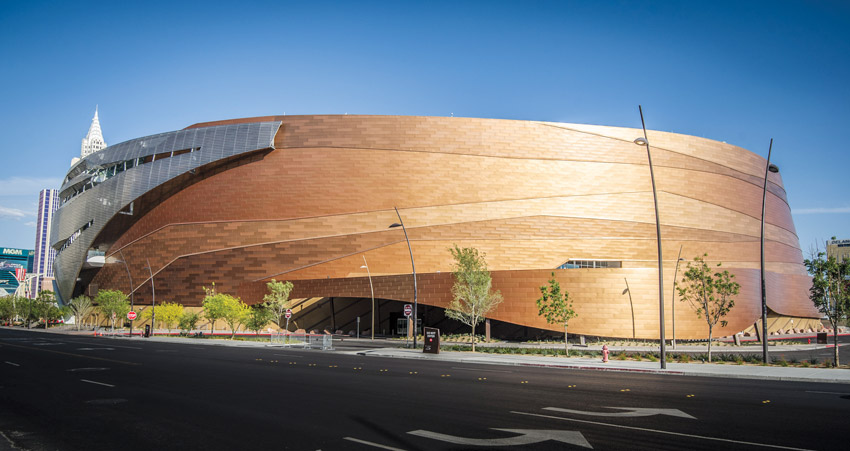 Photo courtesy of Sherwin-Williams
Fluoropolymer coatings can be used on metal building products to provide a very durable, long-lasting finish in a wide variety of design options to create distinct exterior aesthetics, such as at the T-Mobile Center in Las Vegas.
Exterior Specialties
The large expanse of the exterior of a stadium can have many smaller areas and details that need to be addressed. For example, there may be enclosed viewing areas or windowed parts of the facility that can benefit from sun control systems that can lower energy costs and reduce glare but still allow filtered light to enter. Beyond these performance benefits, they can also help create a unique architectural design by providing intricate patterns, sleek textures, and vivid colors or even incorporating LED lighting.
Another common exterior specialty for stadiums is the incorporation of metal louvers that may be needed for general building ventilation or HVAC equipment purposes. In order to be considered high performance, such louvers need to meet some rigorous design and testing requirements to assure that the amount of air-flow through a louver can be met while at the same time providing resistance to weather or even storms. These performance requirements not only apply to the body of the louvered area itself, but also to the seams and joints between louver components, adjacent louvers, or louvers and adjacent wall facades. While some louvers can be specified as off-the-shelf items that have been independently tested by Air Movement and Control Association(AMCA), many louver systems are custom designed to fit unique stadium situations. That means their performance should likewise be tested in accordance with published standards. Working with a manufacturer who can arrange such testing capabilities for custom products can be important to success. Whether the performance criteria is for high-performing extreme weather louvers, storm-resistant louvers (tested for wind driven rain), or drainable and standard non-draining louvers, having tested performance data is paramount.
From a design standpoint, louvers can be designed to integrate into any high-performance facade. Visually, they can be used as an architectural element that provides an accent, or they can blend into an overall look of the building. Some manufacturers offer options such as design profiles that allow customization of the louver color and customized appearance with accent features, geometric grilles, and even a louver hidden by perforated sheet. Accessories can be added as well such as bird screen, insulated panels (that can be used to block off all or a portion of a louver), and even LED lights.
It is the combination of high performance and the options for the architectural look of louvers that allows them to work in complex stadium designs. Eric Sposito, CDT, is general sales manager at Construction Specialties and notes, "High-performance louvers allow architects to defy traditional airflow design conventions in order to achieve their true vision without sacrificing performance."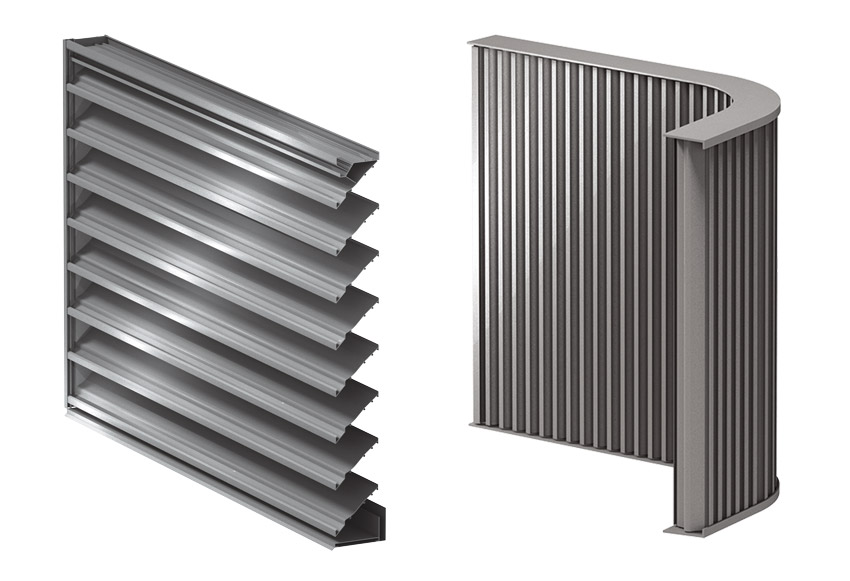 Images courtesy of Construction Specialties
High-performance louvers can be customized and incorporated into a stadium facade to provide the needed airflow and weather-resistant performance as well as aesthetic solutions for an exterior design.
Originally published in Architectural Record
Notice