Out of the Ashes: Architects rethink residential design strategies in the wake of last year's destructive California wildfires.
Architectural Record
Learning Objectives:
Outline the factors that contribute to catastrophic wildfires.
Explain the relationship of wildfire activity and climate change.
Describe landscape and construction strategies that can enhance a building's fire-resistance.
Discuss the overlap between fire-resistant design strategies and those that save water and energy and enhance occupant comfort.
Credits:
This course is approved as a core course
View course on architecturalrecord.com »
By now the stats are well known, but still horrifying: 2017 was a devastating year in terms of wildfires across the U.S. Nationwide, more than 10 million acres burned, and a record $2.9 billion was spent on trying to control and extinguish the blazes. California suffered an especially catastrophic season, with a series of wildfires tearing across the state, including the Tubbs Fire—the most destructive in its history. It ripped through the wine country north of San Francisco in October, scorching almost 37,000 acres, destroying more than 5,600 properties, and killing 22 people. A new series of fires ignited parts of Southern California in December. The largest was the Thomas Fire, which charred more than 280,000 acres in Santa Barbara and Ventura counties, destroying about 1,000 structures, and killing a civilian and a firefighter. It was tragically followed by a series of powerful mudslides that killed more than 20 people.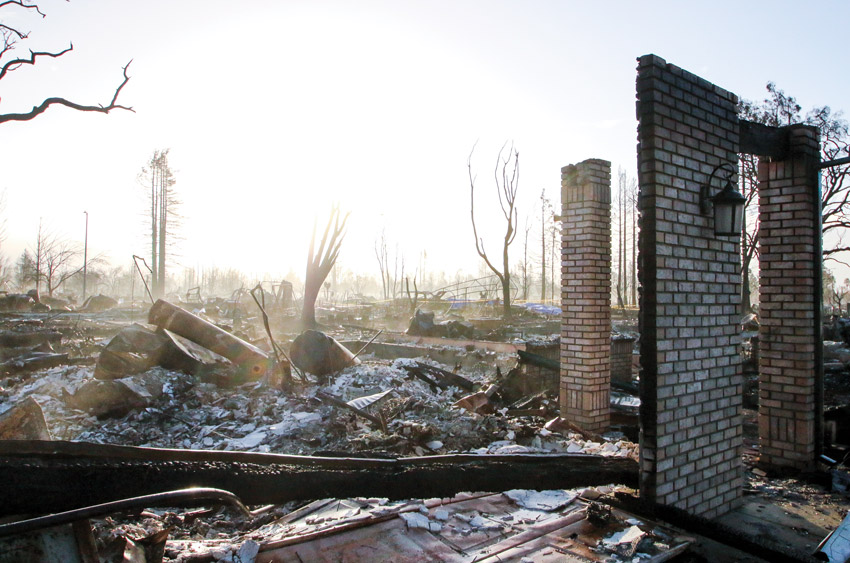 PHOTOGRAPHY: © OPERATING ENGINEERS LOCAL 3/PHOTOGRAPHED BY IAN BRIGHT
WAR ZONE
The Tubbs Fire ripped through parts of Northern California in October. One neighborhood that was hit particularly hard was Coffey Park in Santa Rosa, where 1,500 homes were destroyed.
The factors that contribute to intense and destructive wildfires are complex and inter­related. They include land-use and zoning policies, woodland-management and fire-suppression practices, and the weather. In 2017, Mother Nature provided the "perfect ingredients" for the fires that would ravage California late in the year, explains Park Williams, a research professor at Columbia University's Lamont-Doherty Earth Observ­atory in Palisades, New York. Although the ample precipitation in the winter essentially ended the state's five-year drought, it also allowed grasses and other plant life to thrive. The record-breaking hot temperatures that followed meant that abundant dry and fire-prone vegetation was available to fuel the fires. And once they started, they were fanned in northern California by the Diablo winds and in the southern part of the state by the Santa Ana, which typically kick in just as rainy season starts. But the onset of the rains came later than usual, so there was no relief against the tinderbox conditions that caused the flames to spread out of control.
While scientists caution that no individual weather event or single disastrous season can be attributed to climate change, experts do see the imprint of global warming on wildfire activity. An investigation by Williams and John Abatzoglou, an associate professor in the Department of Geography at the University of Idaho, shows that human-induced climate change nearly doubled the area affected by forest fires in the American West over the past three decades. Their study, published in the Proceedings of the National Academy of Sciences, analyzed satellite data according to eight different metrics, concluding that anthropogenic climate change was responsible for an additional 16,000 square miles of forest fire area between 1984 and 2015.
Many California architects now believe that catastrophic wildfires may well represent the new normal. Last season's blazes "weren't an anomaly; they are a sign of what's to come," says Brandon Jorgensen, a Napa-based designer. He has assembled a group of Bay Area practitioners to propose solutions for building in fire-prone areas. In addition to organizing an exhibit slated for next fall in Napa, the team plans to examine the state's Wildland-Urban Interface (WUI) regulations—guidelines intended to protect life and property where wildfire risk is high—and then recommend changes to code officials.
Some of the region's architects are focused on rebuilding as quickly as possible. Julia Donoho, chair of the AIA Redwood Empire's Firestorm Committee and an attorney as well as an architect, is advocating a "whole neighborhood" reconstruction effort that would coordinate contractors and homeowners in certain areas in an attempt to rebuild en masse and expedite reconstruction. She says that 10 builders are interested in such an approach for Coffey Park—an especially hard-hit development in Santa Rosa. A group-reconstruction process is moving forward in another Santa Rosa development, the Mark West Estates, where one contractor is building about 80 houses.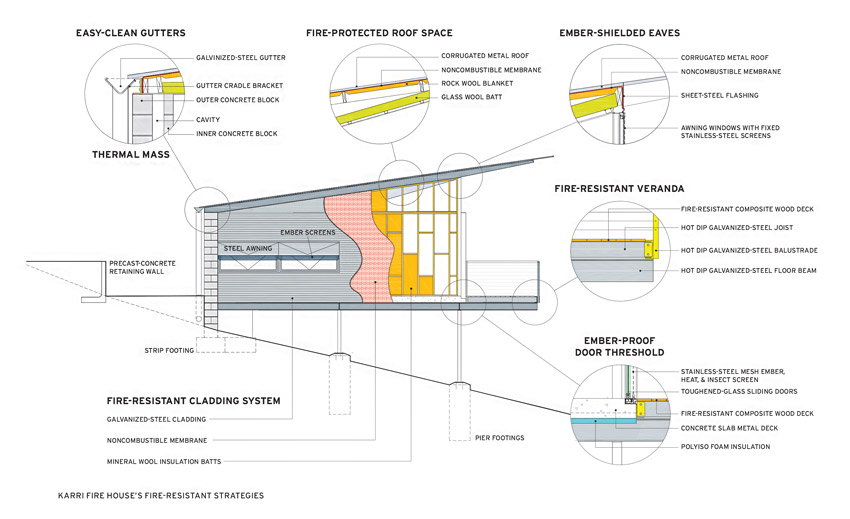 IMAGES: © ANDREW HALSALL (BOTTOM LEFT); IAN WEIR (TOP AND BOTTOM RIGHT)
TREEHOUSE
The Karri Fire House is built to the second-highest of six levels of resilience specified by Australian code. Its entry facade (top and bottom left) is largely masonry, but the eastern elevation (bottom right) opens to views of the surrounding eucalyptus forest.
Originally published in Architectural Record
Notice