What's New in Residential Design
Residential construction is not what it used to be—and that is actually a good thing
Sponsored by Bison Innovative Products, Humboldt Sawmill Company, and Loewen Windows and Doors
Timber Curtain Walls (TCWs)
Residential curtain walls can be fabricated from a variety of materials, but one preferred approach is to use wood timbers as the supporting frame. This accomplishes several things. First, the wood provides a predictable material on which to base engineering and support calculations. Second, it provides the visual appeal of natural wood that is commonly used on the interior side of residential fenestration. Third, the wood material has better thermal performance than the use of an aluminum frame system.
Timber curtain-wall (TCW) systems for residential applications are tailored to the specific requirements of each project by a fabricator using parts from a manufacturer. As such, every TCW is treated as a custom design that will go through a detailed shop drawing process to ensure that all the architectural and engineering specifications are met.
In designing and specifying a TCW system for a residential project, the following attributes are worth considering:
Engineering: Engineering considerations need to be investigated when considering curtain-wall systems. Since curtain walls are one of the significant parts of a building's wall system, careful integration with adjacent elements such as floors, wall claddings, roofs, beams, and other building envelope components is critical.
Configurations: TCWs can be fabricated to address vertical wall systems, sloped roof systems, and corner conditions. They can also incorporate any combination of fixed and operable window and door units, including casements, awnings, sliding doors, terrace doors, French doors, etc. The integration of operating doors and windows in a curtain-wall system should be visually seamless.
Factory preparation: Residential TCW units can be factory assembled and hand-prepped for improved quality control. Timber connectors, gaskets, and glass carriers can be pre applied. Completed units are commonly predrilled, marked, and labeled. Each entire TCW unit is shipped in a knocked-down condition to the site ensuring accurate, easy assembly and field glazing. By comparison, conventional or stick-built curtain-wall systems require each horizontal section to be placed one after the other, with a high degree of quality checking and field precision necessary for the installation.
Timber material: To ensure strength and resistance to warping and twisting, horizontal and vertical timber components should be either glue-laminated solid lumber or engineered-core lumber with finished facings. Transoms or horizontal rails are the horizontal members on the curtain-wall system. The mullions or vertical members are anchored to wood framing or a concrete slab. These components support the dead weight and wind loads of the curtain wall and transfer those loads to the building structure. The thickness of the timbers is commonly 2–21⁄8 inches with a timber depth of 4–9 inches, although these dimensions will vary based on wind load and structural criteria. Specialty sizing for conditions such as corners, operating units, and custom widths can be designed and engineered.
Exterior cover options: Since heavy-gauge extruded aluminum is most likely to retain its shape, resist denting, last longer, and be the most economical, it is the most common choice for an exterior cover to the TCW system. Aluminum covers can be part of a glazing system that holds the glass in place and allows for many different shapes, sizes, and extrusion profiles. It can also be finished in some commonly available techniques, including Class I anodic coatings (AAMA 611) or high-performance, factory-applied fluoropolymer thermoset coatings (AAMA 2605). These finishes are known for their excellent resistance to weather and environmental degradation. All coatings should be specified to meet third-party industry standards. While clad aluminum is the choice for a variety of reasons, wood cladding is an also an option for residential applications seeking that aesthetic. Exotic cladding options, including copper and bronze, are also available if desired.
Glazing options: Glazing options for TCWs include a wide variety of glass and coating selections suitable for different climate zones or environmental concerns. These include monolithic glass, dual-glazed and triple-glazed sealed insulating glass units (IGUs), impact-resistant laminated glass, sound-attenuated glass, annealed glass, and tempered glass. The glass is also available with standard low-e coatings to improve energy performance.
Glass sizing: Most glazed units are limited by maximum practical sizes for typical sealed-unit glazing, although this will vary based on the glass specification. Larger sizes may be available, but costs and time schedules can increase significantly, so consultation with a manufacturer is advised.

For dual-glazed or triple-glazed units using 5.7-millimeter glass thickness:

Maximum area: approximately 60 square feet
Maximum short dimension: 72 inches
Maximum long dimension: 140 inches

For oversized dual-glazed or triple-glazed units using 8-millimeter or 10-millimeter glass thickness:

Maximum area: can exceed 100 square feet



Water drainage: In typical residential TCWs, there are no weep holes in the horizontal clad members. Weep holes can be undesirable visually, and water that drains through them can cause unsightly residue and discoloration from impurities in the rainwater. Instead, water that strikes a TCW is conducted through the exterior seal and gaskets to the base/sill where it can percolate and drain out. Water control is determined by the design of the connectors and the integrity of the gasket system. Two-level or three-level continuous EPDM gaskets with integrated drainage has become the industry standard.
Jon Sawatzky of Loewen Windows and Doors has worked extensively with TCW systems and notes, "Timber curtain walls can be structural or hanging, allowing many more design options. The exterior water-shedding system is integral and directs and channels moisture through the vertical cladding. They are robust enough to handle triple-pane and impact glass. In all, they meet a full variety of design and performance needs for residential projects."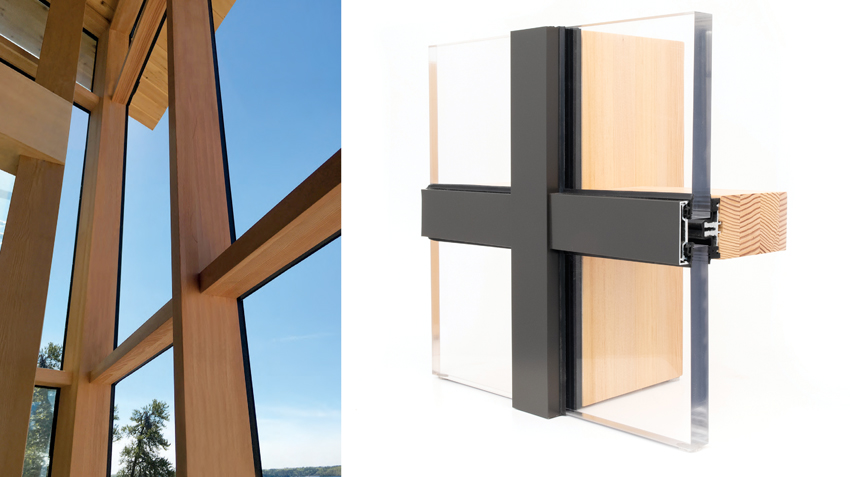 Images courtesy of Loewen Windows and Doors
Timber curtain walls (TCWs) provide the aesthetics, strength, and environmentally friendly aspects of natural wood, and they can be protected on the outside with aluminum cover plates.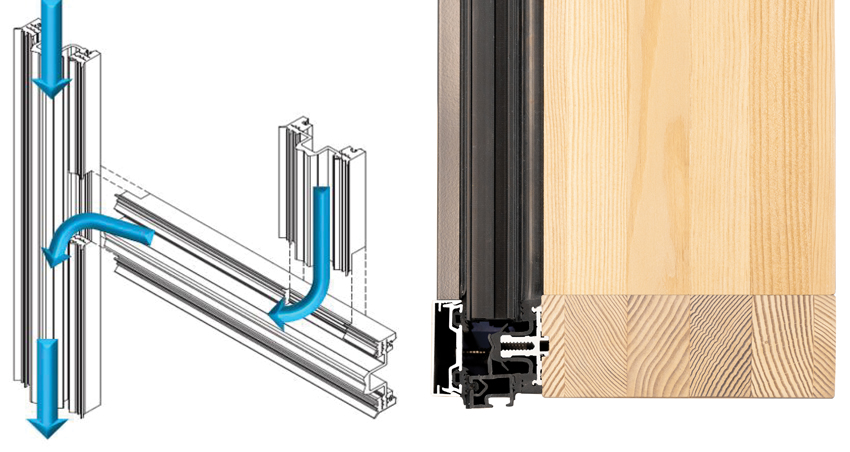 Images courtesy of Loewen Windows and Doors
TCWs manage water through a carefully designed series of horizontal and vertical gaskets and seals that allow water to drain through the system, down to the bottom, and drain harmlessly away.
Conclusion
Residential projects can take many forms, but they all can build on both tradition and innovation. Healthy, outdoor spaces, especially in urban settings sites, can be created successfully using adjustable-height pedestal deck systems over other surfaces, such as roofs or terrace areas. Stunning, appealing, and sustainable outdoor spaces can be created using properly harvested and processed redwood. Large areas of high-performance glass can be incorporated using TCW systems. Collectively, strategies like these can be used to create well-designed, functional, and sustainable residences.
Peter J. Arsenault, FAIA, NCARB, LEED AP, is a nationally known architect, consultant, con-tinuing education presenter, and prolific author advancing better building performance by design. www.pjaarch.com, www.linkedin.com/in/pjaarch.
Originally published in Architectural Record
Originally published in April 2021
Notice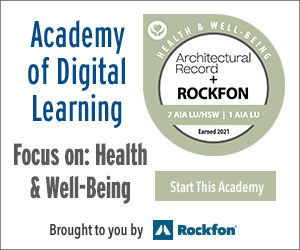 What's New in Residential Design
Buyer's Guide
Rooftop Deck Systems

Manufactured in the United States with 20 percent post-industrial recycled materials, Bison Pedestals create level decks over sloped surfaces. They elevate and support wood tiles, pavers, site furnishings, and a variety of other surfaces. Bison Wood Tiles are commercial grade, constructed from sustainably harvested hardwoods, and available in standard and FSC-certified options.
Redwood Decking

Native to California and widely used across the western United States, redwood decking remains one of the most popular natural wood decking materials available. Humboldt Sawmill Company offers FSC-certified redwood decking in 2-inch x 4-inch, 2-inch x 6-inch, and 2-inch x 8-inch dimensions, and in lengths from 6 feet to 20 feet.
Timber Curtain Wall System

The Loewen Timber Curtain Wall system offers large glass assemblies with extremely narrow mullions. The structurally engineered timbers create a beautiful and warm interior, while the exterior covers are available in painted or anodized extruded aluminum, solid wood, or cyprium (copper or bronze cladding).