Architectural Record
This test is no longer available for credit
Packing a Punch
A new corporate headquarters makes a big impact both inside and out.
By Blair Kamin
Supertall skyscrapers get all the attention, but far shorter office buildings deserve deliberation too. After all, they're much more pervasive—and, thus, have a greater impact—than the world's Burj Khalifas. Consider the new nine-story Cummins Distribution Business headquarters in downtown Indianapolis, the first office building designed by New York architect Deborah Berke, founder of the eponymous firm and dean of Yale's School of Architecture. It's an impressive, innovative debut, one that extends this Fortune 500 engine maker's tradition of forward-looking patronage from nearby Columbus, Indiana—the small town that the company transformed into a showcase of modern architecture—to the state's largest city.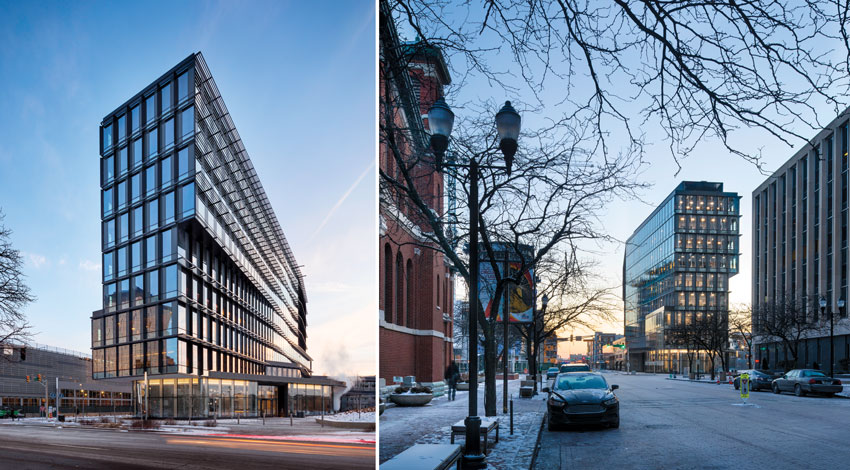 ALL PHOTOGRAPHY BY CHRIS COOPER
SITE SPECIFIC
Cummins Tower | Indianapolis | Deborah Berke Partners
Enlivened by cantilevers and sunshades of varying depths, the south-facing wall of the Cummins Distribution Business headquarters (left) is calibrated to optimize energy efficiency. The nine-story building's north and west walls (right) frame the urban corridor of Market Street and gesture toward Monument Circle, the heart of downtown Indianapolis.
That Cummins tradition began in 1957, when the company's late CEO, J. Irwin Miller, created a charitable foundation that encouraged the design of progressive new school buildings in Columbus. Miller's commitment to design excellence prodded other local executives and officials to sponsor equally distinguished architecture, including a newspaper building by Skidmore, Owings & Merrill, a church by Eero Saarinen, and a library by I.M. Pei. While Cummins remains headquartered in Columbus, 40 miles south of Indianapolis, its new building brings the company closer to its global-sales and customer-support network via proximity to the city's international airport and nexus of interstate highways.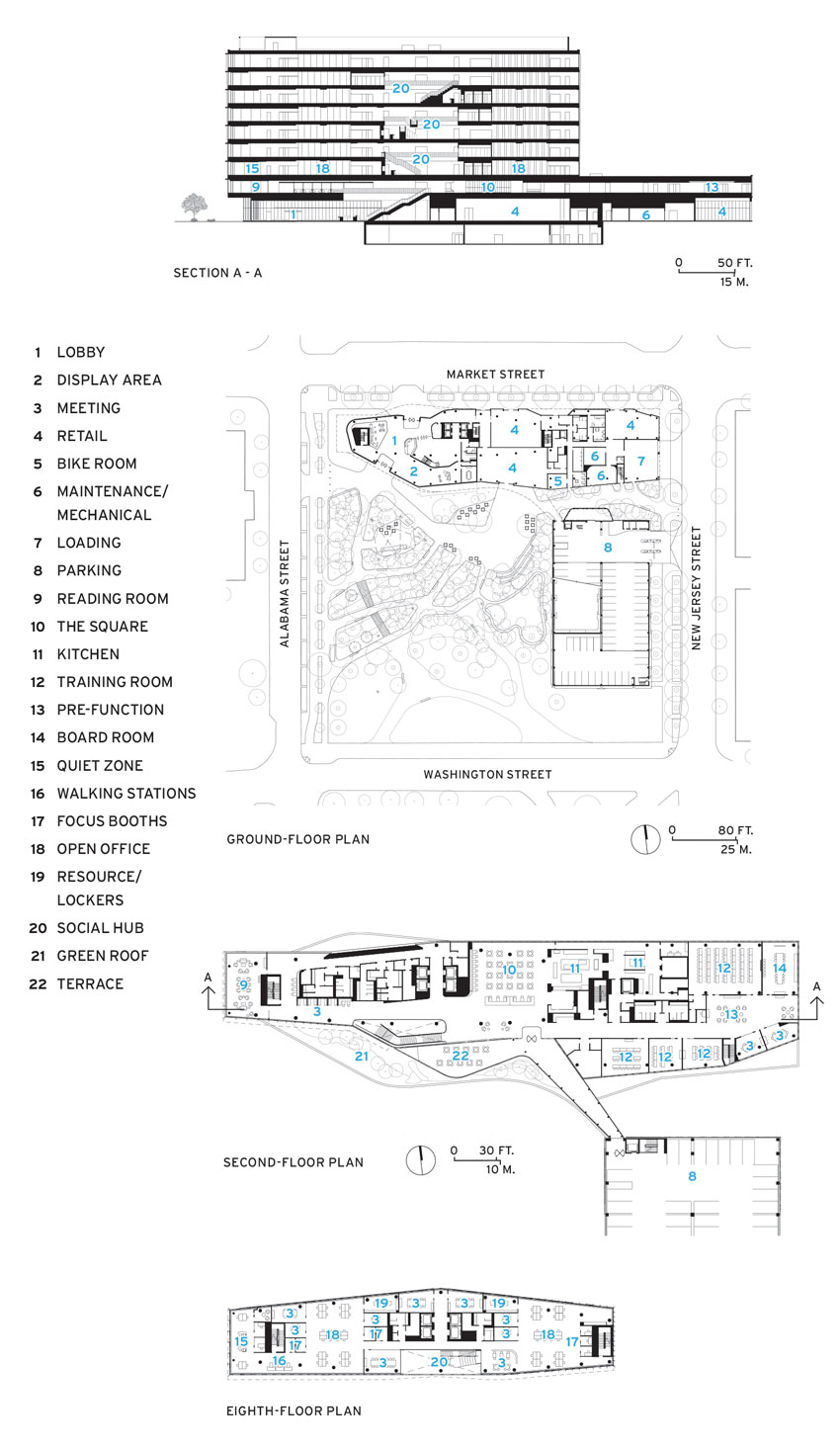 Located two blocks east of Monument Circle, the Beaux-Arts heart of downtown Indianapolis's L'Enfant-esque mile-square plan, the 142-foot-tall structure rises on a four-acre site once occupied by the now-demolished Market Square Arena, an anti-urban behemoth where Elvis Presley performed his last concert in 1977. A block-long podium skirts the site's north edge and frames the urban corridor of Market Street. A multilevel parking garage forms the bottom leg of the L-shaped Cummins complex, defining the edge of an adjacent park and orienting the site toward a transit center to the southwest. A second-story bridge links the carefully detailed garage to the office building and creates a gateway into the site from the east. Such moves turn the necessity of the garage into an urban design virtue.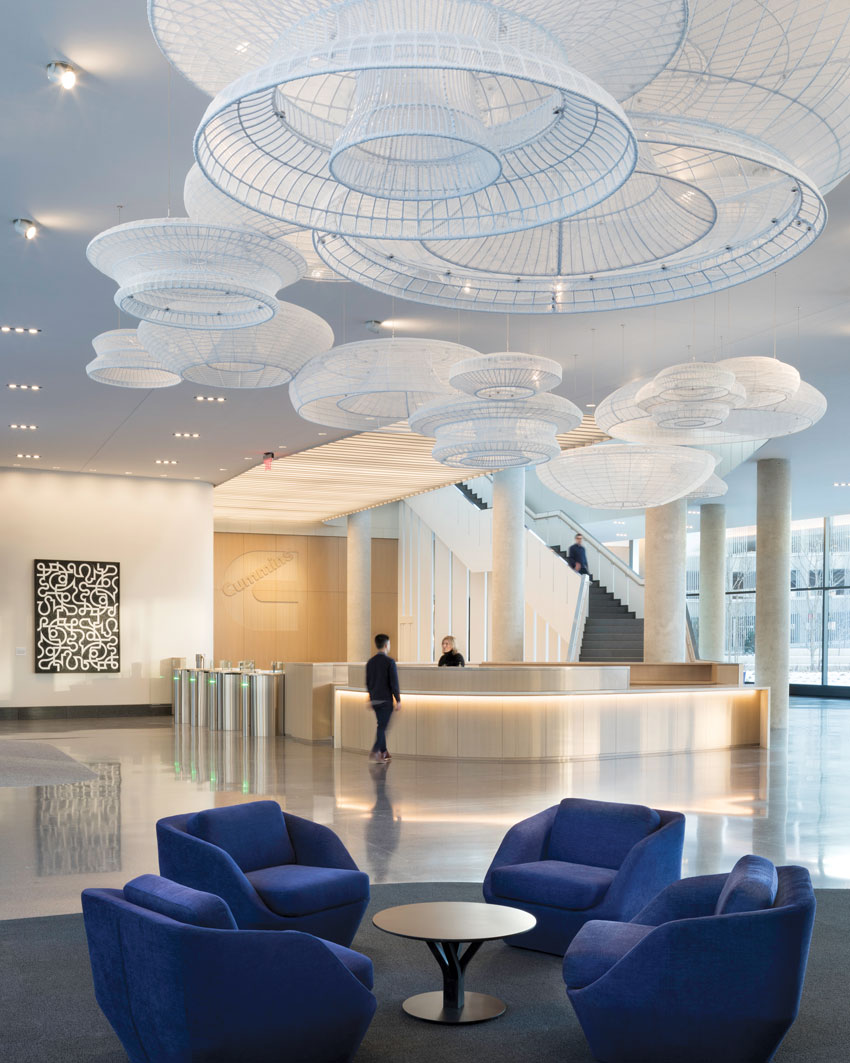 GRAND ENTRANCE
Kendall Buster's engine-inspired sculpture and a dramatic staircase animate the ground-floor lobby.
While the office building can be accused of indulging the current architectural fashion for stacked boxes, its form actually derives from three rational imperatives: provide a light-filled work environment, reduce energy consumption, and continue Cummins's tradition of distinguished modern architecture. A sun-and-energy study prepared by Atelier Ten in cooperation with Berke's firm led to a tower of shifting floor plans whose overhangs create dynamic massing and provide sun-shading. Vertical fins and brises-soleil offer more protection from the sun as well as rich textures and visual rhythms. The sun-shading elements vary not only from facade to facade, but within a facade, based on the position of the sun and the interior function of the space behind the glass. The exterior "is calibrated in terms of performance and syncopated in terms of aesthetics," Berke says, explaining that Cum­mins's precision-oriented engineers embraced the notion of calibration. Her narrow floor plates enable daylight to penetrate deep into the interior of the post-tensioned concrete structure and further reduce the need for electric illumination. The design is projected to cut peak cooling loads by 10 percent, she says.
Just as the building engages the city around it, so it bids Cummins's employees to interact with each other. That communitarian impulse is evident in a streetlike second-floor corridor that gathers workers coming into the building from the garage with those who ascend a dramatic staircase from the generously proportioned lobby. The design, as Berke says, creates "a moment in the building where people all come together in one place."
The most intriguing spaces occupy the upper floors, which are organized in pairs (3-4, 5-6, 7-8, with the empty 9th reserved for expansion). Along the south-facing wall, double-­­height "social hubs" create airy, light-filled meeting zones and, along with internal stairs, link four sets of open-plan "neighborhoods," two on each floor (there are no private offices, not even for executives). Workstations in these are not reserved for one person because many Cummins employees are often on the road. Accordingly, workers must clean their desks at the end of the day and are encouraged to place family pictures on top of their lockers. But what they give up in ownership of a particular cubicle the design compensates for in an alluring variety of work environments.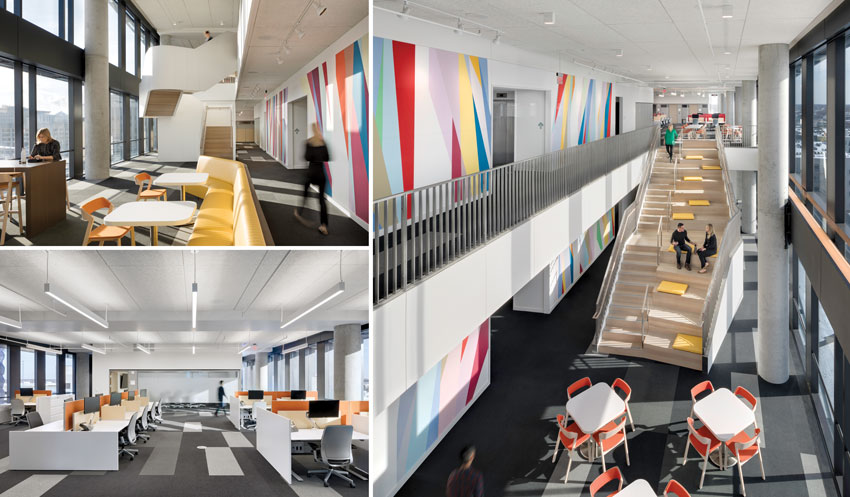 FIT FOR THE JOB
The narrow footprint draws natural light into the "neighborhoods" (top, left). Employees, who often travel, use workstations on a revolving basis. Three "social hubs," linked by staircases of varying design (bottom, left and right), line the south-facing wall and provide light-filled meeting areas. Odili Donald Odita's multistory mural enlivens each hub and, at night, projects a colorful image to passersby.
Small rooms known as "focus booths" provide space for speaker-phone conversations or isolated work, and treadmill-like "walking stations" enable staff to get in their exercise while checking e-mails. Employees have embraced the new offices and give high praise to the abundant natural light and the opportunity, afforded by the social hubs and other gathering spots, to communicate face-to-face rather than by e-mail.
Still, there are myriad questions about this building, on which Cummins spent at least $30 million. Will it reduce energy costs and increase productivity enough to justify premium features like the articulated curtain wall? How will it function and feel in the future if, as anticipated, the number of employees swells from the current 300 to as many 450? And will those now-pristine workstations stay uncluttered? Whatever the answers, Cummins and Berke have provided a striking essay in what can be termed, with apologies to Louis Sullivan, "the short office building, artistically considered."
Record contributing editor Blair Kamin is the Chicago Tribune's Pulitzer Prize–winning architecture critic.
Credits
Architect: Deborah Berke Partners --— Deborah Berke, principal; Marc Leff, project leader; Arthi Krishnamoorthy, project manager; Ameet Hiremath, project designer (interior architecture); Noah Biklen, project designer (facade & exterior); Stephen Brockman, project designer (interior design); Yasemin Tarhan, Thao Nguyen, Dasha Khapalova, Jessie Peksa, Stephen Lam, design team
Architect of record: RATIO Architects
Engineers: Fink Roberts & Petrie (structural); Robert Silman Associates (design/structural); Circle Design Group (m/e/p); Syska Hennessy Group (design m/e/p); Civil & Environmental Consultants (civil)
Consultants: Atelier 10 (sustainability); Front (facade); One Lux Studios (lighting)
General Contractor: F.A. Wilhelm Construction
Size: 179,600 square feet
Cost: withheld
Completion Date: December 2016
Sources
Metal/Glass Curtain Wall: Erie Architectural Products
Sunshades: Clover Architectural Products
Elastomeric Roofing: Firestone Building Products
Glass: Viracon, Cristacurva
Acoustical Ceilings: Tectum, Armstrong, RealAcoustix
Carpet: Shaw Contract
Raised Flooring: Haworth
Office Furniture: Knoll
Dimming System: Lutron
Elevators/Escalators: Kone
Originally published in Architectural Record
Originally published in May 2017
Notice