Taking Accessibility to a New Level
Driven by standards, demographics, and economics, demand is increasing for stylish yet functional ADA-compliant and universal bathroom designs
Sponsored by Inpro Architectural Products and Scranton Products
Learning Objectives:
Discuss the trends and statistics driving greater ADA accessibility and universal design trends in today's bathrooms.
Describe insights on product and material selection for accessible bathroom designs.
List common cases where designs may be ADA compliant but not fully functional.
Explain ADA requirements for privacy doors, wheelchair turn radiuses, grab bars, showers, seats, and signage.
Identify the need for bariatric bathrooms and key design requirements.
Credits:
This course can be self-reported to the AIBC, as per their CE Guidelines.
This course is approved as a Structured Course
Approved for structured learning
Approved for Core Learning
This course is approved as a Core Course
Course may qualify for Learning Hours with NWTAA
Course eligible for OAA Learning Hours
This course is approved as a core course
This course can be self-reported for Learning Units to the Architectural Institute of British Columbia
Driven by aging Baby Boomers, longer life expectancies, and shifting economic demographics, accessibility and universal design trends have never been more necessary than they are now.
Currently, nearly one-third of Americans are between the ages of 55 and 73, and by the year 2035, the U.S. Census Bureau estimates that there will be 78 million people who are 65 years and older.1 Additionally, the 2017 World Economic Forum forecasts that by 2050, the number of people in this age bracket in the workforce will increase fourfold.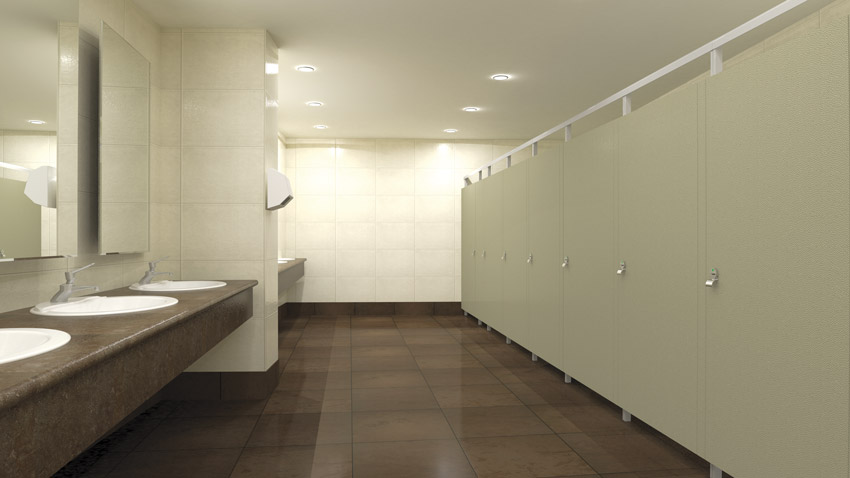 Photo courtesy of Scranton Products
With minimal sightlines, durable bathroom partitions, such as this one made from HDPE material, also lend a contemporary look.
Furthermore, a study in The Lancet peer-reviewed medical journal reports that by the year 2030, American women are expected to live more than 83 years, and the average American man approximately 80 years.
Along with this aging demographic, disabled and impaired individuals make up a large percentage of the population. For example, the Arthritis Foundation reports that approximately 54.4 million of U.S. adults have doctor-diagnosed arthritis.2 Close to 8 million of Americans are blind or visually impaired, as reported by Cornell University's Employment and Disability Institute, and just over 6.8 million Americans utilize wheelchairs, scooters, or other mobility devices to support movement, according to the University of California's Disability Statistics Center.3
So not only are widespread Americans with Disabilities Act (ADA) requirements directing accessible design, but universal design principles are also driving building owners to provide easier access, mobility, and usability, particularly within public restrooms.
And when they fail to provide these accommodations, social media is calling them to task.
"Public places and infrastructure are being shamed on the internet when the location or condition of an accessible facility is exposed as inequitable," reports Susan Heersema, senior project architect, Perkins+Will, New York. "This increased social awareness has prompted the public and design community to demand flexible, appealing, equivalent facilities for all users."
"There is a growing financial incentive for owners to reduce falls and injuries from non-complying bathrooms between reimbursement penalties and desire to improve patient satisfaction surveys," observes Sam Burnette, AIA, NCARB, EDAC, principal, ESa, Nashville.
Other interesting variables playing into this need are a strong aging-in-place trend, higher levels of disposable income amongst seniors, and their desire to remain active.
Regarding the latter, AARP reports that upon retirement, 80 percent of seniors prefer to grow old in their own homes.4 As such, the home must be designed to support declining functional limitations while still enhancing quality of life.
As for economics, Baby Boomers' real median household income is 35–53 percent higher than their parents, and this demographic accounts for more than half of all spending in the United States. In fact, this has spawned a newer development called the "gray market," as consumers over the age of 65 have the highest discretionary income in the country.
Consequently, this affluent and active generation has little interest in old-age homes or "products for the elderly," thus driving manufacturers to deliver a variety of aesthetic yet functional options.
In fact, a 2016 analysis of census data by Pew Research Center found that a record 64 million Americans currently live in multigenerational households, as compared to 51 million in 2009.5
"Generally speaking, universal design is an approach that improves accessibility of products, spaces, and building elements to ensure they are useable to the greatest extent possible by people of all ages and abilities," Heersema says.
While these design trends apply throughout the parking, entrance areas, and facilities themselves, nowhere are they more evident than the bathrooms.
Consider this. Laboratory for Efficient and Accessible Design conducted research on people aged 18 to 88 living in a multigenerational community and reported that the factors most limiting a person's ability to function include their overall strength; bending, stooping, kneeling, or sitting; walking, standing, and maintaining balance; grasping or lifting objects; coordinating movements; and seeing, hearing, and moving the head.
With multiple senses and motor skills required to function within restrooms, accessible design in these places is critical.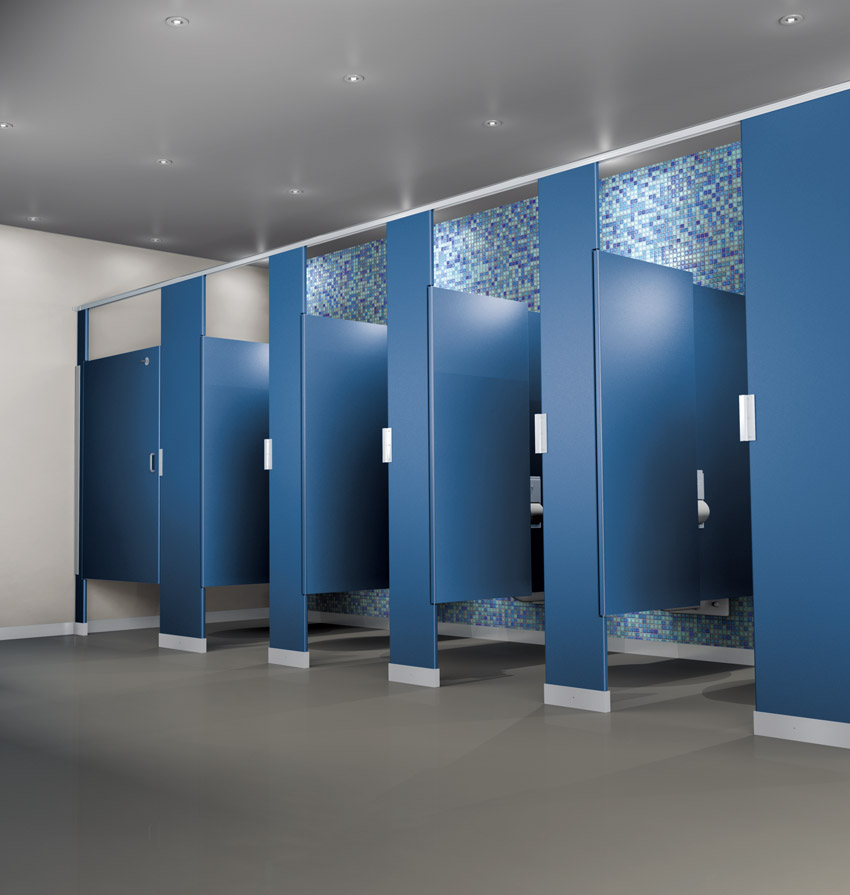 Photo courtesy of Scranton Products
Commercial facilities are governed by the Americans with Disabilities Act (ADA) compliance in bathrooms.
ADA OVERVIEW
Before delving into the specifics of how the ADA directs building teams to design and install compliant bathroom facilities, some background and an overview is in order.
The Americans with Disabilities Act of 1990 was originally signed into law during the George H. W. Bush administration, amended in 2008, and updated in 2010, 2011, and 2013.
Essentially, the requirements protect individuals with a wide range of disabilities—including mobility, stamina, sight, hearing, and speech, as well as emotional illness and learning disorders—providing enhanced accessibility within employment settings and situations involving goods and services.
The following entities are governed by ADA requirements:
State and local government facilities, in new construction and alterations, including schools, hospitals, public housing, courthouses, and prisons. Although federal facilities are technically not covered by the ADA, they must meet Architectural Barriers Act standards, which are very similar.
Places of public accommodation and commercial facilities. This encompasses office buildings, industrial facilities, stores and shops, restaurants and bars, sales or rental establishments, service establishments, theaters, places of lodging, recreation facilities, assembly areas, private museums, and places of education.
Transportation facilities, including bus stops and stations, rail stations, airports, and larger transportation vehicles.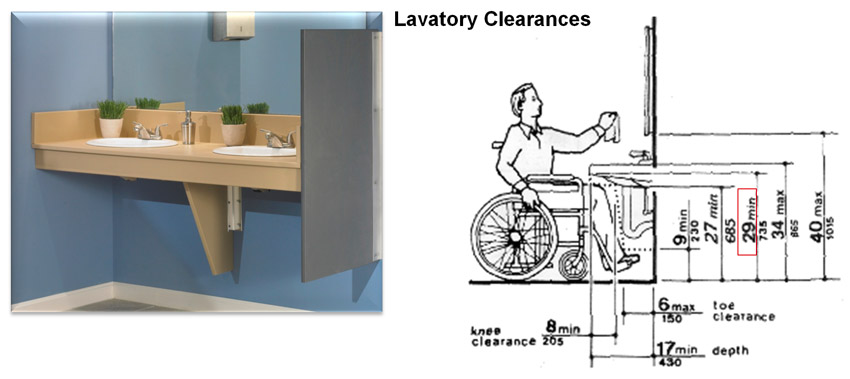 Images courtesy of Scranton Products
Lavatories should be mounted with the rim or counter surface no higher than 34 inches above the finish floor and must provide a clearance of at least 29 inches above the finish floor to the bottom of the apron.
Offering some perspective, Brian Sykes, associate principal, Perkins+Will, Washington, D.C., relates that in the early days, owners were simply interested in checking off the box to ADA compliance, whereas today, organizations are more interested in accommodating the needs of building occupants.
More building owners are proactively addressing special needs groups, including children, the elderly, caregivers, and pregnant/nursing mothers.
Originally published in Architectural Record
Notice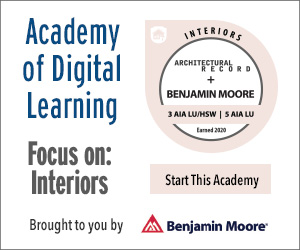 Taking Accessibility to a New Level
Buyer's Guide
ADA Transfer Shower Receptor

Inpro's ADA-compliant transfer-type shower base offers true 36-inch by 36-inch clear inside dimensions and a low-profile threshold measuring just more than 7/8 inches to minimize finished-floor floating for code compliance. This one-piece BioPrism
®
Solid Surface receptor has a non-skid textured surface and is antimicrobial to fight mold and mildew.
Aria Partitions for Ultimate Privacy

Full-height, floor-to-ceiling design makes the most of restroom projects. No more sightlines, flat doors and panels, or large floor or ceiling gaps. From innovative features to wide-ranging colors and textures, Aria Partitions offer unmatched design freedom for extreme privacy and upscale appeal. The partitions are featured above in Midnight from the Bold Collection.