Sustainable Design and the Cost of Healing
Ensuring efficiency, health, safety, and welfare at the systems level
Sponsored by ASI Group, CRL, Inpro, and New Millennium Building Systems
Learning Objectives:
Explain the benefits of daylighting and its effect on the health, safety, and welfare of patients.
List building features that lead to energy efficiency, sustainable design, and occupant comfort.
Describe how materials provide a systems approach that positively impacts patient safety and outcomes.
Define how high-quality materials lead to long-term cost savings and reduction of waste.
Credits:
This course can be self-reported to the AIBC, as per their CE Guidelines.
This course is approved as a Structured Course
This course can be self-reported to the AANB, as per their CE Guidelines
Approved for structured learning
Approved for Core Learning
This course can be self-reported to the NLAA.
Course may qualify for Learning Hours with NWTAA
Course eligible for OAA Learning Hours
This course is approved as a core course
This course can be self-reported for Learning Units to the Architectural Institute of British Columbia
In health-care facilities, daylighting, aesthetics, and the flexible use of space can promote healing for patients and allow health-care workers to spend more time treating patients and less time adapting a space for their ever-changing needs. These large facilities are most efficient when designed from a systems approach, ensuring that all systems work together to encourage the health, safety, and welfare of all occupants.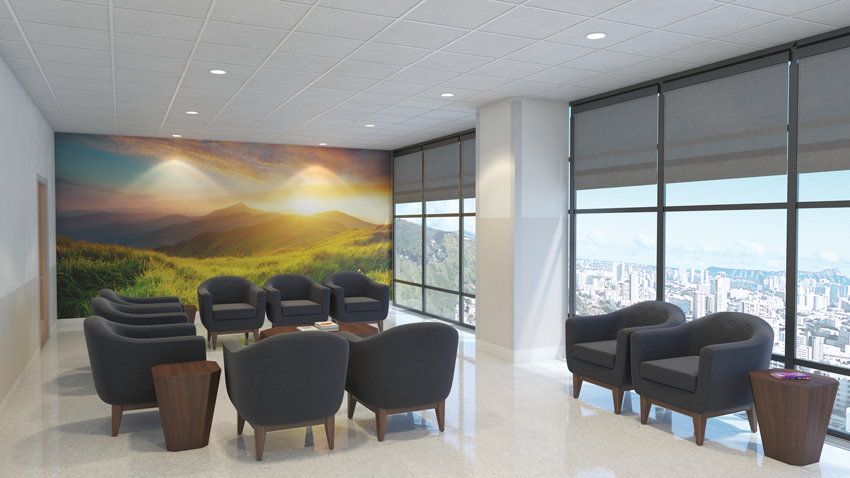 Photo courtesy of Inpro
The mountain scene on the back wall is part of a protective wall covering, not only creating a more inviting atmosphere in the room, but also protecting the walk from scrapes and dings.
Floor Systems
In multistory buildings, the structural design of a floor, which then becomes the ceiling for the floor below, can elevate the performance of the entire building. A long-span composite floor is engineered to address heavy stationary equipment dead loads as well as live loads in the way of moving equipment and human traffic, including patients and visitors. The longer-spanning floor structures open the way to fewer load-bearing beams and walls that can disrupt the flow of a space or limit its capacity for future moves, adds, or changes. These "thin-slab" floor structures, built using composite steel deck and concrete, are up to 40 percent lighter than cast-in-place concrete or hollow-core plank floors. Their design allows for faster construction, often without shoring during the erection process. The resulting larger spaces can readily be adapted to fit the evolving needs of health-care facilities.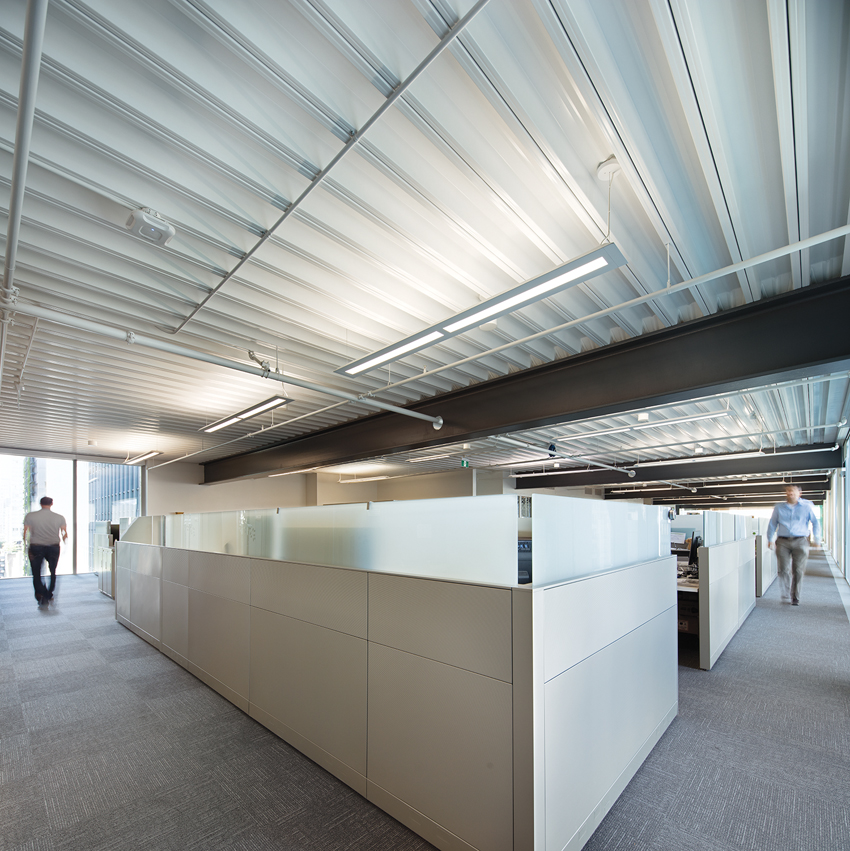 Photo courtesy of New Millennium Building Systems
Composite long-span floor systems are ideal for multistory buildings, as they provide for more open and versatile spatial designs.
Exterior Glass Entrance Systems and Interior Glass Partitions
Exterior glass entrance systems allow the lobbies and entryways of health-care facilities to be brightly lit with natural light, inviting occupants into a place of health and wellness. Large glass doors and windows also help occupants connect with nature and feel more at ease in hospitals and health-care facilities when the purpose of their visit has likely caused uneasiness or stress. Interior glass partitions help create smaller, more separate areas in a facility while continuing to allow daylight from exterior windows to filter in. Interior partitions provide the perfect balance of privacy and connection in large health-care facilities.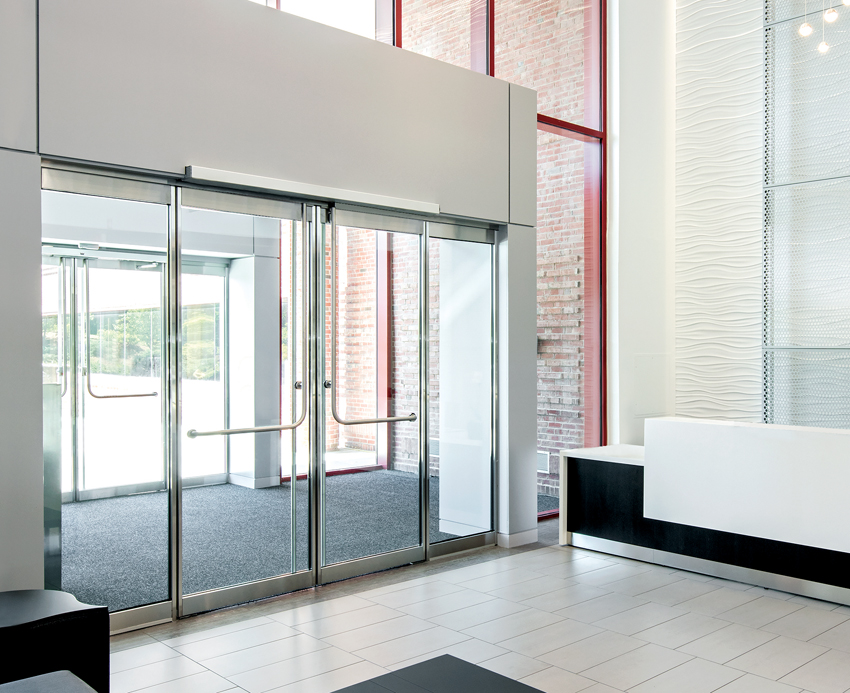 Photo courtesy of C.R. Laurence
Glass entryway systems provide visitors with a warm welcome, allowing natural light to illuminate common areas around the entrance.
Wall Protection and Solar Shades
In interior spaces where exterior windows are not an option (such as interior waiting rooms and hallways), designers can specify colorful digital wall art depicting scenes from nature to help calm and sooth occupants in health-care facilities. These beautiful walls also provide protection from unsightly scrapes, dings, and other damage. For windows that provide too much light, solar shades can be used to protect against glare while allowing occupants to still see views of nature outside.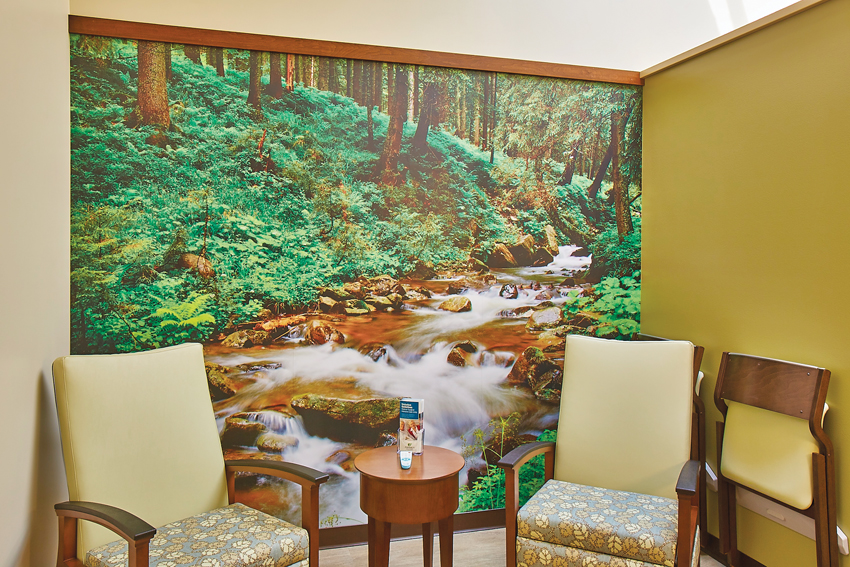 Photo courtesy of Inpro
The soothing image of a creek flowing through the woods creates a calming atmosphere in this waiting room.
Daylighting, Climate Control, and the Use of Space
There are many factors that contribute to patient outcomes in a health-care setting. Aside from the direct care received from medical personnel, patients can be positively or negatively affected by their experience inside the building, treatment rooms, recovery rooms, etc.
Factors such as daylighting and occupant comfort, climate control, images of nature, and ample space can contribute to positive patient outcomes. Providers can also benefit from working in environments that allow them to adjust the use of the space as needed to accommodate the ever-changing needs of patients.
Flexible Use of Space
When designing a medical facility, it is important to consider how the space will be used. Large expansive spaces can easily be broken into smaller spaces with walls, curtains, or freestanding dividers. Walls and freestanding dividers allow for patient privacy and can also help reduce noise. Large spaces can also be broken up into smaller or medium-sized rooms to encourage connections between smaller groups of people or privacy in waiting areas. As situations change, hospitals must be able to quickly adapt their spaces to be prepared for whatever comes their way. It is much easier for health-care providers to divide larger spaces into smaller spaces than it is for smaller walled-in spaces to be converted into larger, multiuse rooms.
Long-span floor systems can maximize clear floor space by allowing column spacing to be as great as 36 feet with a deep-ribbed composite deck and up to 60 feet and longer for composite joists. These spaces are characterized by fewer support columns that can break up the flow of a room. Room configurations can be easily changed as the needs of the facility change.
If needed, large spaces can be converted into smaller spaces by adding walls. In most health-care facilities, solid walls make up one of the largest elements of an interior. In high-traffic areas, wall protections are recommended to reduce damage to walls caused by carts, gurneys, wheelchairs, and other items transported throughout a hospital.
Large areas can also be converted into smaller spaces through the use of freestanding glass partitions. By using glass instead of solid opaque materials, occupants can experience the perfect blend of connectedness and privacy. This is especially important for patients who may need to be physically isolated to reduce the risk of infection or ICU patients that need to be closely monitored by health-care providers.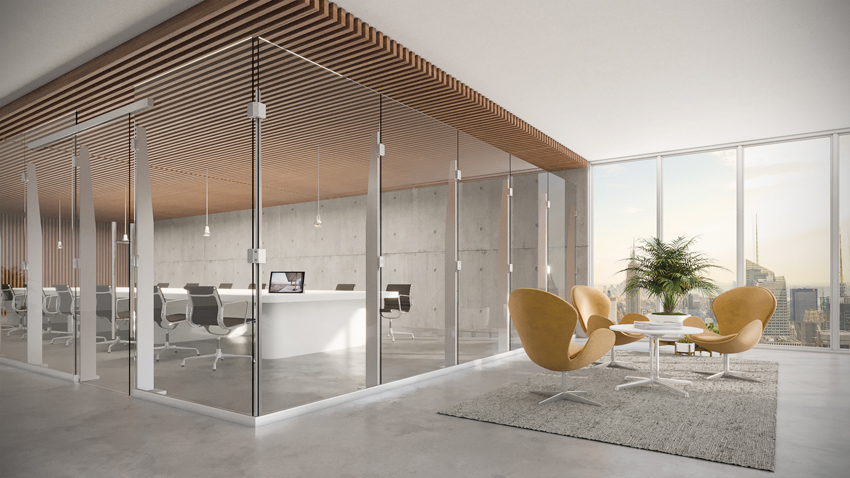 Photo courtesy of C.R. Laurence
Freestanding glass partitions allow designers to cordon off areas while also allowing daylight from exterior light sources to filter into the space.
Originally published in Architectural Record
Originally published in July 2021
Notice