Performance and Durability in Retail and Hospitality Design
Attention to materials and product selection improves appearance, comfort, and long term results.
Sponsored by Construction Specialties, Inpro, Mitsubishi Electric Cooling & Heating, SIMONSWERK North America, and Special-Lite, Inc.
This test is no longer available for credit
Durable and Attractive Doors
In the design of hospitality and retail facilities, doors and entrances play a significant role both in terms of design and performance in many different locations. Typically, architects need to be able to address doors and entrances in any or all of the following areas:
Front entrances
Guest rooms
Stairwells
Corridors and hallways
Ballroom and banquet rooms
Kitchens
Mechanical rooms
Fitness centers and spas
Loading docks and storage rooms
Each of these locations may have different design criteria. Front entrances, for example, need to be inviting and possibly speak to the branding message, but they also need to be functional and durable. Interior doors need to work with an overall design scheme but hold up to the rigors of heavy use. Other doors may need to meet particular needs for fire resistance, security, or even blast resistance. Of course, the doors need to fit the design of the spaces they are serving, the energy conservation needs of a building envelope, and the project budget. Toward those objectives, there are choices in types of doors to select.
Aluminum, FRP, and Hybrid Doors
Recognizing the differing requirements for different types of doors, manufacturers offer a range of products to suit those differing conditions. Some of the most durable door products are made from proven, durable materials such as aluminum, fiberglass-reinforced polymer (FRP), and stainless steel. Among the most used in retail and hospitality buildings are the following:
Aluminum entrances: Aluminum has long been a common choice for monumental stile and rail doors for front entrances and many hallways. Such doors can provide a look of distinction and incorporate plenty of glass for visibility and daylighting. Some offer tie-rod construction for flexural strength and engineered construction that results in exceptional durability and thermal properties.
Flush aluminum, FRP, and hybrid doors: For interior hospitality and retail doors, there are variety of choices, including flush aluminum doors, hybrid aluminum and FRP doors, or all fiberglass doors. Flush-door finishes can include aluminum skins, woodgrain finishes, or all fiberglass construction. The aluminum/FRP hybrid type is a heavy-duty door for high-use applications with a maintenance-free long life expectancy. It is available in numerous stock or custom colors and is extremely flexible in terms of glazing options and hardware.
Fire-resistance-rated doors: When fire-rated doors are required by code, composite doors made from FRP and stainless-steel construction with mineral cores are a durable option. They offer tested and approved fire ratings from 20 minutes to 90 minutes.

Photos courtesy of Special-Lite, Inc.
Different locations in hospitality and retail settings can require different types of doors made from a variety of durable materials and finishes.
The key factor for product performance in any of these choices is third-party testing. All specified or selected doors should be tested by an independent testing lab based on the applicable national standards. The manufacturers should then make the results publicly available and offer them to the architect as a submittal of proof of performance. In this way, the testing verifies any marketing claims and assures the architect and owner of performance to meet the design criteria. Such criteria may include product durability or life cycle, energy efficiency and sustainability, extreme weather resistance, sound control, fire resistance, blast mitigation and ballistic resistance, and intruder resistance.
In terms of design, aluminum and FRP products offer a broad range of choices. Multiple smooth and textured finishes are available along with numerous stock and custom colors. There are also virtually unlimited hardware choices, including custom branded or identity hardware. Glazing can be standard or custom in terms of shape, size, and type of glazing. All these factors enable considerable design flexibility, particularly since every door can be made to order.
Ben H. Dorsey III is the manager of marketing and communications with Special-Lite, Inc. He has worked with design teams on a variety of levels and says, "I do not envy the architect in terms of the breadth of knowledge he or she must have to meet the variety of client expectations and regulations in the retail and hospitality arenas. The manufacturer's goal is to serve as a reliable source of information as well as outstanding products to make the architect's daunting task achievable." His colleague, Roger J. Stempky, vice president of sales and marketing at Special-Lite, Inc., offers an example: "Our primary focus is Division 8 products for openings. Retail and hospitality facilities have a variety of openings, and I see some similarities in these venues. For instance, monumental doors with a good deal of glass are often used for front entrances. Meanwhile, flush doors that can tolerate high cycle counts and even some abuse are needed elsewhere in both markets." Both of these men reinforce the concept that recognizing the different facility needs and working with manufacturers to understand the different capabilities of different products can provide the best overall outcomes for a project.
Clad Doors
Many interior doors in hospitality and retail buildings are selected based on using a solid core construction with a cladding and edging of different types. Selecting a high-performance, highly durable clad door system will help assure they not only perform well but also look great, holding up to daily use and potential abuse. In that regard, there are several qualities to look for:
Doors that are specifically manufactured for high-impact areas and are clad with ultra- durable coverings for demonstrated protection.
Attention to door edges, since that is where most door damage occurs. Some are specifically manufactured to feature rounded, field-replaceable stiles and edges for extra protection. Better yet, some carry a warranty against damage for the lifetime of the door.
The covering on doors and frames can be specified to be bacterial- and fungal-resistant and easily cleanable with non-abrasive cleaners.
Some doors are made of PVC-free material, can be Cradle-to-Cradle Certified, and help to contribute toward LEED v4 credits.
While all of these attributes help with the performance of the door, designers no longer have to sacrifice aesthetics for durability. They are available in a broad range of colors and patterns, including solid colors, woodgrain patterns, and various panel designs. In addition to these extensive standard design choices, some products also allow architects to display any image, pattern, photograph, etc. on a door without compromising durability.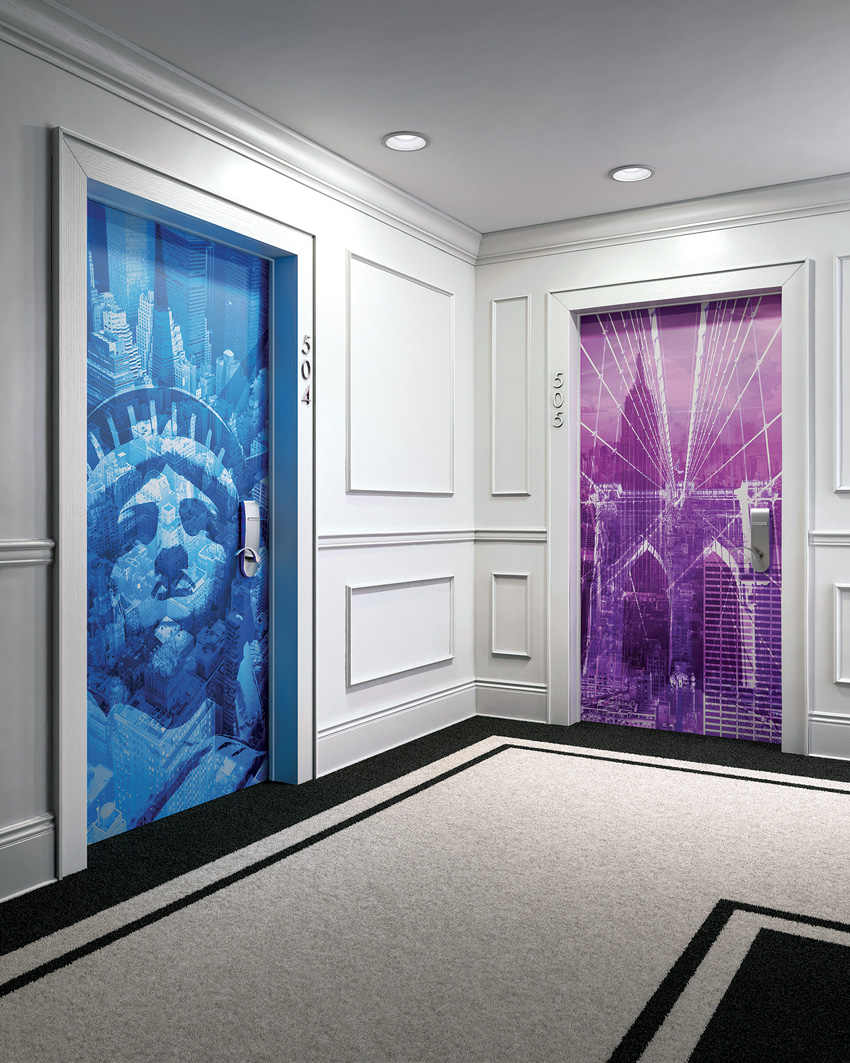 Photo courtesy of Construction Specialties
Clad solid core doors can be specified to maintain protection against abuse, include field-replaceable stiles and edges, provide sound control, and include other attributes like custom graphics, as shown here.
Concealed Door Hardware
One of the design trends in retail and hospitality settings is for sleek, elegant, and clean surface appearances. That has come to include the use of trimless doors that visually disappear to look as though they are part of the surrounding wall. To pull that off successfully, the doors need to be clad with the same material as the walls, which is clearly quite possible. It also means that the hardware, particularly the hinges, used for such doors must be hidden from sight. That is where manufactured concealed hinge systems for cladding come into play.
State-of-the-art concealed hinge systems are available for doors with cladding, where in the past it was only possible to use pivots to hang such doors. These concealed hinges allow a door to visually disappear into a wall with many different kinds of cladding, such as laminates, that are up to 20 millimeters (¾ inch) in thickness. This gives architects and designers new opportunities for incorporating closed door panels into a holistic room concept. Further, concealed hinge systems allow doors to open up to a full 180 degrees, thus providing some significant design options when the doors are open as well.
Adjustable, concealed door hinges allow a contemporary space to retain clean lines, undisturbed by an obtrusive service door in a common area of a hospitality environment, such as a lobby or ballroom. The refined visual appearance in combination with maintenance-free slide bearings means they help doors operate as good as they look. Durability is another notable trait of concealed hinges whether they are used in low-traffic door applications or for high-use doors in hotels, resorts, and restaurants. Concealed hinge systems specified with an adjustment feature typically install easier than those without. The adjustment feature provides a simple way to maintain a perfect margin between the door and the surrounding frame. Adjustments can commonly be made in three dimensions (horizontal, vertical, and in/out) by simply turning an Allen wrench. A completely concealed hinge system typically accepts load capacities up to 300 kilograms (661 pounds), enables an opening angle of 180 degrees, and can be used on wood, steel, and aluminum doors and frames. All of this means that concealed hinge systems can be used on a wide variety of retail and hospitality doors.
In order to accommodate the full range of needs for different door types and their specific locations, consider that there are different versions of concealed hinges that can be selected. Some of the most common are listed as follows:
Standard concealed hinges: Standard concealed hinges allow the door hinges to be hidden when the door is closed while still opening the full 180 degrees.
Concealed hinges for doors with cladding: These specific hinge systems allow a door to visually disappear into a wall with many different kinds of claddings, such as mirrors, laminates, and marble. This gives designers further options for integrating the door element into a holistic room concept.
Electrified concealed hinges: Modern and efficient buildings often require the ability to control and operate doors remotely. That often means that additional items such as card readers, access and door control systems, electrified locks, monitoring systems, and multimedia components are installed. These components require the transfer of electrical power and information from door frames to door panels. Concealed hinge systems that accommodate the needed wiring for electricity or data provide a sophisticated way to utilize any or all of this technology. Further, the needed wiring to carry electricity and/or data can be completely concealed behind the hinge arms to prevent unauthorized tampering. Wire-accommodating hinges are available in a large variety of sizes to suit different door panel weights.
Fire-resistant hinges: Certain models of concealed hinges are fire-resistant certified for up to 180 minutes. While maintaining all routing dimensions and visual features of standard concealed hinges, fire-resistant versions provide an option for use on fire resistant door units.
Recessed frames: Specific models of concealed hinges allow doors to be flush with the finished wall by hiding frames and recessing them into the wall structure. This provides a contemporary flush finish door and frame with clean, unobstructed lines.
Aluminum door profiles: Concealed hinges are also available for aluminum door panels and frames. There are a variety of options for different profile designs that can be selected to suit a particular project need.
Overall, architects have many choices when it comes to using high-performance, durable, concealed hinges. Creative options are not limited since fully functional, visually disappearing doors can now accommodate a wide range of needs and almost any type of cladding of up to ¾ inch thick.

Photos courtesy of SIMONSWERK North America
Fully functional doors, clad to match adjacent walls, can benefit from the most advanced concealed hinges that allow doors to visually disappear into a wall expanse.
Rudy Kessler, CEO of SIMONSWERK North America, sees this design trend first hand and points out, "In today's architecture, interior designers and architects are driven by the demand for contemporary and clean designs without sacrificing the functionality of a building. Typically, doors are viewed as an interruption of clean lines. Hardware companies have been challenged to come up with creative solutions for fully functional doors, especially doors with cladding, which do not disturb the design." Recounting the development of concealed hinges, he continues, "Initially, hardware companies developed products such as concealed door hinges that hid only the hardware. More recently, hardware companies took another step forward and developed innovative solutions for hiding not only hardware, but also fully functional doors that visually disappear within the wall." Clearly, the opportunities for clean, modern, and elegant spaces has increased due to the availability of these advanced hardware systems.
Originally published in Architectural Record
Originally published in August 2018
Notice