Multifamily Design in 2020
New health concerns blend with standard criteria to foster new solutions
Sponsored by Inpro, NanaWall Systems, New Millennium Building Systems, Rocky Mountain Hardware, and TAMLYN
Additional Bronze Hardware
Windows are another area where bronze hardware can be used quite successfully. The handles for casement, awning, or European-style tilt/turn windows can be made from bronze, as can hardware for double-hung, sliding, and other window types. Coordinating the style and color with door hardware can be an effective and sometimes unexpected way to create design continuity within a building.
There is also the opportunity to use bronze in a variety of other discreet ways in multifamily housing. Bronze accessories are available for things such as apartment/unit door numbers and mail slots, or signs for common public spaces like restrooms. For stairways, handrail brackets and balusters can be used that can match or complement other bronze hardware. Carrying this a bit further, even electrical switch plates and outlet covers are available in bronze to create a very coordinated look.
Not to be overlooked, bathrooms, kitchens, and lighting fixtures can be considered too. Nonferrous bronze is ideal for any wet location since it does not oxidize (rust) the way that iron-based metals do. Faucets, sinks, shower controls, and other offerings fabricated from bronze overcome these issues and create striking visuals. Similarly, bronze lighting fixtures hold up extremely well outdoors and are available in a variety of artistic styles and looks for all locations.
Overall, bronze hardware, fixtures, and accessories can help unify and upgrade the design of multifamily buildings in a significant and sophisticated way to promote the look and appeal desired.
Expansion Joints
Large buildings, including multifamily buildings and their associated parking structures, often require expansion joints to control movement. When this is the case, there are several things to consider, including the following.
Type of Movement
Thermal movements are caused by daily environmental temperature changes in and around the structure. Thermal movement is primarily one directional in nature and is the result of the expansion and contraction of the building as it is affected by heat, cold, and humidity. Seismic activity is caused by shifting of the earth's tectonic plates (i.e., earthquakes, tremors, etc.). Seismic movement in buildings may be horizontal, vertical, in shear, or a combination of all three. Wind-load-induced movement is caused by high winds forcing the structure to sway. Wind-load-induced movement is normally perpendicular and/or parallel to the joint. This is common where a low horizontal building span meets with a taller vertical element, such as the communal space of a multifamily building adjacent a high-rise component.
Nominal Joint Size
The nominal joint size is the designed width of an opening at a median temperature as dictated by the structural engineer. The expansion joint system selected needs to accommodate the minimum and maximum dimensions of the movement range for the given joint width. For thermal concerns, this means the joint needs to move at least 25 percent in both directions (e.g., a 4-inch joint needs to be able to shrink to 3 inches or expand to 5 inches at any given time). For seismic and wind-load concerns, the joint needs to be able to move 50 percent in either direction (e.g., a 12-inch joint needs to be able to shrink to 6 inches or expand to 18 inches at any given time). Note that seismic joint widths may increase with higher floor levels as well.
Joint Applications and Locations
The design of the project will determine whether it includes interior joints, exterior joints, or both. Typical interior application conditions of expansion joint systems include floors, walls, ceilings, and roofs. However, joints may be needed on exterior building veneers, soffits, parking decks, patios, and roofing systems as well.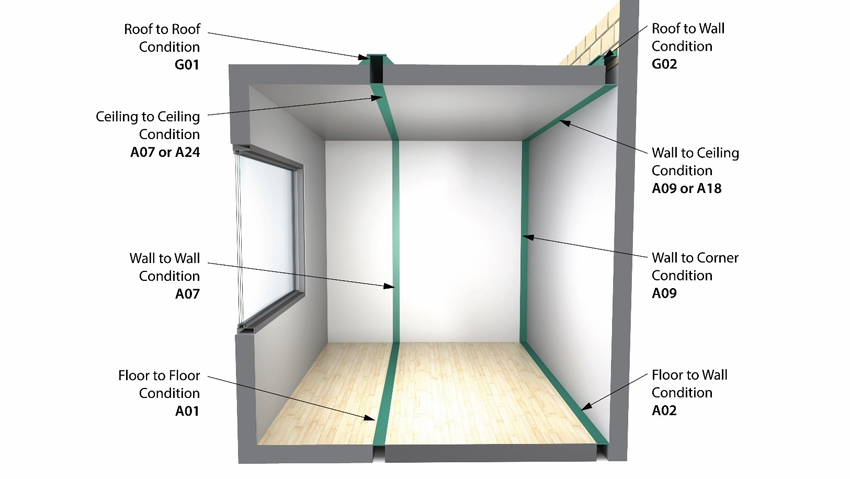 Image courtesy of Inpro
Typical locations of expansion joint systems in building construction.
Loading Requirements
Different expansion joint systems have different capabilities to withstand the daily wear and tear of the building use. Floor joints in particular are subject to different types of traffic, such as pedestrians, equipment, or vehicular. The room location, such as a heavily used lobby or corridor compared to storage spaces or ancillary spaces, will influence the loading as either uniform, rolling, or concentrated. Consider the route for tenants to move their belongings in and out of a multifamily building. If there is an expansion joint in that location, it will be subject to repeated rolling loads.
Form and Appearance
Different expansion joint systems bring different appearances: some look simple and utilitarian, others include metallic covers, while still others can accept inserts of finish materials. Depending on the desired aesthetic, anodized metal finishes, Kynar coatings, or foam seal colors can all be considered to either complement the decor, provide an accent, or minimize its appearance. Final selection can be based on things like the room location, adjacent finishes, or simply the nature of the multifamily building.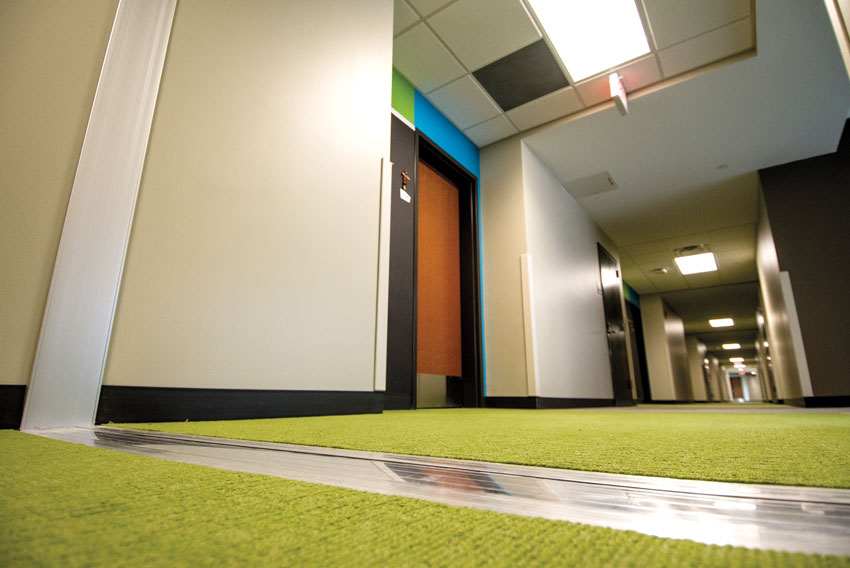 Photo courtesy of Inpro
The form and appearance of expansion joints in multifamily buildings can vary based on the selection of type and materials.
Originally published in Architectural Record
Originally published in October 2020
Notice