Multifamily Design in 2020
New health concerns blend with standard criteria to foster new solutions
Sponsored by Inpro, NanaWall Systems, New Millennium Building Systems, Rocky Mountain Hardware, and TAMLYN
Learning Objectives:
Identify the design opportunities to enhance the health of residents and visitors in multifamily buildings.
Assess the safety performance aspects of materials and systems that can be incorporated into multifamily properties.
Explain the significance of multifamily design as it promotes the welfare of the residents, particularly during extended periods at home.
Determine ways to incorporate the principles presented into multifamily buildings as shown in case studies.
Credits:
This course can be self-reported to the AIBC, as per their CE Guidelines.
This course is approved as a Structured Course
This course can be self-reported to the AANB, as per their CE Guidelines
Approved for structured learning
Approved for Core Learning
This course can be self-reported to the NLAA
Course may qualify for Learning Hours with NWTAA
Course eligible for OAA Learning Hours
This course is approved as a core course
This course can be self-reported for Learning Units to the Architectural Institute of British Columbia
This test is no longer available for credit
The 2020 COVID-19 pandemic has affected many aspects of life, including multifamily residential design. With more people working or being schooled from home—a trend that is likely to continue into the future—the importance of the living/working/learning environment has received a lot of attention. This has played out in a variety of ways related to the design of multifamily buildings and living units, and it has also brought more attention to the health aspects of many materials and systems used in these buildings. Of course, there remain all of the usual requirements of multifamily design and performance that need to be taken into account as well. This course explores a variety of strategies, products, and systems to help enhance the creation of multifamily housing in 2020 and beyond. Topics include big-picture issues such as indoor/outdoor connectivity and structural systems, as well as details related to facades, hardware, expansion joints, and elevator cabs. In all, it is attention to all of these important aspects that combine to create successful multifamily projects for this current time.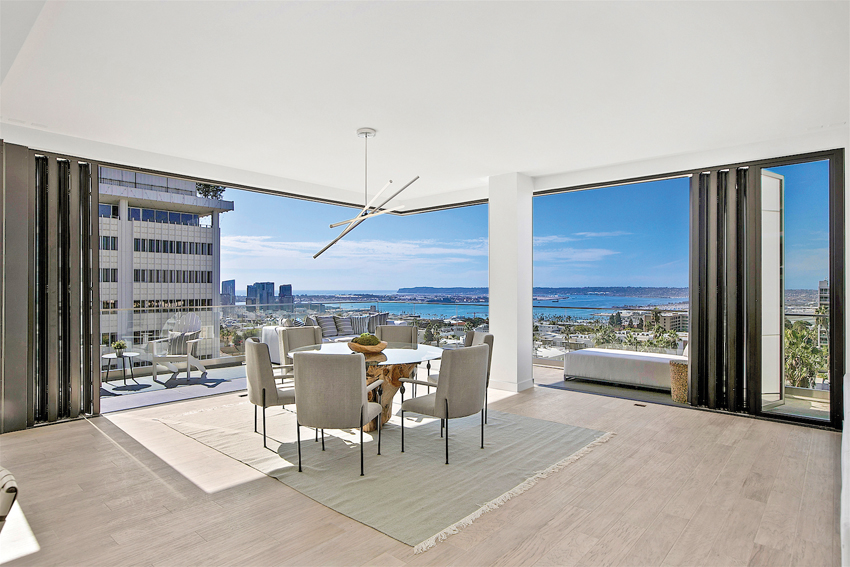 Photo courtesy of NanaWall Systems
Multifamily buildings have been impacted by the events of 2020 in ways that influence their design and the effects on their residents.
Indoor/Outdoor Connections with Opening Glass Walls
Many multifamily residents are interested in better ways to connect their indoor spaces to the outdoors for better ventilation, daylight, and a sense of expanding beyond the confines of a living unit. In particular, there is a desire to create the same sense of space of living in a single-family residence with the ability to integrate the indoors and outside. Toward that end, architects have used opening glass walls to achieve all of these objectives in many multifamily buildings. In locations where the geography provides desirable views, everybody likes that opening glass walls can provide unobstructed sight planes to take full advantage of these vistas. In most settings, the overall intent is to allow a large, uninterrupted opening between an indoor and outdoor space, thus making smaller spaces feel larger or simply allowing people to feel more connected to the outdoors. Further, building owners like that opening glass walls can enhance the value of dwelling units or help differentiate their buildings from other multifamily properties to create unique market offerings.
Opening Glass Wall Design Traits
All opening glass walls are comprised of individual panels that include the glass and, in most cases, a frame around it (some are frameless glass too). The makeup of the individual panels can be specified to suit a project based on a number of standard options. The frames can be either solid wood or aluminum, or a combination in the form of aluminum-clad wood.
There are two basic ways that the panels can be put together into a full opening glass wall systems. The first, and most common by far, is a folding glass wall system, which represents 80 percent of all systems installed in the United States. Some reasons for this include the fact that folding glass walls are easier to operate and have better air and water performance than other systems. From a structural standpoint, the dead load of a folding system is kept within the plane of the opening, with the panels capable of being either top supported or floor mounted. Floor-supported folding glass walls allow for easier design, as the weight of the system is on the floor and offers smoother operation.
The second type of opening glass wall system uses individual sliding panels that are guided on one or more tracks in the floor or overhead. While these are much less common in multifamily buildings, they may be considered as a more economical choice for separating common or public areas. The panels may also have swing doors incorporated into them wherever desired so that the entire wall does not need to be open for people to pass through.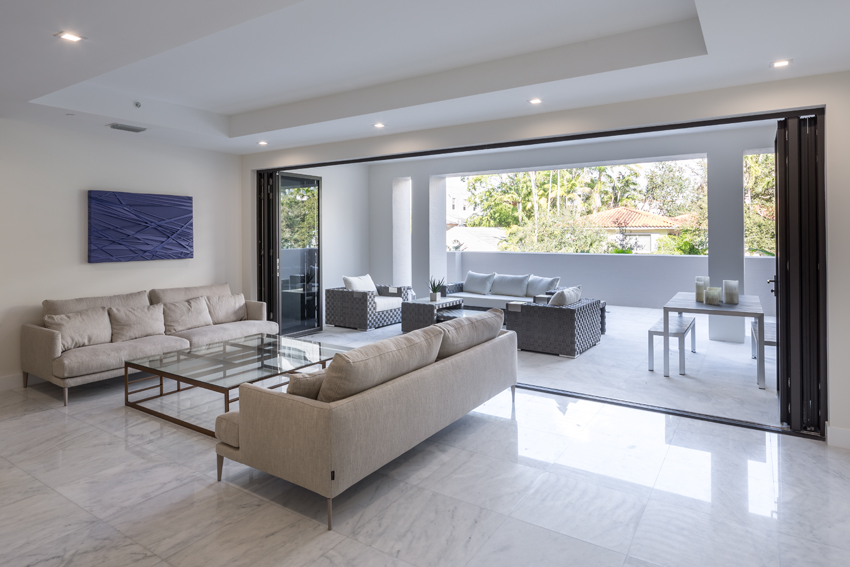 Photo courtesy of NanaWall Systems
Opening glass wall systems provide a range of design options to help multifamily spaces achieve indoor/outdoor connections.
Opening Glass Wall Performance Characteristics
While windows and door systems are typically a performance weak spot, operable glass wall products can address thermal needs, high wind loads, and air and water infiltration suitable for mid-and high-rise applications. When aluminum frames are selected, they can include thermal breaks, while the glass in the panels can be selected to suit exterior conditions with single, double, or triple glazing from which to choose. There are also all of the usual choices for treating the glass for enhanced energy performance (low-e coatings, inert gas filled, other coatings, etc.). Folding glass wall systems are available that have been independently tested and shown to be capable of meeting the demands of these situations, contributing to the availability of ENERGY STAR products.
When it comes to the structural integrity of opening glass walls in high wind conditions, they have been tested to perform well up to 70 PSF (positive) and 100 PSF (negative) for folding glass walls, and up to 60 PSF for sliding systems. In terms of maintaining security in the building, all have been shown to provide excellent forced-entry resistance when tested per AAMA 1304 and ASTM F842. And since sound is often a concern in multifamily housing, the systems have been tested and can achieve sound attenuation ratings up to a significant STC 42.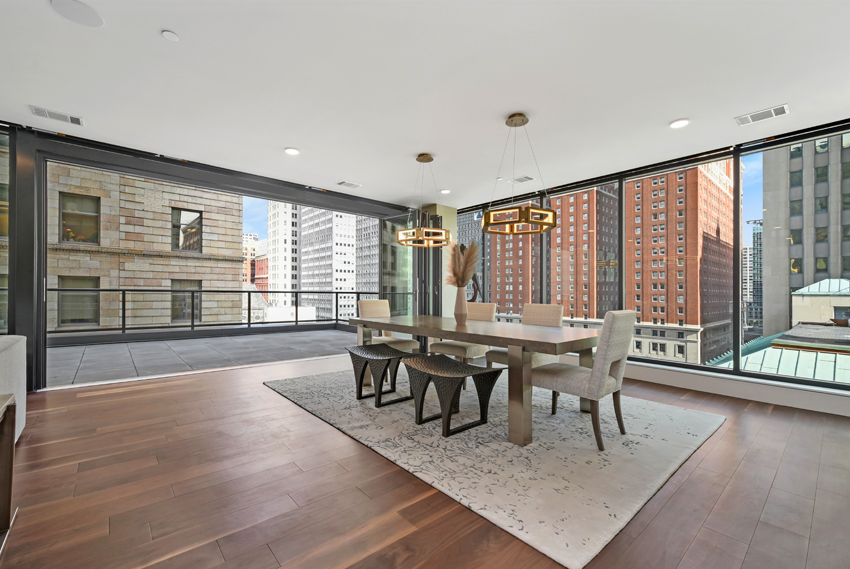 Photo courtesy of NanaWall Systems
The performance of opening glass wall systems can be specified based on choices available in the glass, frame, and operational parts of the system.
When looking at these different performance characteristics, keep in mind that inward opening folding glass wall systems offer better performance and safety capabilities than outward opening systems since the wind dynamics are a bit different. They are also easier to clean since both sides of the glass panels are accessible from the inside. The sills of the folding glass wall systems will make an impact on performance as well. Folding glass wall systems with ADA (low-profile) sills need to be assessed in terms of water resistance compared to some others. Still other sills with higher profiles have been found to support higher water-resistance ratings during field testing.
Overall, it is easy to see why opening glass walls have been used in a variety of multifamily projects across North America.
Structural Floor Systems
The most common structural systems used in multistory construction are based on either concrete or steel, a combination of the two, or even combinations with wood in some cases. The selection is typically determined by the specific criteria and needs of a given project for not only structural strength but also fire safety, sound separation, and coordination with other building systems and finishes. Some of these criteria are dictated by code and safety concerns, and others by comfort and marketing issues. To address all of these, one approach that is gaining in popularity is a "thin-slab" composite floor system. Fundamentally, this hybrid system is based on using engineered steel decks and poured concrete acting together to create a long-span floor that requires fewer intermediate supports. As such, it can be a more economical yet high-performing system to consider.
Long-span composite floor systems are available in different deck profiles and a variety of depths. One of the most appropriate versions for multifamily buildings is a dovetail-shaped profile that provides a low profile that can integrate with virtually any beam (e.g., wide flange, low-profile composite steel, or concrete beam) or bearing-wall method. On top of the deck, monolithically poured concrete finishes flat so it eliminates the need for grouting and floor leveling activities. The system employs dovetail-shaped steel composite deck to establish the thinnest total floor depth possible, ideal for multistory projects. Combined with a concrete slab, the 2-inch and 3.5-inch dovetail composite deck profiles create floor depths as thin as 4 inches. Overall, this system blends the speed and versatility of steel with the performance and durability of concrete in a system that can weigh up to 40 percent less than comparable cast-in-place (CIP) concrete floors.
While a range of advantages are offered by the dovetail long-span composite floor system, the following three are most notable.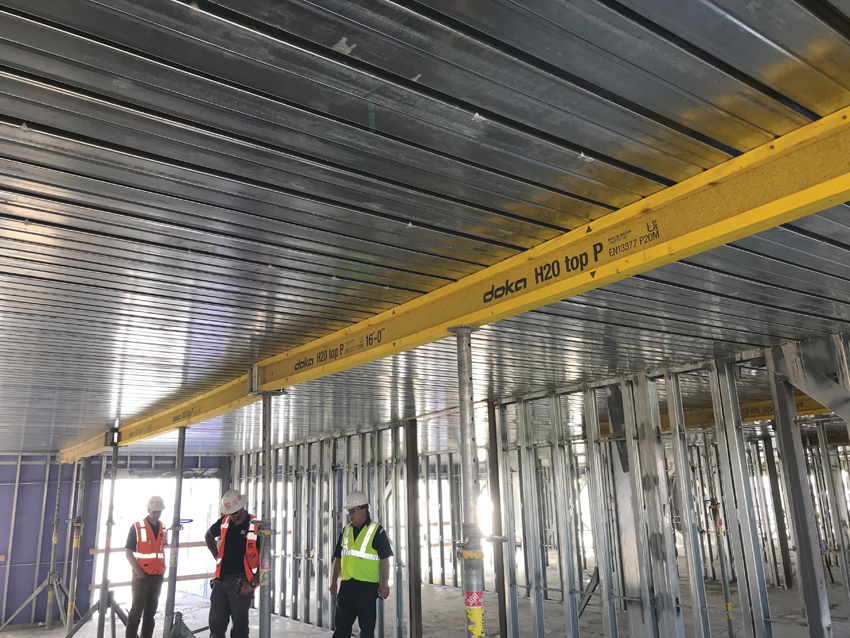 Photo courtesy of New Millennium Building Systems
Long-span composite floor systems can reduce weight, interior supports, and overall project time and costs.
Thinner Floors
Thinner floor systems mean that floor-to-floor heights can be shorter while still maintaining desired ceiling heights. For example, a 12-story building using conventional cast-in-place concrete floors can alternatively be designed using a 2-inch dovetail composite floor and end up accommodating an entire extra floor within the same overall building height. Similarly, a six-story building can be reduced in height without reducing floor-to-ceiling heights. This space-efficient design translates into higher potential revenue options for the project owner with increased area and occupancy options. Alternatively, it can optimize multistory construction since the floor-to-floor heights are reduced. This occurs because the structure spanning between load-bearing walls or beams is only comprised of the composite slab without the use of additional joists, trusses, or girders hanging down below. This is particularly helpful in locations where the overall building height is limited due to zoning requirements. Often an added story means more income for a building owner and may improve the overall project's financial picture considerably.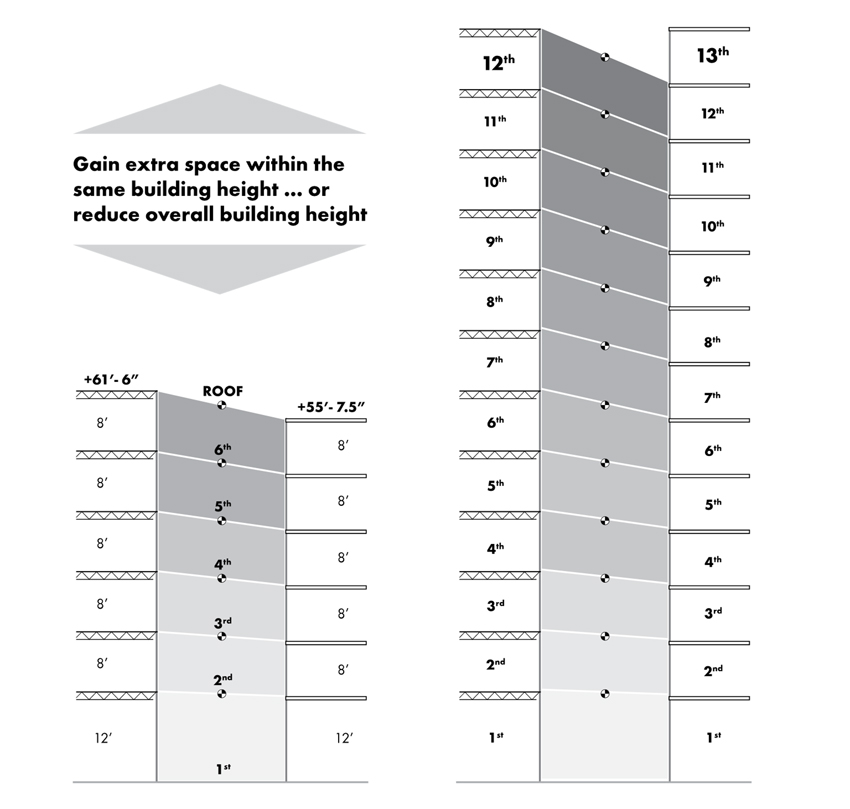 Image courtesy of New Millennium Building Systems
Dovetail long-span floor systems allow designers to gain space in the same building height or reduce the overall building height.
Originally published in Architectural Record
Originally published in October 2020
Notice