Mitigating Water Leaks around Windows in Wood Framed Walls
Flashing solutions to avoid common leak paths
Sponsored by ZIP System®, by Huber Engineered Woods
Learning Objectives:
Explain common construction defects in design and construction projects that can impact window and wall performance and durability.
Define the primary causes of water penetration around windows.
Review the building code requirements related to flashing around openings in walls, particularly windows.
Compare different flashing solutions for their use in wood-framed wall assemblies, particularly for multifamily buildings.
Credits:
Water infiltration from outdoors into any building construction is a significant design and construction issue. The reasons are self-evident—unwanted water can cause materials to degrade, contribute to mold growth, and cause damage to people or building contents. While it is common to think of exterior walls and roofs as the primary barriers to water infiltration, the reality is that the technology to create such surfaces that can effectively resist water is readily available and fairly common. The usual problem is the openings in those surfaces, such as roof penetrations or doors and windows that become the weak points in the water tightness of walls. If window or door openings are overlooked or addressed inadequately, then the likelihood of water leaks and the related complications is high. If they are treated properly, through the appropriate use of flashing and integration with adjacent surfaces, then it is much more likely that the successful sealing and protection of walls will be achieved not only in opaque areas, but also in all of the locations where there are openings, too.

All images courtesy of Huber Engineered Woods, LLC © 2016
Windows are typically installed over exterior sheathing in wood-framed walls. Using proper flashing to assure the continuity of air and water barriers along the face of the sheathing is critical to avoiding defects.
Identifying Common Construction Defects
Practical experience and most contractual agreements for design and construction recognize that perfection in buildings is not a realistic goal. Rather, a common "standard of care" is usually identified as a benchmark based on a common understanding of what could be reasonably expected of any competent design or construction professional. Anything that falls below this standard can be considered a defect (or worse, negligence), and many professionals and their insurance companies have spent considerable time and effort determining if, in fact, any defect exists and if so, how to defend against claims for damages.
A white paper published in 2014 by the Travelers Insurance Company (The Travelers Indemnity Company and property casualty affiliates, Hartford, Connecticut) addresses "The continued evolution of construction defect." While billed as "Strategies for contractors to stay on top of evolving issues" and "Helping companies manage risk," the paper is very informative for design professionals, too. In this paper, these insurance-company authors identify the following four main types of construction defects.
Design deficiencies, that is, errors or omissions, can show up in the documents prepared by architects, engineers, or others. If corrections or revisions aren't picked up during the preparation of the documents, then the deficiency will likely show up afterwards when a building component or system does not work as intended or as expected. As an example, a roof design that didn't provide proper details to achieve full water tightness but was nonetheless constructed according to the documents and later found to be the source of water intrusion would be determined to be a design deficiency.
Material deficiencies refers to building materials that are defective or damaged and can subsequently lead to failure despite proper design and construction. As an example, window frames that become bent or warped during shipping to the project site but are nonetheless installed can lead to problems of proper sealing and water resistance. Similarly, inferior products that are substituted for specified products may not function properly or last as long as intended.
Construction deficiencies usually refers to workmanship that is poor in quality. It could be caused by incomplete work, sloppy, imprecise work, or conversely be very neat and complete, just incorrectly done. This can happen in any trade and in any location in a building with direct implications onto other parts of a building or system that it comes into contact with.
Operation and maintenance is typically the purview of the building owner or operator. Since some problems emerge only after construction is complete and a project is turned over to its owner, it is important to determine whether a building defect exists or if there is instead a problem with operations and maintenance. After all, at some point, the building passes from being the responsibility of the design and construction team to being the responsibility of those who are operating and maintaining it. For example, some building sealants need regular maintenance or replacement which, if unattended, can cause leaks over time. Those leaks have nothing to do with the design, the construction, or the materials, they simply have everything to do with the realistic service life of the sealant and the fact that maintenance is required.
Recognizing these four types of deficiencies, the next logical question is: Which ones are the most common? The insurance industry has the data in the same paper discussed above to provide that answer. It may come as no surprise that the most common defect causing insurance claims is from water intrusion through the building envelope, either because of a design or construction deficiency. While we might expect such water leaks in roofs, it is also reported to be extremely common around windows, through exterior siding, and around irregular surfaces, such as balconies, patios, and garages. After that, defective materials show up as reasons for insurance claims, including manufacturing defects or premature corrosion or deterioration of things like pipes and other building materials. Finally, and quite significantly, inadequate integration of components or compatibility of materials is a notable issue. Although any of these common conditions can show up on virtually any type or size of building, each individual case can be quite different. That sometimes means that the reason reported for a problem may prove to be something quite different once proper investigation and analysis takes place.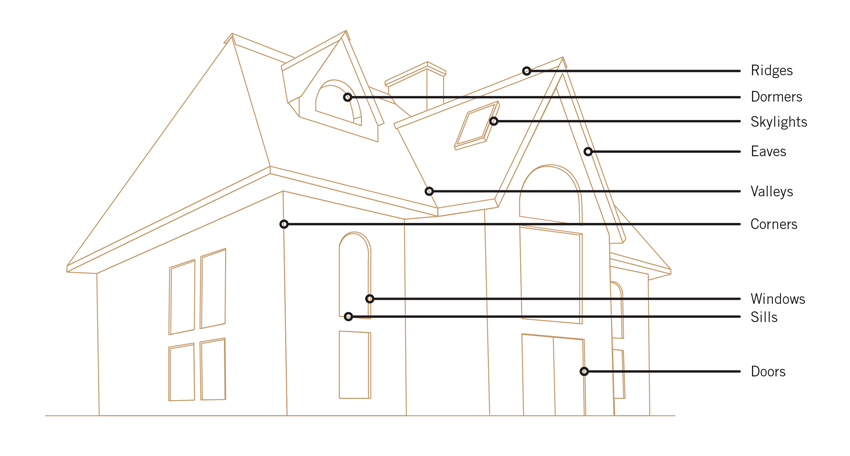 Typically, it is the locations on a building where surfaces or conditions change that can cause construction defects and require flashing to comply with building codes.
Compounding this list of potential issues is the recognized national shortage of skilled trade workers and experienced supervisors, all of whom directly impact on-site quality control. In particular, a 2014 national survey by the Associated General Contractors of America (AGCA) found that 74 percent of firms are having trouble finding qualified trade workers, including carpenters, equipment operators, and laborers. In addition, 53 percent of the firms surveyed report that professional positions, such as project supervisors, estimators, and engineers, are difficult to fill. The implication for this shortage of skilled and experienced workers cuts to the core of quality construction, as quality workmanship requires certain skills. It would be great if a major boost were provided in training people to fill all of these open positions, but realistically, it takes years to develop many of the skills needed in construction and supervision. Recognizing a more immediate need, some product manufacturers have responded by finding ways to simplify installations such that the skills needed to install their products is more focused and requires less time for proficiency. Such quality control that is built into the manufactured systems and installation processes can help to achieve better building results with fewer potential construction deficiencies.
In the end, a proactive approach can be the best defense against all types of construction defects. All design and construction professionals need to keep up with current codes and standards, but staying on top of relevant industry advisories and best practices is also important. Further, actively understanding the capabilities of products being used in any given situation and following manufacturer guidelines will help ensure proper product performance. This can be important in terms of maintaining product warranties and producing a design that performs as intended. Finally, addressing the skills and experience needed for construction professionals engaged in the work will certainly have an impact.
Originally published in Architectural Record
Notice