Products to maximize the design of indoor spaces
Sponsored by Bradley Corp., Inpro, NanaWall Systems, and Thermory USA
Learning Objectives:
Identify and recognize the significance of biophilia as part of an interior design strategy to promote health and wellness throughout buildings.
Assess the acoustic and daylighting performance aspects of operable glass wall systems as they relate to the welfare of building occupants and users.
Explain the characteristics of selected materials for use on walls and elevator cabs to improve safety and durability as well as aesthetics.
Determine ways to incorporate advanced principles of commercial restroom design for better hygiene, decreased germ transfer, and improved cleanliness.
Credits:
This course can be self-reported to the AIBC, as per their CE Guidelines.
This course is approved as a Structured Course
This course can be self-reported to the AANB, as per their CE Guidelines
Approved for structured learning
Approved for Core Learning
This course can be self-reported to the NLAA
Course may qualify for Learning Hours with NWTAA
Course eligible for OAA Learning Hours
This course is approved as a core course
This course can be self-reported for Learning Units to the Architectural Institute of British Columbia
This test is no longer available for credit
Commercial interiors seem to be ever evolving, ever changing, and ever focused on meeting new criteria. Some of these changes are driven by building owners, occupants, or users who simply have changing desires, tastes, or functional needs for operations. Others are driven by updates to codes and standards that require more attention to details of health, safety, or welfare, including the health and well-being of people in a building. And of course, some are simply driven by a need for maintenance of and upgrades to a building because everything has a useful service life. In this course, we look closer at some of these drivers of change and some of the practical ways that they can be addressed and incorporated into well-designed building interiors.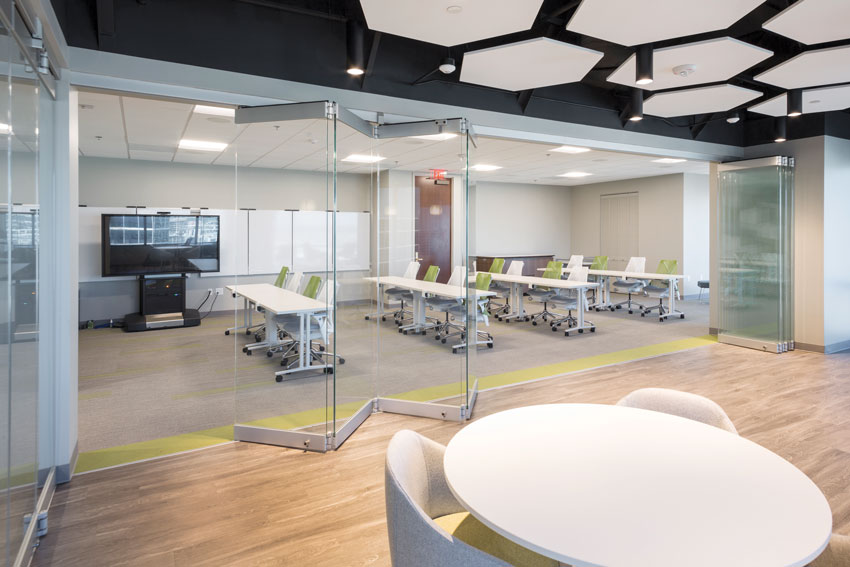 Photo courtesy of NanaWall Systems
The ever-changing needs of building owners and occupants continue to drive innovation and new options for the design of interior spaces.
Biophilia in Design
A growing interior design trend that is directly related to human health and welfare is the use of biophilia in contemporary buildings. Defined literally as a love of living things or a love of nature, biophilic design is a concept focused on increasing occupant connectivity to the natural environment in creative ways. Theorists argue that this design approach taps into the hard wiring of human beings who, over the span of history, have developed an affinity for the life-supporting aspects of the natural world.
One biophilic approach is to allow building occupants to have direct access to nature through areas like a rooftop garden, an adjacent nature walk, or a garden courtyard. If that is not feasible or practical, then providing living "green walls" or plants in the space is a good alternative. Direct views out to natural areas work well too. These approaches have tremendous merit in improving mood, air quality, and the overall look of the space.

Photos courtesy of Inpro
Biophilic design can be incorporated into buildings using large scale graphics back-printed on clear wall protection sheets (left) or onto roller shades (center). When natural views are available, solar shades allow for direct views with effective glare control (right).
There is another approach that is also effective and often more readily incorporated into a building, namely the use of graphics and imagery that portray scenes from nature. As part of an interior design strategy, there are at least three ways in which to do this effectively on a large scale, including the following:
Digitally printed wall cladding and art: Imagine turning nature scenes into whole-wall imagery or using large-scale graphics to create inspiring biophilic designs. This is now possible using printed wall-protection products that combine high-resolution images with durable wall protection. These are fabricated by back-printing a graphic image onto a clear, resilient sheet. Along with truly endless design capabilities, this approach also provides high-impact durability to wall surfaces. Since the graphic is back-printed on the protective sheet, there is no worry about the image being scratched over time. That means high-resolution photographs, artwork, or any other biophilic graphic can be printed and incorporated onto as large a wall space as a design may require.
Printed roller shades: If entire walls are not available for biophilic design graphics, then perhaps windows are. Views out of windows can sometimes be less than pleasing and look onto areas that are not natural or soothing. In cases like this, one option is to incorporate printed images onto roller-shade fabrics. Depending on the density and weave of the shade, daylight can still be allowed in, but the image looking out can be much more natural and uplifting.
Solar shades: When views are to natural areas, positive biophilic effects can be achieved. Incorporating solar shades with fabrics containing more openness in the weave can reduce the sun's glare and heat gain, yet still allow for those outside views.
Balancing Acoustics and Collaboration
Many indoor environments are designed around fostering collaboration, interaction, and communal activity. This is true in commercial settings, such as offices with open-concept floor plans, schools with collaborative learning spaces, and universities with open, informal meeting areas. However, these indoor environments, regardless of their function, require that attention be paid to how noise and sound travels in order to protect privacy, promote productivity, and even safeguard health.
However, a Harvard Business School study has challenged the practice of all of these open spaces. It analyzed the effects of open floor plans in office spaces and discovered that it actually is not an ideal layout for optimal productivity. The study reported a decrease in coworker interaction, productivity, and direct communication between team members, as well as increased distraction and poor decision-making by employees.
In light of this information, an emerging trend now shifts design strategies away from an open concept and instead focuses on reconfigurable spaces to increase flexibility. This flexibility of spaces is achieved by using movable or operable glass walls that can open to accommodate group gatherings when desired and close to create smaller, more private spaces when needed. The operable glass walls still provide natural light transmission when closed and can also achieve very high degrees of sound control. Contemporary workspaces that incorporate this reconfigurable design approach seem to deliver higher levels of worker productivity and satisfaction. They can also increase the sense of flow and connectivity between different spaces within a building while allowing for more efficient space planning.
With the above in mind, architects and designers who recognize the benefits of such reconfigurable spaces need to consider several factors that go into a successful design.

Photos courtesy of NanaWall Systems
The offices of SK&A Structural Engineers located in Washington, D.C., were designed by MV+A Architects and include a prominent operable glass wall at the lobby conference room to allow for a balance between collaboration and acoustical control.
Originally published in Architectural Record
Originally published in June 2020
Notice