Innovations in Interior Design
Using the right products to modernize today's indoor spaces
Sponsored by Cascade Architectural, NanaWall Systems, and XtremeInterior by Tamlyn
Coiled Wire Fabric for Separation and Transparency
There are many design situations where a need arises to provide a degree of separation for safety or different uses where a solid wall or partition is not needed. In fact, it may even be desirable to provide for some connectivity between spaces for visual, airflow, sound, or other considerations. A number of different products have been used to achieve this effect, particularly in interiors, but an emerging, innovative choice is the use of a coiled wire fabric. Such products are different from traditional metal mesh materials in that they are designed as architectural products for use as an interior finish material in a variety of ways.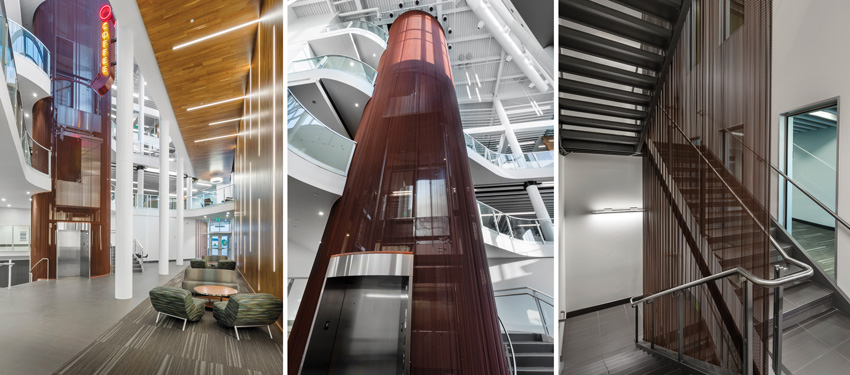 Photos courtesy of Cascade Architectural
At the VGM Group's Iowa headquarters, coiled wire fabric was used both as a visual design element and safety feature around the elevator shaft and the stairways. In each case, they allowed a sense of visual transparency while still enclosing a space using a thin-profile coiled wire fabric.
Coiled wire fabric is a versatile product with wide-ranging applications and functions. It is a durable, thin material that is lighter in weight than traditional wire mesh and offers more design flexibility. For interiors, architects and designers can use coiled wire fabric for curtains, ceiling treatments, wall coverings, security gates, and even as complete partitions, all adding elegance and purpose to the spaces where they are used. They are available with a range of attachment systems, allowing for different building conditions and finish treatments. The material can be left to hang (i.e., flowing freely) or it can be secured at both the top and bottom and pulled taut to create a semi-rigid condition. Because of its fabric nature, curved and undulating shapes are easily achieved, providing interiors with more character and vitality than rectilinear shapes alone.

Photos courtesy of Cascade Architectural
Coiled wire fabric in a vibrant green color was used as custom designed partitions at the expansion of the Terso Solutions production facility near Madison, Wisconsin. The undulating, floor-to-ceiling design elements help with wayfinding in the facility while providing an "aesthetic distraction" from the storage areas that were otherwise in plain sight to visitors.
When selecting a coiled wire fabric system for a project interior, it is important to recognize that there are a lot of different choices in the details of how it can be specified. Manufacturers will readily work with architects and designers to review the specific project requirements and suggest standard options or even engineer a custom solution. Here are some things to keep in mind when designing and specifying this innovative material:
Material makeup. Coiled wire fabric systems begin with a base metal wire in varieties of steel, aluminum, brass, copper, or stainless steel. The choice of the wire material and its gauge impact the weight, functionality, and aesthetics of the final fabric. By altering the base material, wire gauges, weave pattern, and finishes, the strength, rigidity, and appearance can all be chosen to meet the design or performance characteristics being sought. It is worth noting that the fabric is available in virtually unlimited widths and up to 40 feet in length, so large installations can be achieved with a single panel in many cases. For projects needing more than a 40-foot span of fabric, multiple coils can be spliced together at the job site in a routine fashion and still create a continuous appearance.
Light transparency. The nature of the woven-wire fabric is such that it will allow light to pass through, which is often desirable for many interior-design applications. How much light and how visually transparent a certain product appears will be based directly on the makeup of a particular fabric. Those with thicker wires and tighter weaves will obviously allow less light than those with thinner wires and more open weaves. Architects and designers can play with the material's level of transparency by altering these factors to suit their needs to create a material that is simultaneously open and closed at the desired levels. As such, it is sometimes used over windows as a diffuser for natural daylight or as room separators where light is intended to be shared. "Fullness" is another factor that designers can alter to vary the level of light passing through the coiled wire fabric. By using more material than required to cover a given area, a billowing drapery effect may be achieved, causing the mesh to overlap which can be used to allow in more or less light.
Formability. As with any fabric type of product, coiled wire fabric is free flowing and flexible. This means it can be formed and shaped to create undulating or curved surfaces, flat, taut surfaces, or a combination of any of these. Coiled wire fabric creates three-dimensional texture and spatial interest in rooms to achieve innovative and dynamic interior designs. This allows for a high degree of creativity in how spaces are defined and articulated, both for walls and ceilings.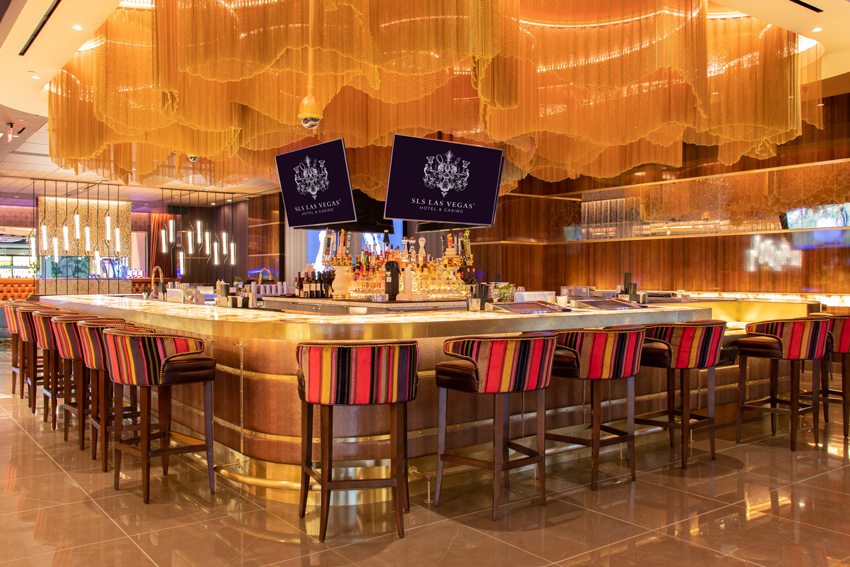 Photos courtesy of Cascade Architectural
Color. Coiled wire fabric is available in either a natural, uncoated state or with resilient powder-coating finishes for a sharp, long-lasting aesthetic. The color choices are broad, allowing it to be a successful part of virtually any design scheme. Further, the finishes can be specified with low volatile organic compound (VOC) content or even Declare labels from the International Living Future Institute to protect human health when used on interiors.
Performance traits. As a material added to a building interior, coiled wire fabric is a long-lasting and durable product requiring minimal, if any, maintenance. The open nature of the fabric is such that it can be used for solar shading, which can contribute to energy savings. It can also be used for light diffusion to further enhance the interior ambient lighting of a space. In appropriate strengths, it can provide partitioning for safety, fall protection, blast mitigation, and security. Further, if there is an interest in extending its use to the exterior, the material is durable enough to withstand those rigors as well.
Sustainability. Coiled wire fabric carries many sustainability traits. Made from metal, it has a long service life as a durable product. It can contain recycled content and is 100 percent recyclable when it is removed from service. As an interior product, it is worth noting that no toxic chemicals are used in the material's manufacturing process. Those products that carry Declare labels, like most coiled wire fabrics do, indicate the degree to which human health and the environment are protected by the products. Declare labels give consumers full transparency on the product, including from where it comes, of what it is made, and where it goes at the end of its life cycle.
Cost effectiveness. Compared to the full construction of rigid partitions or other separation elements, coiled wire fabric is a very affordable option. It is also more economical than commercial woven-wire mesh that is typically designed for other purposes. This affordability lets architects and designers flex their creativity, produce signature interior designs, and turn projects with modest budgets into something unique, innovative, and responsive to project needs.
Designers who have used this product innovation have had some notable success with it. Kate Payne is managing architect at INVISION, the designers of a new headquarters building for the VGM Group in Iowa. The focal point of the project is the building's open, five-story central atrium that features wood paneling inset with vertical lights; sleek, white ceilings, columns, and curved balconies; and an all-glass elevator shaft. As the interior-design phase was nearing completion, the project team was searching for a way to tie the theme of the exterior into the design scheme of the interior. To accomplish this, it chose aluminum coiled wire fabric finished in an antique copper color made from 5/16-inch 15-gauge wire at 15 percent fullness. The team paired that with a track attachment system to support the resulting 3,582-square-foot metal-fabric curtain that surrounded the glass elevator. Payne says, "We really liked the way we could pull the curtain taut around the elevator. It allows people to see through it when they're inside the elevator, but it's got that unique, heavy feel of metal. People are very drawn to it."
Similarly, Bill Beaudreau, president of CRB Interiors, found an ideal solution in coiled wire fabric for a project whose client is a high-tech company. Terso Solutions is a leading technology company that produces RFID and inventory-management solutions for health-care and life-science organizations. The two-phase renovation included a partition to separate the entrance from the storage areas while simultaneously providing path guidance for occupants. CRB Interiors specified an operable coiled wire fabric partition to sculpt the open space, which proved to be the ideal solution. Beaudreau states, "The curtain—featuring a unique coiled wire material, bright green color, and curved track design—was the perfect design element to distract guests from a storage area that was previously in plain sight. Now, when guests or employees enter the building, the curtain steers them to the right and leads them to the core of the building."
Given the versatility, adaptability, and performance characteristics inherent in this product, coiled wire fabric has proven itself in a variety of settings as a very appealing and affordable interior-design solution.
Originally published in Architectural Record
Notice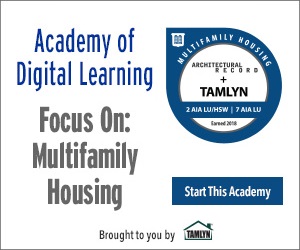 Innovations in Interior Design
Buyer's Guide
Fabricoil® Coiled Wire Fabric Systems

Fabricoil
®
systems are utilized by architects and designers to achieve remarkable interior and exterior spaces. Fabricoil is a flexible metal mesh material that comes in a variety of materials, gauges, and weave sizes and is used for energy savings, solar shading, light diffusion, decorative applications, security, partitioning, and more.
PrivaSEE Frameless All-Glass Operable Wall

NanaWall's PrivaSEE STC36 Frameless All-Glass Operable Wall provides better sound buffering than many fixed all-glass partitions, offering flexible space-management solutions.
XtremeInterior by TAMLYN

As a design feature, aluminum trim can provide architects and designers with a means of creating a clean, modern design on projects while incorporating the sustainable features and performance characteristics of aluminum. XtremeInterior by TAMLYN offers thousands of profile options and custom solutions for residential, commercial, hospitality, and industrial projects.