Innovations in Color and Texture
Expressive Capabilities for Architectural Surfaces
This course is no longer active
Sponsored by Armourcoat Surface Finishes Inc., Lamin-Art and Trespa®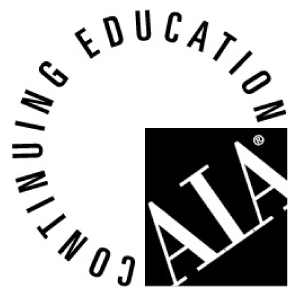 Continuing Education
Learning Objectives - After this course, you should be able to:
Describe techniques for proper, effective application of color and texture through typical architectural materials, surfaces and finishes.
Discuss potential benefits of color and texture for building occupants, such as positive emotional responses to warm or neutral colors.
List the effects on occupants and building performance of various color and texture applications to such surfaces as laminates and glass.
Apply trends in building end-user needs, building uses, and the sound application of color/texture selection through building materials.
Credits:
After space and structure, materiality is the essence of architecture. Surfaces play a large role in articulating materiality, with equal contributions of light, color and texture giving buildings their unique character. Louis Kahn poetically described these intertwined relationships: "All material in nature, the mountains and the streams and the air and we, are made of Light which has been spent, and this crumpled mass called material casts a shadow, and the shadow belongs to Light."
Applied as architecture, that material is essential to the result. "Colors and textures cannot be seen independently of design intent," says Jack Diamond, principal at Diamond and Schmitt Architects of Toronto. "Once the objectives for a building project are established, colors and textures become an integral means of achieving design ends."
Color is inherent to materiality and can also be applied as architectural surface or finish. In either case, it makes a significant contribution—one lost on too many minimalist architects of late. "Color makes visible the spatial effect toward which architecture tends," said Theo Van Doesburg, the Dutch artist, architect and De Stijl pioneer. "Color is an expressive material equivalent to other materials like stone, iron, or glass."
Even more, "Color is a major element in scale," wrote Van Day Truex, the influential Parsons president and Tiffany's design director from 1955 to 1962. "A small room can have a larger look by the use of closely related values, hues, and intensity. A large room can be made to look smaller by marked contrasts of color and value, hue, and intensity."
When architects select surface material, color and texture, much more is at stake than a mere stylistic choice. Fortunately, new techniques and technologies make almost any type of expression possible. What follows is a brief examination of some of the latest advances and underlying principles for their use in architecture.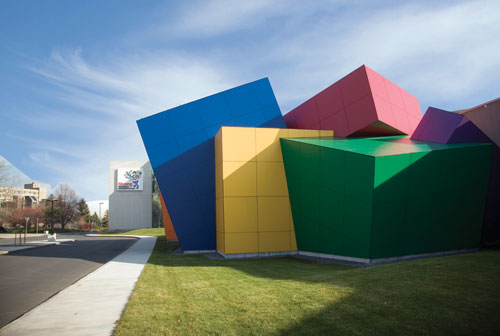 Panels of resin and wood fiber rendered in powerful, simple primary colors were selected for a feature facade on The Strong, also known as the National Museum of Play, in Rochester, New York.
Photo courtesy of Trespa®
Originally published in Architectural Record
Notice