Incorporating the Latest Trends in Residential Design
A closer look at the new solutions designers are using meet the demands of today's homeowners
Sponsored by Cascade Architectural, LaCantina Doors, and Rocky Mountain Hardware
TREND: INCORPORATE HEALTHY MATERIALS
In January 2019, Forbes published the article "Three Hot Wellness Architecture Trends for 2019." In the article, architect Veronica Schreibeis Smith, founder and CEO of Vera Iconica Architecture in Jackson, Wyoming, identified materials awareness as one of the top three trends she sees. "Consumers are beginning to monitor their food and personal care products for chemicals and toxins. This level of awareness is growing to include indoor air quality and conscientious selection of healthy materials. Although sustainable materials remain a priority for professionals, there is a shift in focus to include healthy materials that harm neither the planet or humans within the building. This shift in the professionals' focus aligns with shifting awareness of the consumer for toxin-free food, products, and environment," she explained.
Solution: Review a Product's Declare Label
In the industry, there are a number of green building programs that have been designed to increase the awareness of and specification of products that contribute toward healthy interiors. Touted as the most rigorous, the International Living Future Institute (ILFI) has created the Living Building Challenge, which includes Declare, a product database aimed at improving the transparency that architects and designers can have into the ingredients of the various products they are considering.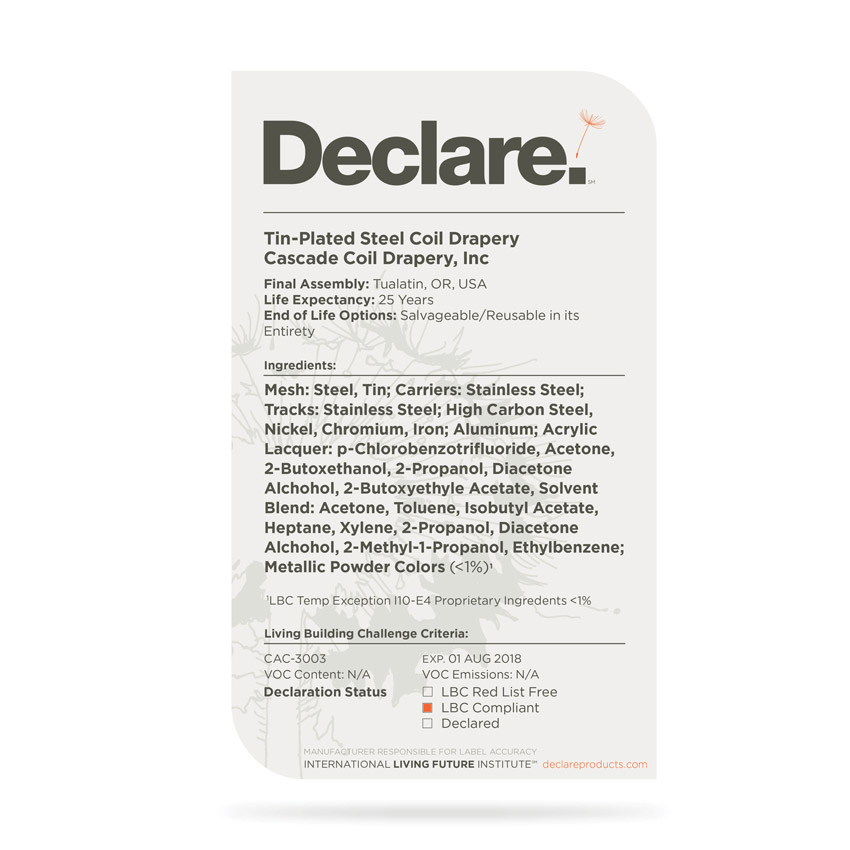 Image courtesy of Cascade Architectural
The Declare label provides details about a product's ingredients, production, and life expectancy and showcases its declaration status as either LBC Red List Free, LBC Compliant, or Declared.
Participating products can attain a Declare label that shares details about not only the ingredients found within the product, but also information on other aspects of its production and life cycle that can be helpful when attempting to meet certain materials-based criteria in any number of green building programs. The Declare label highlights where a product is assembled, the life expectancy of the product, and its end-of-life options. Here, the manufacturer would list applicable take-back programs, including whether all or a piece of the product is salvageable or reusable, recyclable, will end up in a landfill, or will be disposed of as hazardous waste.
In terms of ingredients-reporting requirements, the Declare label requires that product contents be disclosed by chemical name and CAS number to at least 100 ppm (0.01 percent) with few exceptions allowed. Ingredients without restriction appear in grey. Chemicals found on the Red List appear in dark orange, and the U.S. Environmental Protection Agency (EPA) Contaminants of Concern (COCs) and Registration Evaluation Authorisation Restrictions Chemicals (REACH) are distinguished in light orange. The extraction locations of raw materials are identified in parenthesis next to the ingredient.
At the bottom on the physical Declare label, the product is awarded one of three types of declaration status: LBC Red List Free, LBC Compliant, or Declared. Declared products are 100 percent disclosed to 100 ppm but contain one or more Red List chemicals that are not covered by an existing exception. Products deemed LBC Compliant meet the written requirements of the Living Building Challenge but rely on one or more exceptions to demonstrate compliance. The Red List Free distinction means that the product ingredients have been 100 percent disclosed to 100 ppm and do not contain any Red List chemicals.
he volatile organic compound (VOC) content is also showcased, as is whether the product has earned California Department of Public Health compliance. All building products that have the potential to emit VOCs and are intended for installation within the building envelope must supply a laboratory certificate of compliance with CDPH v1.1-2-10 Standard Method or other conformant product certifications in order to earn a declaration status of Red List Free or LBC Compliant.
The way that designers use the Declare label is still evolving. It is a critical component for designers working to meet the requirements of the Living Building Challenge. The Declare label can also be used to meet LEED v4 Materials & Resources (MR) credit requirements, and the Declare label is recognized by the U.S. EPA in its Recommendations of Specifications, Standards, and Ecolabels for federal purchasers.
CONCLUSION
The 2019 trends build upon many of the trends that have been emerging over the past decade. Homeowners want healthier spaces to raise their families and grow old, people now know more about what healthy indoor spaces actually look like and how they perform, and designers have more tools in the industry to create them. Tools like Declare labels give designers the necessary transparency into the ingredients used within a product so that they can specify materials that promote the indoor air quality and healthy environments being demanded.
Homes today are being asked to perform double duty by providing greater degrees of access to daylight and outdoor living spaces, without compromising the comfort or the energy efficiency of the interior space. Luckily, products have been developed that can successfully manage glare and solar heat gain at the window while still enabling soft, diffuse daylight to penetrate deeper into the space, and large opening door systems can offer that indoor/outdoor flexibility while still providing weathertight and energy-efficient building envelopes for any climate.
The interior layout is also changing from many smaller spaces each designed with a unique purpose to a larger, multifunctional space that accommodates many family members and friends for a multitude of reasons. New challenges exist in making these larger spaces feel cohesive with the rest of the house, but families of hardware products have been developed that can provide this high-quality and coordinated aesthetic.
Ultimately, whichever 2019 trend a designer is being tasked to incorporate into a family home, there are a number of product solutions now available to make a homeowner's dream home a reality.
Jeanette Fitzgerald Pitts has written nearly 100 continuing education courses exploring the benefits of incorporating new building products, systems, and processes into project design and development.
Originally published in Architectural Record
Notice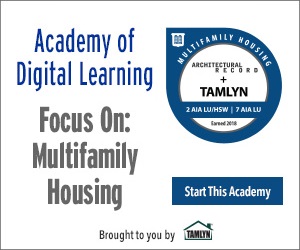 Incorporating the Latest Trends in Residential Design
Buyer's Guide
Fabricoil© Coiled Wire Fabric Systems

Cascade Architectural is committed to serving the product and service needs of our architectural customers. Since 1987, Cascade has provided a full range of functional Fabricoil
©
woven wire mesh fabric systems to domestic and international markets. Suited for projects of any scale, exterior or interior, Cascade reflects our continued commitment to provide architects, engineers, and channel partners with aesthetically pleasing and affordable mesh systems.
Zero Post Corner System

LaCantina's Zero Post Corner System opens the whole corner of any room to truly embrace indoor/outdoor living. LaCantina's innovative design allows two door systems to be connected to each other without the need for a supporting wall or post, providing the ultimate in uninterrupted views.
Edge Door Set

The Edge Collection is a unique offering, as it's profile and width are slimmer than other options. In addition to a more contemporary profile, the collection is available with a choice of six unique textures as well as 12 patina finishes.