Incorporating the Latest Trends in Residential Design
A closer look at the new solutions designers are using meet the demands of today's homeowners
Sponsored by Cascade Architectural, LaCantina Doors, and Rocky Mountain Hardware
Learning Objectives:
Explain how coiled wire fabric can be used as a daylight management solution to reduce the glare and solar heat gain experienced inside a house.
Describe the kinds of product characteristics that are summarized in Declare labels and how designers can use this information to create projects that satisfy the criteria for the Living Building Challenge and LEED v4.
Select large opening door systems that can create the popular indoor/outdoor living spaces and provide the thermal performance best suited to the specific climate of the project.
Choose door hardware that better supports the tenets of universal design and makes it easier for people with physical limitations or dexterity to navigate through a house.
Credits:
This course can be self-reported to the AIBC, as per their CE Guidelines.
This course is approved as a Structured Course
Approved for structured learning
Approved for Core Learning
This course is approved as a Core Course
Course may qualify for Learning Hours with NWTAA
Course eligible for OAA Learning Hours
This course is approved as a core course
This course can be self-reported for Learning Units to the Architectural Institute of British Columbia
This test is no longer available for credit
There are a number of factors that influence how styles in residential architecture shift over the years. New design methods and materials emerge, the knowledge base of the consumer changes which can bring new design objectives to the table, and the way in which people live and use their homes changes, making once-popular layouts seem outdated or obsolete. All of these items inform the design of the latest dream home, and the predominant 2019 trends in residential architecture are no exception.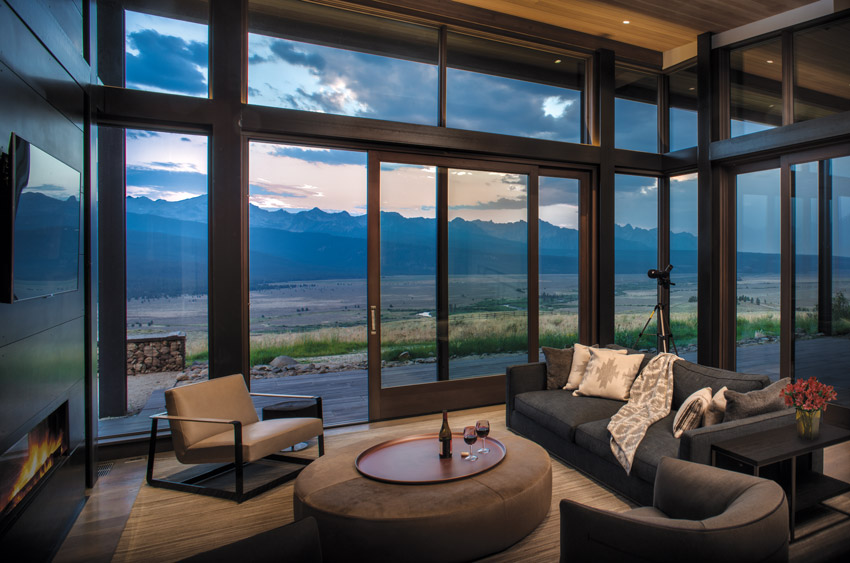 Photo courtesy of Rocky Mountain Hardware
Residential architecture trends in 2019 are rooted in creating healthy, comfortable, multifunctional spaces that allow people to entertain in a more informal manner, maximize the indoor/outdoor connection, and age in place.
The overarching theme this year seems to be creating healthy, high-performance spaces that are comfortable and multifunctional, like their owners. The carefully segmented floorplan has been replaced by open-space design that blurs the boundary between kitchen and dining room and living room. There's also growing demand for indoor/outdoor space that provides seamless connection between the indoors and outdoors and creates an energy-efficient enclosure. For years, daylight inclusion has been high on the list of homeowner demands, and today it remains important, but there is an emphasis on ensuring that daylight is managed so that interior spaces remain comfortable, without overloading the HVAC system. Another notable change is that the profile of the homeowner is aging, and universal design is becoming increasingly more important as these older homeowners prepare to age in place.
This course will take a closer look at the latest trends in residential design and provide a product solution for each that will help architects easily incorporate these features and functionalities into the beautiful family homes they are currently designing.
TREND: VERSATILE INDOOR/OUTDOOR LIVING
For a few years now, indoor/outdoor living has regularly appeared on the annual lists of trends in residential architecture. In January 2016, AIA Architect published an article titled "The Coming Decade of Residential Design," written by Kermit Baker and Jennifer Riskus, in which they stated, "Lifestyles have become more informal, and homes are reflecting this. Formal living rooms and dining rooms are disappearing, replaced by great rooms, dens, and open-space layouts. With this movement to informality has been growth in outdoor living. While initially decks, patios, and outdoor grills were the focus, this trend has expanded to outdoor kitchens and even fully furnished outdoor rooms."
Although the line between outdoor and indoor living space may be blurring, in most climates, architects are not simply leaving open spaces where exterior walls once stood, nor are the residential housing footprints dramatically expanding to include a dedicated indoor/outdoor area. Instead, designers are challenged to find more flexible solutions that increase the indoor/outdoor access that a project offers, while providing a weathertight, energy-efficient facade when those indoor/outdoor spaces are not in use. Large opening door systems, whether sliding or folding, enable the distinctly divided indoors and outdoors to make a beautiful and convenient transformation into coveted indoor/outdoor space and then return to a high-performance facade that protects the interior from the larger environmental elements.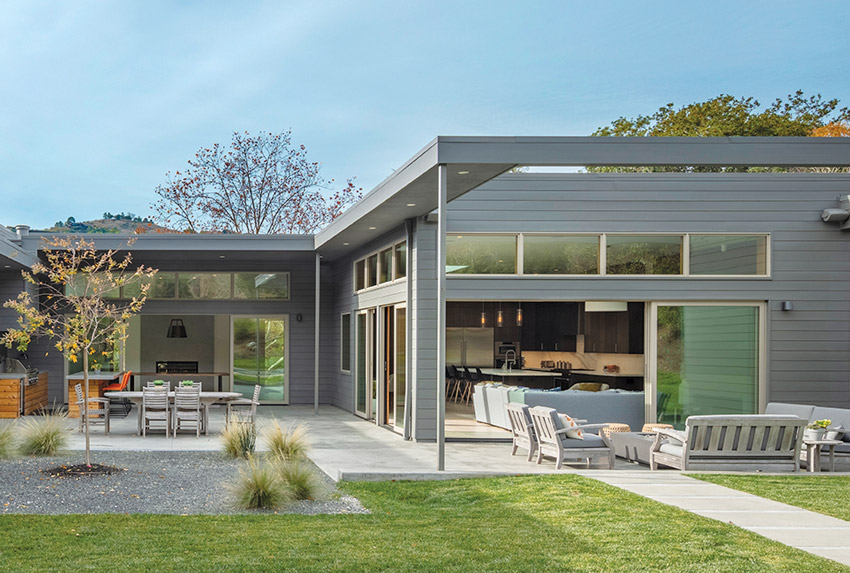 Photo: Eric Rorer Photography
Large opening door systems combine multiple panels constructed from glass and framing materials that fold or slide (shown here) out of the way to connect indoor and outdoor spaces.
Solution: Folding & Sliding Large Opening Door Systems
Large opening door systems combine multiple panels constructed from glass and framing materials that either slide or fold out of the way to create large openings that connect indoor and outdoor spaces. When the indoor/outdoor space is no longer desired, the door system can be re-engaged to fill the opening with beautiful and energy-efficient framed glass panels.
These multi-panel systems create larger, more dramatic openings than a standard sliding or swinging glass door. Up to 10 door panels, each measuring up to 39 inches wide and 10 feet tall, can be combined into one movable folding glass wall that will open and close from one side, without the need for horizontal mullions that detract from the view. Using two 10-panel systems can create openings up to 65 feet wide. Sliding glass panels can be as large as 60 square feet of glass per panel, which allows them to be as tall as 12 feet or up to 8 feet wide. Six sliding panels can be combined in one direction. Oversized door panels can be specified to deliver even larger openings from fewer individual panels.
New system configurations are also broadening the available solutions in this category. For example, there are now zero post corner systems and door/window combinations. The zero post corner system connects two separate door or window systems to each other, eliminating the need for a fixed pillar and creating a truly open indoor/outdoor living space. Door/window combinations create flexible countertop solutions that allow homeowners to create large openings, even when they don't have space for many large door panels.
While the size and configuration of the panels is important in achieving the right opening size for a project, it is the glass and framing materials that determine the overall thermal performance the system can provide. The U-factor of a large opening door panel describes the rate of heat loss across the glass and framing components. The lower the U-factor, the greater the panel's resistance to heat flow and the better insulator it is. Depending upon the specified framing material and glazing, U-factors for large opening door panels can be achieved at or near the common fenestration target of 0.30 or better.
Here is a quick description of four panel-framing materials now available and how their design impacts their ability to insulate the interior from outdoor temperatures.
Wood Frame
Glass door frames with a solid wood core were some of the first types of large opening door systems available. Solid wood frames are beautiful and provide a natural thermal barrier, but wood is an organic material that can require additional maintenance in harsher climates.
Aluminum Frame
Today, aluminum frames, constructed with an aluminum core, are the most common type of frame for large opening door systems. While the aluminum withstands the elements better than wood and requires almost no maintenance, the material is inherently conductive, which means that hot and cold temperatures easily transfer across the frame and into the residence.
Thermally Controlled Aluminum Frame
In an effort to improve the thermal performance of the popular, low-maintenance aluminum material, a thermally controlled aluminum frame was designed with a nonconductive thermal strut. This strut provides a thermal break in the structure of the frame, which minimizes the transfer of heat and cold into the interior. It should be noted that one important innovation that has occurred recently with thermally controlled aluminum framing is that manufacturers have been able to engineer this better-performing design into the narrow profiles preferred by the design community. This more energy-efficient framing material can now be specified in a profile as thin a 215⁄16 inches, maximizing the surface area of the glass panel available to provide an unobstructed view of the outdoors.
Originally published in Architectural Record
Notice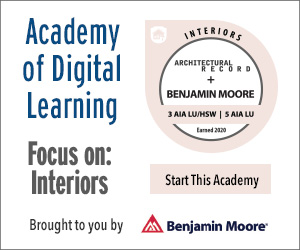 Incorporating the Latest Trends in Residential Design
Buyer's Guide
Fabricoil© Coiled Wire Fabric Systems

Cascade Architectural is committed to serving the product and service needs of our architectural customers. Since 1987, Cascade has provided a full range of functional Fabricoil
©
woven wire mesh fabric systems to domestic and international markets. Suited for projects of any scale, exterior or interior, Cascade reflects our continued commitment to provide architects, engineers, and channel partners with aesthetically pleasing and affordable mesh systems.
Zero Post Corner System

LaCantina's Zero Post Corner System opens the whole corner of any room to truly embrace indoor/outdoor living. LaCantina's innovative design allows two door systems to be connected to each other without the need for a supporting wall or post, providing the ultimate in uninterrupted views.
Edge Door Set

The Edge Collection is a unique offering, as it's profile and width are slimmer than other options. In addition to a more contemporary profile, the collection is available with a choice of six unique textures as well as 12 patina finishes.